During these times of extensive restrictions, it's good to know that some things are starting to normalize themselves like the case of Cyprus opening their borders to incoming tourists.
Citizens of Greece will now be able to enter Cyprus during Coronavirus with some restrictions but not completely excluded from the possibility of traveling. These open borders will help locals regain economic stability because tourism is one of the biggest industries that generate it.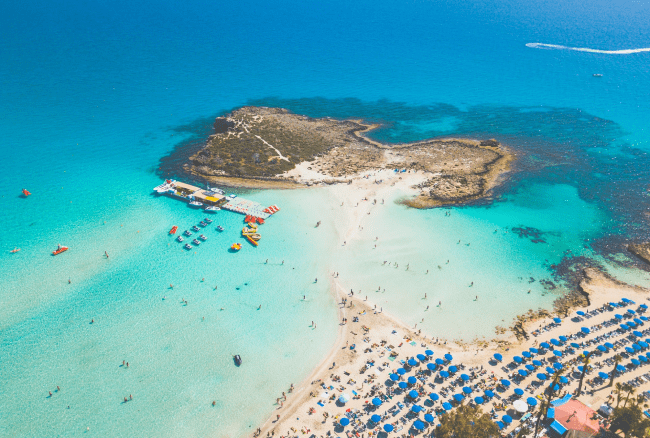 Tourists can relax and enjoy the big open spaces to walk around nature while still keeping their distance from other people. At the same time, you can discover the Byzantine and Ottoman Empire ruins and see how both the Turkish and Greek sides of the Island have a presence in its culture.
To do so, citizens of Greece will need to apply for a Cyprus Flight Pass and present the document before departing. The document will need to include information regarding your health situation related to Coronavirus, where you'll be staying, and the purpose of travels, among others.
Restrictions are changing each week, so you must stay alert of this, but citizens from Greece will likely also have to present a laboratory test for COVID-19. To understand more about the Cyprus Flight Pass, we put together the following FAQs, which include the application process and how iVisa.com can help.
FREQUENTLY ASKED QUESTIONS
Do I need a COVID vaccine or vaccination certificate to enter Cyprus?
No, you don't. COVID-19 vaccination passports or certificates are not mandatory to enter Cyprus.
Now if you are a Covid vaccine certificate holder, you won't need to present a negative PCR test nor to follow a quarantine. However, you need to hold a valid certificate of vaccination issued by the following states: EU Member States, Iceland, Liechtenstein, Norway, Switzerland, Israel, United Kingdom, Russia, United Arab Emirates, Saudi Arabia, Ukraine, Jordan, Lebanon, Egypt, Belarus, Serbia, Qatar, Bahrein, United States of America, Armenia, Georgia, Canada Kuwait, and China.
Accepted vaccines are Pfizer/BioNTech, AstraZeneca, Moderna, Janssen, Sputnik V, Sinopharm, or Sinovac.
Since information may change quickly, we advise you to follow up on the latest Cyprus travel updates and/or contact your local embassy.
What is the Cyprus Flight Pass for?
By opening borders Cyprus is allowing foreigners to enter their country but, with the current situation, still delicate they have created a Health Declaration document. This document is called the Cyprus Flight Pass and will be requested by each visitor entering Cyprus.
They will have to include information on their planned itinerary, as well as information about their previous travels in the past weeks to ensure they have not been in contact with COVID-19.
Do all citizens of Greece need a Cyprus Flight Pass during Covid-19?
Only the citizens from Greece that want to visit Cyprus must request a Cyprus Flight Pass at least 24 hours before departing. The document is needed for all citizens, regardless of age.
Part of the application process requires you to acknowledge that there is a slight possibility you are randomly selected by the Airport officers to take a COVID-19 virus test once you arrive.
Do Greece citizens need to take a Covid-19 test before traveling to Cyprus?
All countries that are now allowed to enter Cyprus during Coronavirus have been divided into categories. This division is based on how much risk the Government feels they are to the destination.
Greece is currently under Category B, although this might change in the next few weeks. Being in Category B means that travelers departing from Greece must definitely request a Cyprus Flight Pass. Additionally, they must present a Laboratory Test Certificate that proves the traveler is negative for COVID-19.
And, though there is no written rule about this, any traveler coming from Greece may be selected to random COVID-19 testing upon arrival.
Do I need to quarantine when I arrive in Cyprus?
Fully vaccinated travelers, regardless of their nationality and country of departure, are exempt from quarantine requirements. However, they need to hold a valid certificate of vaccination issued by the following states: EU Member States, Norway, Iceland, Lichtenstein, Armenia, Bahrain, Belarus, Canada, Egypt, Georgia, Israel, Jordan, Kuwait, Lebanon, Qatar, Russia, Saudi Arabia, Serbia, Switzerland, Ukraine, United Arab Emirates, United Kingdom, United States and China.

Travelers arriving from green, orange and red countries do not need to quarantine on arrival.

Travelers coming from grey countries need special permission to enter Cyprus and must quarantine for 14 days. Quarantine time can be shortened to 7 days by testing on the 7th day.
Which risk category is my country?
Green Category countries are United Arab Emirates, Jordan, Kuwait, New Zealand, Saudi Arabia, Italy, Malta, Liechtenstein, Vatican.

Orange Category countries are France, Denmark, Greece, Spain, Netherlands, Portugal, Poland, Sweden, Czech Republic, Andorra, Monaco, Iceland, Norway, Australia, Japan, Qatar, China (including Hong Kong and Macau), Bahrein, Uruguay, Rwanda, Chile.

Red Category countries are Austria, Belgium, Bulgaria, Germany, Estonia, Ireland, Croatia, Latvia, Lithuania, Luxembourg, Hungary, Romania, Slovakia, Slovenia, Finland, San Marino, Switzerland, Egypt, Armenia, Georgia, United States of America, United Kingdom, Israel, Canada, Belarus, Lebanon, South Korea, Ukraine, Russia, Serbia, Singapore.

Countries that are not mentioned in the green, orange, and red categories are considered as Grey Category.
Which documents do citizens of Greece need to enter Cyprus during Coronavirus?
The citizens of Greece don't need a specific document to enter Cyprus; they must only request a Cyprus Flight Pass. For this pass, they will need to give some details about their future travel such as:
Personal details and contact information
Flight details
The purpose of visiting Cyprus
Details on where you'll stay
Your emergency contact while in Cyprus
How soon before traveling should I get the Cyprus Flight Pass?
The best recommendation given by the Cyprus authority is that the travelers must apply for the Cyprus Flight Pass at least 24 hours before departing. Consider reviewing the application requirements in case you need to present a COVID-19 Certificate with your results along with the Flight Pass.
To be sure you get your results on time you can request support from iVisa.com and choose one of the following speeds:
Standard process speed will obtain your flight pass in 24 hours.
Rush process speed gets results faster and delivers the pass in 4 hours.
Super rush process speed is the fastest option and delivers documents within 30 minutes.
Which is the Cyprus Flight Pass process for citizens of Greece?
The Cyprus Flight Pass can be obtained by any traveler wanting to enter Cyprus and is done through an online application form.
While working with the questionnaire, you can also indicate at what iVisa.com processing speed you wish your application to go at so that you can get your results sooner.
The steps to get your Flight Pass submitted and processed are:
1.The first step is to open an account and fill in the online form with your personal details, as well as choosing the processing speed you wish to apply to your documents.
2.You will then answer questions related to your flight details.
3.As the third step, there are legal statements you must confirm or deny based on your interaction with the COVID-19 virus.
4.Lastly, you must make the fee payment and click on submit.
Is the iVisa.com website reliable?
iVisa.com values your trust in the company and service, which is why it keeps updating the security system used on the platform and databases. Having good safety measures, your information will be well-kept on our databases and far from digital threats, during and after you have submitted your application forms.
You can see some reviews from our past customers about iVisa.com services here.
Where can I find more info on Cyprus Flight Pass?
If you continue to have questions about the Cyprus Flight Pass, we suggest you send us a chat message or email to help you solve those doubts. You can also decide to look into the iVisa.com website for additional information regarding the Cyprus pass.
To get started click here.