Traveling has become a new challenge for many people, but little by little numerous countries have decided to open their borders. One of these is the Czech Republic as the official authorities allow the entry of certain travelers if they apply for the Czech Republic Passenger Locator Form.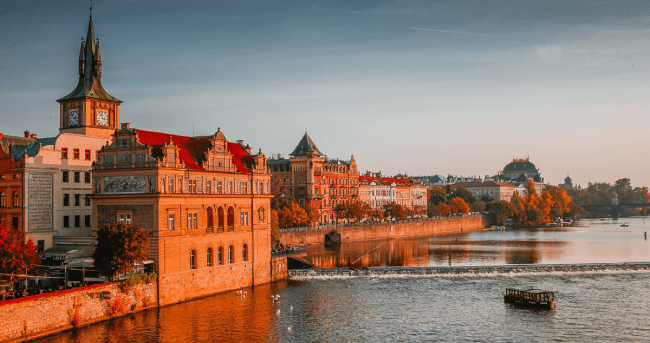 The Czech Republic Passenger Locator Form is an electronic document that allows you to enter this country while the coronavirus pandemic is still present. It is very easy to apply for it as you only have to complete an online form that won't take you much time. In the text below, you'll be able to learn how to properly obtain this document and also what you should consider about Czech Republic Masks and Covid-19.
How to apply for a Czech Republic Passenger Locator Form
Go to our application website here.
Complete the online application form with general information like your full name and email address.
Pick a processing speed to know how much you'll pay for the fees.
Wait for our agents' review to make sure that the application request has no mistakes.
Get the Czech Republic Passenger Locator Form by email inbox.
Print and hand-sign the form if required and show it to the authorities once you arrive at the airport.
Frequently Asked Questions
Do I need a COVID vaccine or vaccination certificate to enter Czech Republic?
No, you don't. As of today, COVID vaccination passports or certificates are not a mandatory to enter the Czech Republic. Now if you are a Covid vaccine certificate holder, you won't need to present a negative PCR test nor to follow a quarantine.
Approved vaccines are Pfizer, Moderna, AstraZeneca, Janssen, Sputnik V, Vero Cell.
Since information may change quickly, we advise you to follow up on the latest Czech Republic travel updates and/or contact your local embassy.
What items do I need to get the Czech Republic Passenger Locator Form?
Since the application is completely online, you'll need a few items to get the process started. Nevertheless, don't forget that as part of the Czech Republic Masks and Covid-19 protocols, you might need a COVID-19 PCR Test before entering the country.
The rest of the items are:
A passport, and it mustn't have expired.
Your current email address to get the document safely.
A payment option, which can be Paypal or debit/credit card.
Apply for the travel document here.
What are the processing times and prices?
You can get this document by completing an online form with us, but since this process is easier and faster for your comfort, you'll have to pay a small fee. The fees will vary depending on how fast you want to receive the locator form:
Standard Processing:

24 hours

-

USD 20.00

.
Rush Processing:

8 hours

-

USD 35.00

.
Super Rush Processing:

4 hours

-

USD 60.00

.
Get ready to apply for your locator here.
How is the application process?
Our team has designed an effortless application process that won't take you more than 15 minutes. All you have to do is:
First, enter the application form page and answer the basic questions you see there. Select a processing speed as well.
Second, make sure that the information you gave in the first step is correct so that you can continue with the checkout. Don't forget that the total price is influenced by the processing option you choose.
Third, attach the items required to the application form to finish the process. After that, you'll just have to wait for your locator form via email.
Learn more about Czech Republic Masks and Covid-19 here.
Can I get this document for free?
Yes, the Czech Republic Passenger Locator Form is usually available for free, but by using our platform you'll be able to get it faster and easier than official websites, as they tend to be more crowded due to the high demand.
Is it safe to use iVisa.com?
We guarantee safety at all times because we never offer your private details to other companies. Besides, we make sure that our database is safeguarded so that there are no risks. You can always take a look at our reviews if you're not sure of what we offer.
Where do I read more about the Czech Republic Masks and Covid-19?
If you want to learn more about the Czech Republic Masks and Covid-19, we recommend you to visit iVisa.com. Nevertheless, if you prefer to receive personal assistance while filling in the online form, then we recommend you contact our customer service team, they're available at any time.
iVisa.com recommends
Visiting the Czech Republic means visiting a European land famous for its antique castles, its craft beers, and also its rich culture. This country has many things to offer, and you can get to know a big part of them by visiting Prague, the capital city. Prague is famous for being one of the most popular cities for European fashion, but it has other sights to take in like the 9th-Century Prague Castle and the Charles Bridge, to mention some.
In Prague, you can also explore the Convent of Saint George, which has many pieces of Bohemian art. This is also a great place to learn more about Czech history and culture.
You might enjoy Prague, but you shouldn't forget other impressive cities and towns in the Czech Republic like Český Krumlov, where you can enjoy many Baroque and Gothic buildings, plus a lot of coffeehouses ready to make you feel warm and cozy.
Planning a trip to this country is worth it, which is why we recommend you to consider it if you have the budget. Plus, by applying for the Locator Form, you'll be able to visit the Czech Republic without issues.