Have you ever thought about traveling to the Czech Republic? If the answer is yes, then be aware that you might need some documents on hand before entering the country. If you are a citizen of Kazakhstan, then you will need to apply for a Schengen Visa before entering this country. Luckily, this visa is not too complicated to get, and better yet, at iVisa.com we will be able to offer it to you through an online service (soon enough, believe us).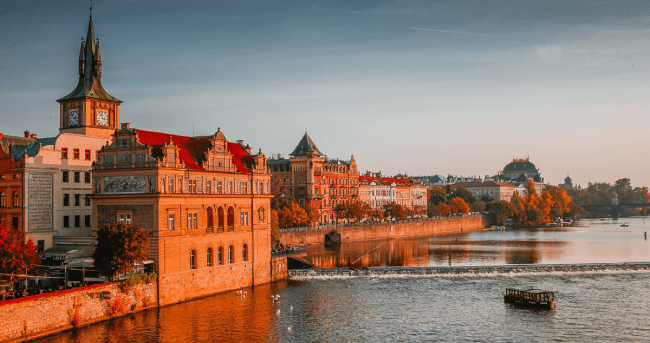 Learn more about the Czech Republic Schengen Visa for Citizens of Kazakhstan by reading the information below.
Frequently Asked Questions
What is a Schengen Visa?
The Schengen Visa is the travel document you need to enter the Schengen zone. Nowadays, the Schengen area incorporates 26 countries in Europe, and travelers with a Schengen Visa can visit all of them.
The Czech Republic is part of the Schengen agreement, which means visitors need a Schengen Visa to enter the Czech Republic.
If you are from Kazakhstan, then you have to apply for the Schengen Visa because your country is not exempt from getting a visa to visit the Schengen area.
What documents do I need to process the visa?
You must provide personal information to complete the process. Remember that this process is available only at the embassy, but it will be available online very soon.
Once we offer the online service to process this visa, you will only need the following:
A passport with a validity of 3 months after you left the Schengen zone.
A valid email address to keep a fluid communication.
Payment methods. Pay it with a credit/debit card.
By now, the Schengen Visa process will demand an interview at the Czech Republic embassy.
Keep these requirements for that process:
Copies of your passports and previous visas.
Medical insurance covering your stay in the Czech Republic for up to 30,000 euros.
Flight tickets and hotel bookings.
If you are married, then proof of civil status.
Bank statements or other financial proof to show the funds for your trip.
What are the processing times and fees?
The processing time after the interview at the Czech Republic consulate will take around 15 days. However, according to immigration dispositions, the time could extend up to 60 days.
Bear in mind that once we launch the service, we will offer you these three options:
Standard processing service, when you are flexible with your waiting period.
Rush processing service, if you are traveling sooner, then get the electronic form faster.
Super Rush processing service, no time to waste! The quickest option when you are in a hurry.
How is the online process at iVisa.com?
Citizens of Kazakhstan must start with these steps:
Fill out the electronic application with truthful details and select a processing time (Standard, Rush, or Super Rush).
Check your information and correct any mistakes. Pay with a credit/debit card
Attach any documents required.
Remember that this will be available very soon. By now, we recommend you collect all the necessary paperwork and prepare for your interview at the Czech Republic embassy.
Can I trust iVisa.com?
Definitely! iVisa.com has top-notch systems and an incredible group of experts working on your travel requirements. We have specialized in the visa process, so be confident your Czech Republic (Schengen) Visa for Citizens of Kazakhstan process is safe with us.
Where do I find more information?
Don't hesitate to reach out to our customer service agents who are available 24/7. We can't wait for you to travel to the Czech Republic and enjoy Europe. We have all the answers so you can focus on your trip!
iVisa.com Recommends
There are less than a thousand UNESCO cultural heritage sites in the whole world, and luckily, you can find 14 of them in the Czech Republic. Some of them are the historical center of Prague, Český Krumlov, Kutná Hora, and Telč. Additionally, you can also enjoy the Functionalist Villa Tugendhat in Brno designed by the architect Ludwig Mies van der Rohe, the historical gardens and chateau in Kroměříž, and the Pilgrimage Church of St. John of Nepomuk steeped in symbolism in Žďár nad Sázavou (all of them UNESCO cultural heritage sites as well).
If you decide to visit the Czech Republic, you cannot forget to explore Prague, a city that's full of thousand-year old buildings, recognized as unique architectural gems in the country. Here, you can get to know the mystery of the Gothic monasteries, as well as experience classical music concerts in one of the Baroque cathedrals or just relax in the beautiful Renaissance gardens. Prague will make you fall in love instantly thanks to its beauty.