Prague is the capital of the Czech Republic, and while it might not be as popular as Paris amongst some travelers, in terms of beauty and romance, it sure equals the French capital. There is even a special day for lovers celebrated on May the 1st, when it is believed that if you and your loved one kiss at the Petrin Hill in front of the statue of the romantic poet Karel Macha during that day, your love will last forever. Plus, it is also a budget-friendly destination, compared to other European countries.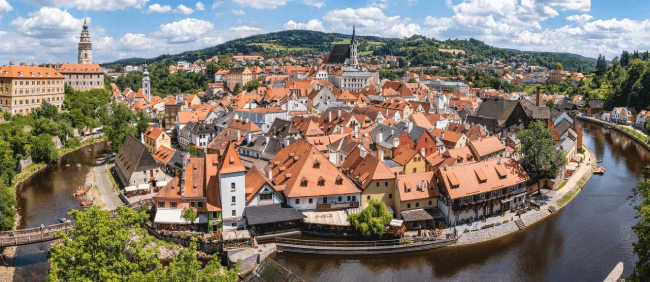 There is for sure a romantic spot or activity for everyone. Enjoy a moonlit stroll through narrow cobbled stone streets in traditional parts of the city, take a cruise on the Vltava River, or if you prefer your feet on dry land there is also a vintage car tour. Prague has also plenty of options for romantic dining, nice terraces, beer gardens, and vineyards as well.
It is a great idea to celebrate love and romance in the Czech Republic. Please continue reading to learn about the new requirement to enter the country, the ETIAS. In the following section, we clear the majority of questions that you could have about the Czech ETIAS for citizens of Japan.
Frequently Asked Questions (FAQs)
Do Citizens of Japan need to apply for an ETIAS?
All non-EU citizens who wish to visit the Czech Republic or any other country part of the Schengen Economic Area will need an ETIAS. If you want to corroborate whether Japanese citizens need to apply for an ETIAS you can use iVisa.com's Visa Checker Tool.
What does ETIAS mean?
ETIAS is the acronym for European Travel Information and Authorization System. It is an electronic system that provides assistance to countries by securing their borders while it crosses-check visitors' information against multiple international databases and keeps track of it. The application and processing times are reduced, similar to the ones from the Canadian ETA or the American ESTA.
Is it possible to visit more than one country with the ETIAS?
Yes, it is possible. With your ETIAS you will be allowed to enter the Schengen Zone and visit any or as many of the twenty-six countries that are part of it. Be aware that you will need to indicate on the application form which is the country that you will be traveling into and your actual route should be planned accordingly to avoid getting your entry denied.
What is the maximum number of days I can stay in a country with the ETIAS?
You can stay a maximum of ninety days inside the Schengen Zone with your ETIAS. This permit will allow you to go in and out, keeping in mind not to exceed a total of ninety days in a hundred and eighty days period in the country of the Schengen zone in general. If you want extra information about this you can contact iVisa.com's customer service team.
What is the ETIAS application process?
The process to apply for your ETIAS with iVisa.com is almost effortless and will take only around twenty minutes. We tell you how to do it in three simple steps:
First, enter your required personal information on the application form.
Second, revise the form and confirm that all your information is correct.
Third, there are three main things that you are going to need as well for your application:

Your passport and a scanned copy of it.
An email address where you can receive your ETIAS official information.
A payment method of your choice. It can be a credit/debit card or PayPal.
What are the fees and processing times for the ETIAS?
You will find different processing times in fees on iVisa.com. All of them are very good and vary adjusting to customer's preferences and needs.
Standard option, offers customary processing times and standard fees.
Rush option, has reduced processing times and higher fees.
Super rush option, with the minimum processing time with the highest fees.
Is it advisable to use iVisa.com to get my ETIAS?
We like to let our customer reviews answer this question. Their stories about previous experience with our services confirm that iVisa.com offers a straightforward and secure process with a minimum chance of rejection, and a platform with software technology that protects all of your data. We offer assistance as well from our team of customer service agents through every step.
I have more doubts, where can I attain further information?
If you have more doubts you can contact our customer agents. They will assist you and provide further information about the ETIAS or any other travel documentation service.
Love is in the air, apply here for your Czech ETIAS today.