The Czech Republic is perfectly located in the center of Europe, and this location makes it a great starting point for your European adventure. You can start by exploring its capital, Prague, and some of the main cities in this beautiful country full of stunning castles and admiring architecture.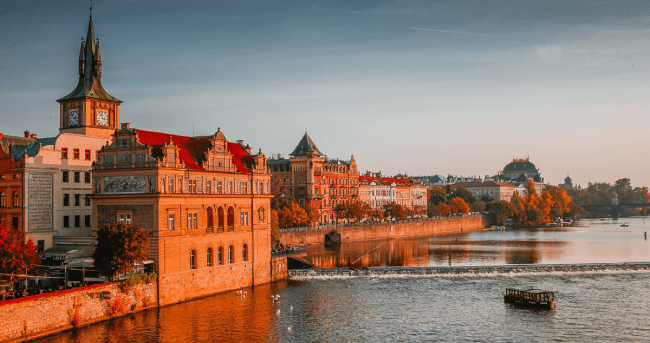 The Czech Republic also has other little towns and not so popular places out of the main urban areas with plenty of amazingly beautiful nature for travelers to enjoy. Summer, winter, or any of the other seasons, there is always something to do and enjoy in the Czech Republic. Nonetheless, it is important to know that there is a new document required to be able to visit the country, and it is called ETIAS.
If you are already dreaming about visiting these incredible places, please continue reading so you can find vital information about the Czech ETIAS for citizens of Mexico.
Frequently Asked Questions
Do I need to apply for an ETIAS if I have a Mexican passport?
If you have a passport from a non-EU country and are currently exempt from a Visa to enter the Schengen Zone you will need to apply for an ETIAS. You can use iVisa.com's Visa Checker Tool to confirm if Mexican citizens are eligible for an ETIAS.
Is the ETIAS the new European Visa?
The ETIAS is an electronic document, similar to the ETA required by Canada and Australia, or the ESTA required by the US. ETIAS is an acronym for European Travel Information and Authorization System, this document is processed by an electronic system, and the procedures and waiting times for applicants are reduced compared to the ones from a visa. The ETIAS helps countries reinforce the security in their borders.
In what countries is my ETIAS valid?
Your ETIAS will be valid in all of the twenty-six countries members of the Schengen Area. You will be allowed to do multiple visits and can enter any or as many countries as you wish in the Schengen Area. Please remember there is a field on the application form for you to indicate the first country that you will be landing into, and it is important for you to plan according to that information to avoid inconvenience at the border.
For how long am I allowed to stay in a country with the ETIAS?
Once you have your ETIAS you will be allowed to travel to countries inside the Schengen Area, and to stay in one country or the whole area in general for as long as you want without exceeding ninety days inside of a hundred and eighty days period. If you are still a bit doubtful about this information please message iVisa.com's customer agents.
How can I apply to obtain my ETIAS?
To obtain your ETIAS you can apply through an effortless and secure process with iVisa.com. Here we tell you how to do it in three simple steps:
First, take 20 minutes to find the application form and to fill it out with your personal information.
Second, revise the information in all the fields and make sure that it is all correct and without any typing mistakes.

Third, please provide these items listed below:

Your passport with a scanned copy of it.
An email address to receive ETIAS vital info and your permit once it is approved.
A payment method of your preference. You can use a credit card, debit card, or PayPal.
Are processing times and prices for the ETIAS good?
We know that there are different types of traveler, and each one has their priorities, because of that iVisa.com presents you three exceptional options. You can pick the one that works better for you, according to your preferences and needs.
Standard option, this option is perfect if you have enough time to wait and want to pay the regular price.
Rush option, pick this option if you do not want to wait for that much and can pay a bit more.
Super rush option, for those who need their document asap and do not mind paying a higher price this is the perfect option.
Is iVisa.com the right option for my ETIAS application?
At iVisa.com we like to let our previous customers answer this question, so we invite you to please read the customer reviews on our page. However, we can also tell you that iVisa.com has great customer service agents providing assistance through every step, and a hassle-free process with a minimum chance of rejection and secured by a top-modern system installed in our page.
I would like more information, where can I find it?
You can find more information about the ETIAS or any other travel documentation service, by contacting our customer agents. They are available at all times and will be more than glad to provide all the information that you might need.
We have got you covered, apply here and start planning your adventure today!