If you have decided to visit the Czech Republic then you can't miss the chance to see the 600-year-old clock in Prague. The astronomical clock in the Old Town Square dates back to 1410. This clock tells you the hour, month, and even the position of the sun and moon. Incredible right? The gothic decoration and statues around it make it an excellent site to pass by. Continue your European journey in the Czech Republic and confirm the latest entry guidelines.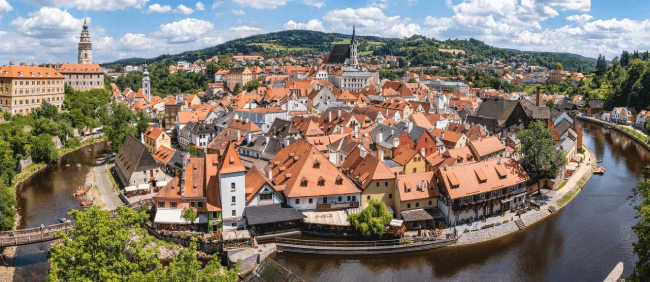 Non-EU travelers who want to visit the Czech Republic will need to get an ETIAS, the new electronic form implemented by the European Union. It's a multiple-entry document that will be available soon.
iVisa.com can help you with the ETIAS process. Try a simple, fast, and 100% reliable service with iVisa.com.
Explore further about Czech ETIAS below.
Frequently Asked Questions (FAQs)
What is the Czech ETIAS?
ETIAS is an online form that international visitors will need to fulfill before traveling to the Czech Republic. ETIAS is the acronym for European Travel Information and Authorization System.
ETIAS is a 100% online process and will give you access not only to the Czech Republic but to all the Schengen zone. If you come from a country exempt from the Schengen visa, then you need to apply for a Czech ETIAS.
Don't hesitate to obtain the Czech ETIAS. It's a multiple-entry document!
I have a Schengen visa, do I need an ETIAS?
In case you have a valid Schengen visa, then a Czech ETIAS is not necessary. Only nationalities that are visa-free to the Schengen zone need an ETIAS before arrival.
Check the Czech ETIAS application here.
Can I visit all of Europe with the Czech ETIAS?
This depends on the countries in Europe you would like to visit. The Czech ETIAS is only valid for the 26 countries in the Schengen area, including the Czech Republic. The European continent consists of more than just the Schengen zone so research further about the countries you want to visit. iVisa.com can help you with the Visa Checker, so you are sure which travel documents you need.
How long is the Czech ETIAS valid?
The Czech ETIAS validity is 3 consecutive years. When visiting the Schengen zone, travelers can stay a maximum of 90 days.
The ETIAS is a multiple entry authorization, for this reason, you can visit the Czech Republic or the Schengen zone as many times as you want.
Reach out to our customer agents if you have some doubts about the multiple entry characteristic.
What information do I need?
You need personal information and details about your trip. Fill out the required information such as name, nationality, passport number, education, etc. As well, there will be questions about health conditions, travel history, criminal records, and previous visa denials, if applicable. iVisa.com will request the following:
A passport scan.
An email address to send you the ETIAS document.
Payment methods, iVisa.com offers two payment options, whether you pay with Paypal account or with credit/debit card.
What processing times do you have for Czech ETIAS?
The Czech ETIAS multiple-entry document has the next three options:
Standard service, if you can handle a moderate waiting period.
Rush service, a quicker option, when in a hurry.
Super rush service, the minimum processing time to obtain the Czech ETIAS right away.
Contact our support agents for further information.
What is the Czech ETIAS process?
Complete the electronic form and select a processing time of your preference.
Double-check the details and choose a payment alternative, with iVisa.com you can pay with a credit/debit card or with Paypal.
Attach the passport scan.
You can visit Europe plenty of times with the Czech ETIAS as it is a multiple entry document, get it with iVisa.com!
Do children need to complete the Czech ETIAS?
Yes! Minors need to complete the multiple-entry document. There are no exemptions to the rule, so all travelers that don't require a Schengen visa must get a Czech ETIAS. Fill out an application for every child in your travel group.
How safe is it to request Czech ETIAS with iVisa.com?
We can assure iVisa.com provides the safest services. iVisa.com works with top-notch systems and follows strict security guidelines. Read our client opinions who discuss iVisa.com excellent services.
Where can I find more information?
[iVisa.com] supports you with an incredible customer service team that is available 24/7. They can answer any questions about Czech ETIAS or any travel document.
Continue reading more information about Czech ETIAS, here.