It might be fair to say that the Czech Republic is still a hidden gem for many tourists. Just the architecture in its capital city, Prague is beyond impressive. It has an interesting mixture of Gothic cathedrals, Romanesque style chapels and cellars, buildings that boast Art Nouveau esthetic, Baroque palaces and gardens, and grand castles, one of them is the Prague Castle with the Guinness record for the largest castle complex in the world.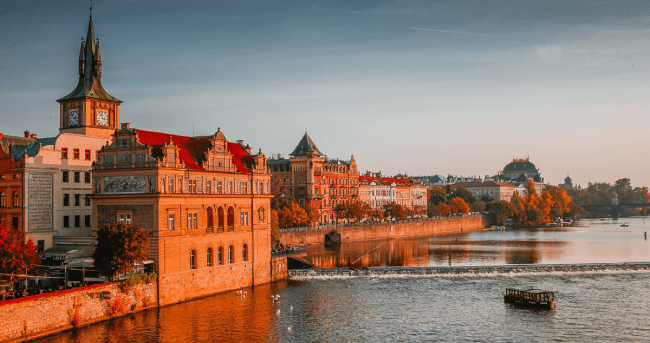 There is definitely something in this charming central European country for each type of traveler. To discover this incredible architecture, enjoy a lovely beer tour, admire the nature of this country or partake in any of the other Czech activities and costumes, travelers will need to have an ETIAS, the new documentation required to enter the country.
We invite you to continue reading so you can find detailed information on the Czech ETIAS for citizens of Israel.
Frequently Asked Questions (FAQs)
Do I need to apply for an ETIAS if I have an Israeli passport?
Travelers with a passport from any country which is not in the European Union and is currently exempt from a Visa to enter the Schengen Zone will need to submit an ETIAS application. To confirm if Israel is part of that group of countries you can use iVisa.com's Visa Checker Tool.
What type of document is the ETIAS?
The ETIAS is a travel authorization that consists of an electronic system. The application process and permit conditions are very similar to the ETA required by Canada or the ESTA required by the United States. ETIAS stands for European Travel Information and Authorization System. This system helps countries in securing their borders while reducing procedures and waiting times for visitors. It tracks and keeps the information of each visitor who enters the Schengen zone before they travel.
Does the ETIAS allow me to visit more than one country?
The ETIAS is a permit for you to visit the Schengen zone. This includes all of the twenty-six member countries- as many as you wish with your permit. Please note there is a field on the application form where you must type the first country that you will be landing into, which must follow your actual route.
For how long am I allowed to stay in a country with the ETIAS?
The ETIAS permit allows you to stay in the Schengen zone for as long as you want without exceeding ninety days inside a hundred and eighty days period. You can visit multiple times and countries without exceeding a maximum of ninety days on each visit, or a top of six months in total per year. If you are still uncertain about times please reach out to iVisa.com's customer service team.
How can I apply to get my ETIAS?
To get your ETIAS you can apply through a simple application form. To do so you just need to follow these easy steps:
First, take 20 minutes to find the application form and enter your personal information.
Second, please take a second look to confirm that all your information is adequately written.

Third, and lastly, you will also need the following:

Your passport with a scanned copy of it.
An email address to receive all of your ETIAS info and permit.
Your chosen payment method. It can be a credit/debit card or PayPal.
Are processing time and prices for the ETIAS good?
Since each customer has different priorities, iVisa.com has three different offers and all of them are really good. Choose whichever suits you better, according to your needs.
Standard priority, the budget-friendly option with customary waiting times.
Rush priority, an option with shorter waiting times and higher price.
Super rush priority, enjoy the shortest wait for your processing by paying a bit extra.
How can I know if my ETIAS was approved?
Once you have followed the indications previously listed on this article, and successfully submitted your ETIAS application form, then you will receive communication via e-mail about your ETIAS approval after it has been processed.
Is it secure to use iVisa.com for my ETIAS application?
iVisa.com offers a minimum chance of rejection and a straightforward and secure process. You will receive assistance from our team of customer service agents through every step. You can read the customer reviews and let their stories about their experience with our services' answers.
Where can I find more information?
If you want more information about the ETIAS or any other travel documentation service, you can get in touch with customer service team. There is someone ready to assist you anytime.
If it's not now, then when? Start your ETIAS application process today.