Traveling is the basic excuse for anyone that is looking for a change in their lives. Your quest might be to discover new cultures, learn history in a more interactive way than a book, or just get lost with nature through beautiful hikes.
Lucky travelers like the citizens of Georgia are part of the Schengen visa-free program and get to hop on a plane or train and easily access all of the Schengen destinations. With the Czech Republic being a member of this region, Georgian citizens can enjoy a trip of relaxation and cultural growth by visiting this beautiful gem of a destination.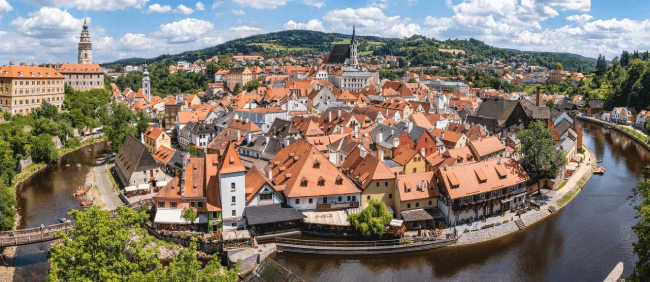 The Czech Republic has about 2,000 castles spread around the country, some of these well-kept, while others are considered ruins, but still, they're part of the cultural amazement. Top your cultural adventure with some mouthwatering local cuisine like their fried cheese, and top it off with a cold glass of Pilsner beer.
Yet, all of these great traveling ideas will only be possible by applying for a Czech ETIAS. The ETIAS is a new travel authorization document created by the Schengen region members to prescreen the information of incoming visitors from Schengen visa-exempt countries. The permit is only valid for short trips of no more than 90 days for tourism or business purposes but grants you the option of multiple entries to all the Schengen states.
The following FAQs will guide you through the Czech ETIAS process for citizens of Georgia, and tips of how iVisa.com can help get your ETIAS application done faster.
Frequently Asked Questions
How does the ETIAS work?
ETIAS means European Travel Information and Authorization System, which has been created by the Schengen region. Its purpose will be to prescreen the incoming visitors traveling from Schengen visa-exempt countries and to verify that they are not a threat. While applying for an ETIAS, the traveler will be required to not only identify themselves but need to provide their travel plans inside the region and any criminal records they might have.
Does every citizen from Georgia need a Czech ETIAS?
The Czech ETIAS application must be made by each traveler that wants to visit the Czech Republic or any other Schengen country. The only primary condition is that the traveler is national and travels with the passport of a country that is currently part of the Schengen visa-free program.
Still, all citizens of Georgia who want to travel need this document, no matter their age. The only difference will be in the service fee if the applicant is under the age of 18, or over 70.
Can citizens of Georgia study in Czechia with an ETIAS?
The requirement of a Czech ETIAS for citizens of Georgia, and any other country currently under the Schengen visa-exempt program, is only valid for tourism, business, or medical visit purposes of travel. Additionally, with an ETIAS, you are allowed to stay in the country for less than 90 days in 180 days.
Is the ETIAS valid only for the duration of my trip?
Your submitted application form determines the ETIAS authorization document validity. Based on the information you provide, and the analysis process it goes through, your ETIAS might be valid only for the duration of your trip or it could be for up to 3 years.
How many days can I travel around Europe with the Czech ETIAS?
One of the main benefits of the ETIAS document is having access to multiple entries to the Schengen countries. During the validity of your travel authorization based on the ETIAS application process, you are allowed to stay up to 90 days every 180 in the Schengen region.
Do citizens of Georgia need many documents to apply for the ETIAS?
Very different from a visa, the ETIAS application form requests from the applicant general contact details, and personal information to ensure the validity of it. The most important pieces of information or documents they will need are:
Biometric passport with your personal details, it's also easier if biometric because the international immigration databases already have your information. It is also likely that you will be asked a scanned copy of your information page.
Payment method must be a valid PayPal account or a debit/credit card.
A valid email address in which to receive your final results and any questions the ETIAS entity has for you during the submission process.
How can I get my ETIAS results delivered fast?
Because the ETIAS hasn't officially launched, iVisa.com can't offer you exact prices. Prices will be established soon and quite possibly will change based on your nationality. We can, however, share the iVisa.com options to speed up your ETIAS application form process after submission so you can get your results faster. The prices will change mostly based on how quickly you want your documents ready.
These are the three options iVisa.com has for processing alternatives:
Standard processing alternative: is the least expensive option, but it will give you the most extended wait after submission of the application form.
Rush processing alternative: is a more reasonable time of wait for results, but it means a higher payment.
Super rush processing alternative: this is the most expensive option of them all, but it does mean it's the fastest processing speed so that you will get your ETIAS results ASAP.
Which is the Czech ETIAS application process for citizens of Georgia?
You can apply for the Czech ETIAS through the official government website, but it might be a pain and take many minutes of your day. By using the iVisa.com platform, you can finish the process in only a few minutes and can even request a faster speed of processing for your application form.
These are the three steps you need to follow with iVisa.com:
First, complete the online questionnaire with your personal details and pick the processing alternative you wish to apply on your application form.
Second, review that the details typed in are correctly spelled and are updated. After this, you must pay the service fee.
Third, revise that all requirements are completed and uploaded if necessary. You may now send you an online application form.
You can now just sit down and relax; you'll receive the final document in the time frame you have selected as a processing alternative.
Can I trust iVisa.com with my info while applying for ETIAS?
The iVisa.com platform is designed with a great security system that keeps your information safe throughout your ETIAS application process. Once the application is submitted, your details are stored on the iVisa.com databases, and kept safe for your use only and protected from the digital threats.
You can see reviews for more details about our services.
Where can I find more details on the Czech ETIAS?
If you have any additional questions or are having difficulties finding more information about the Czech ETIAS for citizens of Georgia, you can reach our customer service team. They'll be more than willing to help you solve those doubts. You can also visit the iVisa.com website for useful tips on how to start your application.