Have you visited St. Vitus Cathedral in Prague? This Cathedral is a part of the Prague Castle complex and home to many wonderful things that you don't want to miss! The major attractions of this place are the bronze doors decorated with the relics expressing the history of the Cathedral, the Royal Mausoleum, and ornate stained-glass windows in the chapels. This Cathedral was built in the year 925 and has great importance in the long history of Prague. If you are planning to visit this astonishing place from Montenegro, you must keep in mind that you have to apply for Czech ETIAS to enter Czech.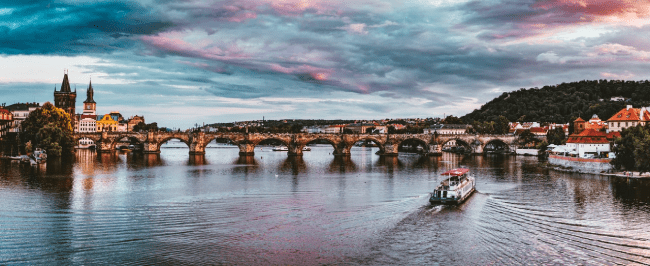 ETIAS is a new mandatory travel authorization document that will be implemented by 2022 by the twenty-six Schengen countries in Europe from the citizens of sixty-two visa-exempt countries. Planning a trip to Czech from Montenegro and have doubts regarding the application and its procedure? Call iVisa.com and understand everything in detail about Czech ETIAS for the citizens of Montenegro.
To get some information about this travel authorization document, you can check the following FAQs:
Frequently Asked Questions
What is the full form of ETIAS?
Unabbreviated ETIAS is the European Travel Information and Authorization System and it is a special document to get entry into the twenty-six Schengen countries in Europe. For example, if you are planning a trip from Montenegro to Czech, Czech ETIAS is the travel document for which you have to apply online.
What are the documents required for Czech ETIAS?
As this travel document will be operational by 2022, it is impossible to provide exact details of the documents that will be required. Even though this is an online travel document, you have to submit some basic documents to get Czech ETIAS ready. These documents are:
Passport with a minimum six months validity and a scanned copy of passport
To receive the document online, you will need a valid email address
Payment options like a PayPal account or debit/credit card
What are the prices and processing times for the Czech ETIAS?
The price of the Czech ETIAS depends on the processing time option you select for obtaining your travel document. Being in the process of implementation, it is not possible to give the actual price for the ETIAS. Here is the list of options:
Standard Processing Time Alternative: This alternative is the most affordable option and opted by most of the people. Utilizing this option will get your document ready in a few days.
Rush Processing Time Alternative: You will get your document in two to three days when you apply with this option. This alternative is a little expensive than the standard one.
Super Rush Processing Time Alternative: Need your document urgently? Then, choose this option that is the most expensive one and get your travel document ready in a jiffy.
Do I need Czech ETIAS if I am just passing by the country?
Yes, if you are entering Czech just for a stopover you still need to apply for the Czech ETIAS. If you don't apply for this document you could have to face problems at the airport and even lose your connecting flight.
How can I apply for the Czech ETIAS for the citizens of Montenegro?
To apply for a Czech ETIAS, you have to follow three simple steps that you can complete in just twenty minutes while sipping your coffee. Here is the list of steps that you have to follow to apply for this travel document:
First, you need to fill the application form with some of your basic personal information.
Second, you need to review this information and check that the information you have given is correct.
Third, you need to pay the fees according to the processing time you have selected and submit the application.
Can I find iVisa.com services secure for Czech ETIAS?
For the application of Czech ETIAS and other travel-related documents, you can find iVisa.com services completely secure and reliable.
I have more unresolved questions. Where should I go?
To resolve all your unresolved queries, you can visit our website and get more info about Czech ETIAS and our valuable client feedback.
It's time to travel! Start your journey with iVisa.com by clicking here.