If you are fascinated by Europe's opulent past then you have to visit Karlovy Vary in the Czech Republic. This spa town is known for its elegant architecture reminiscent of European aristocracy and fabulous springs. Walk near the Tepla River and enjoy the beautiful scenery. Continue your European journey in the Czech Republic but you should be aware of the new entry requirement for international travelers.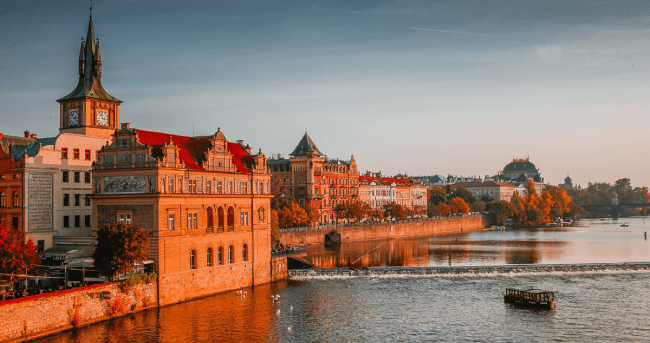 Citizens of Barbados who want to visit the Czech Republic will need to apply for ETIAS. This is the new electronic system implemented by the European Union due to safety reasons.
iVisa.com will introduce the service to obtain the Czech ETIAS, so you can try this fast, simple and reliable product.
Get more information in the following lines.
Frequently Asked Questions (FAQs)
What is ETIAS?
ETIAS refers to the European Travel Information and Authorization System. This online form will give access to the 26 countries in the Schengen zone, including the Czech Republic. You only need one document to enter 26 countries in Europe, isn't that great? If you are unsure as to which are the Schengen countries and what travel documents you need, confirm with the iVisa.com Visa Checker.
Also, this new system will assure greater security to the European borders. There will be better immigration management which will hopefully reduce crime rates and terrorism.
Is Czech ETIAS a visa?
No, the Czech ETIAS is not a visa, it's an authorization document. Visas have a more complicated process in which visitors need to go to the embassy and fill out lots of paperwork. The ETIAS is different, you only need to complete an electronic form that will take you a few minutes.
Please note that citizens who require a Schengen visa don't need to apply for an ETIAS. On the contrary, countries exempt from a Schengen visa need to get an ETIAS. This is the case for Barbados. For this reason, citizens of Barbados will need an ETIAS before traveling to the Czech Republic.
How long is the Czech ETIAS valid for?
The ETIAS is valid for 3 consecutive years. The ETIAS allows a maximum stay of 90 days in the Czech Republic or any other Schengen country. There are no limits to the number of trips, so travel as much as you can always respecting the time parameters.
Apply and visit Europe soon!
What information and requirements are requested?
The online form will request a traveler's details such as name, address, employment, and nationality, etc. Additionally, you will be questioned about criminal records, health conditions, previous trips to war zones, and anything relevant for the EU.
Other requirements are:
Passport photocopy with a minimum validity of 3 months from the travel date.
A valid email address to send the ETIAS.
Payment, whether you choose to pay with your Paypal account or use a credit/debit card, iVisa.com charges a minimum fee for the ETIAS service.
What are the processing times?
According to your needs, select the best alternative between the following ones:
Standard option, the typical service that provides an average waiting time.
Rush option, when you need the document faster, this is the best choice.
Super rush option, when you have no time to wait, and the ETIAS document is received as soon as possible.
What is the ETIAS procedure?
Fill out the online form with personal information and pick a waiting time.
Review your details and complete any missing information. Decide how to pay, either with a credit/debit card or with a Paypal account.
Upload the documents required, like the passport scan.
How will I get the ETIAS?
The ETIAS document will be sent to the email address specified in the application. Keep the email in a printed version or on your mobile phone to show it on your arrival to the Czech Republic.
Do minors need ETIAS?
Yes, all travelers need an ETIAS regardless of age. Children will need their own ETIAS before traveling to the Czech Republic or any other Schengen country.
How secure is to get Czech ETIAS with iVisa.com?
100% secure. Security is an important principle for iVisa.com. The company works around strict security guidelines that will assure travelers' information is kept safe. Read the customer comments and trust iVisa.com with the ETIAS document.
I have some questions, where can I get more info?
Go to iVisa.com main page for further details about travel documentation. Reach out to our amazing support agents for any questions you might have.
Apply and start your journey with iVisa.com!