If you have decided to visit the Czech Republic then you must go to the capital, Prague,. This beautiful city mixes a well-preserved Old Town with modern architecture. Cross the Charles Bridge and indulge in the breathtaking scenery. Before taking that flight make sure you have the right documentation before entering the Czech Republic.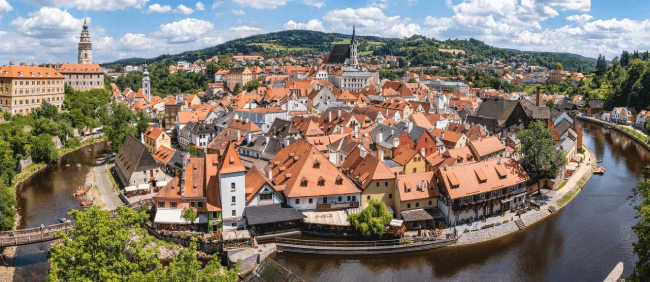 The Czech Republic will demand a new electronic form from international visitors called ETIAS. This is a new procedure for countries that are exempt from a Schengen visa and Antigua and Barbuda are part of that group.
iVisa.com is already working on providing you the best service for your Czech ETIAS. Try a fast, simple, and reliable product with iVisa.com.
Our next FAQs explore the details about Czech ETIAS, continue reading.
Frequently Asked Questions (FAQs)
What is the Czech ETIAS?
ETIAS means European Travel Information and Authorization System. The Czech ETIAS is an electronic system that will provide an authorization to visit the Czech Republic and any other country in the Schengen zone.
Citizens from visa-free countries to the Schengen area will have to get ETIAS before traveling. In this case citizens of Antigua and Barbuda need an ETIAS.
Is the Czech ETIAS a visa?
No, the Czech ETIAS is not a visa. Visas require appointments at the embassy, extensive paperwork, and long waiting periods. The ETIAS is simple. You need to complete a 100% online form, wait on your document and you will be ready to travel.
Is Czech ETIAS valid for Europe?
The Czech ETIAS will give access to the 26 countries in the Schengen zone including the Czech Republic. Remember that not all countries in Europe are part of Schengen, therefore, when choosing the countries in your itinerary make sure to have the correct travel documents. iVisa.com is here to help you, so check the iVisa.com Visa Checker and confirm if you only need an ETIAS for your European trip.
How long is Czech ETIAS valid for?
The Czech ETIAS is valid for 3 consecutive years from the issued date. There is a maximum stay of 90 days when you are in the Czech Republic or any other Schengen country. As well, there are no limits to the number of trips, but you should comply with the provided parameters.
If this is unclear, please contact our support agents for clarification.
What documents do I need for Czech ETIAS?
It's not only about the documents but also about your personal information. Provide details such as name, address, nationality, and education, etc. The EU immigration could also ask about criminal background, previous trips, and anything related to safety concerns. iVisa.com will request the following as well:
Your passport that should be valid for a minimum of 3 months from the travel date.
An email address to receive the ETIAS document.
Payment options, pay with a credit/debit card or with a Paypal account.
What are your processing times?
According to your time and budget, choose the alternative of your preference:
Standard method, a regular requirement at the lowest price.
Rush method, a quicker service to acquire the ETIAS.
Super rush method, the fastest option with the highest fee.
We offer you a customer service team in case you have any questions.
What is the process to get the Czech ETIAS?
The iVisa.com process is simple with these 3 steps:
Firstly, complete the form with your personal information and select a processing time.
Secondly, double-check your answers and correct any mistakes. Decide how to pay, either with a credit/debit card or Paypal.
Thirdly, attach the scan of your passport.
Obtain the Czech ETIAS very soon with iVisa.com.
What will I get in my email inbox?
You will receive the Czech ETIAS document in your email inbox. iVisa.com will make sure to process your application and send you the ETIAS soon enough before your trip. The ETIAS document should be shown to border control upon arrival so keep it with you at all times.
How safe is iVisa.com?
iVisa.com is a trustworthy company and lots of travelers around the world have trusted iVisa.com with their travel documents. Read what our clients have to say about iVisa.com here. Be confident your ETIAS is in the best hands with iVisa.com.
How can I get more info?
Reach out to our customer service agents who are available 24/7. Keep reading about ETIAS and the process with iVisa.com here.
We want you to relax and enjoy your next trip, trust iVisa.com!