If you're a citizen of Palau, and you want to travel to countries in the Schengen Area, then you'll have to register with the ETIAS from 2021 onwards. The ETIAS is a visa waiver program required in certain countries in Europe, including Denmark, to have a better track of the entry of foreign citizens. This program will allow you to visit any Schengen country for at least 90 days.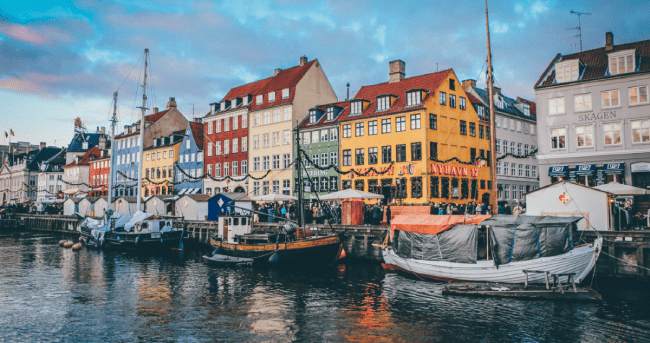 You should know that with a Palauan passport, you benefit from being a member of the visa-free program, so you don't need a visa to enter the 26 countries of the Schengen Zone. However, it's still necessary to apply for the ETIAS. The good thing is that you can apply for this document using iVisa.com's service, which allows you to be ready in less than 20 minutes.
You shouldn't overlook this document, especially when planning a trip to the Kingdom of Denmark. You can learn more about the Denmark ETIAS for Citizens of Palau by reading the FAQs below.
Keep in mind that after the Denmark ETIAS is introduced, it'll be obligatory for you to apply for it before entering Denmark and other Schengen states.
Frequently Asked Questions
What is an ETIAS program?
The European Travel Information and Authorization System is often called ETIAS, and it's a visa-waiver program that will be mandatory for visa-exempt countries like Palau whenever they want to enter Schengen member states. This system was created to mitigate illegal migration and to ensure a safe travel experience for everyone.
With the Denmark ETIAS, you're allowed to enter Denmark for a short-term stay. You can use it for leisure, business, or study, as long as it doesn't exceed the maximum stay allowed.
The maximum stay allowed is 90 days, so if you have to work, study, or live for more than that, then consider applying for another type of requirement.
Do I need to apply for the ETIAS program if I'm from Palau?
Palauans traveling to the Schengen Area from late 2022 onwards will be required to apply for an ETIAS before their trip. This means that starting on that year, you'll have to apply for the Denmark ETIAS before traveling to Denmark.
The information in this document is encrypted and securely saved by the EU-LISA system, so it can only be accessed by accredited border control staff. All the information you offer will be used to check it against international databases to screen for security risks.
Another thing you should know is that once you apply for one ETIAS document, you'll be able to use it not only in one Schengen country but in all of them. The only condition is to always ensure that the first listed country in your application is the same you'll be visiting first when traveling. For example, you have to choose Denmark as your first destination in your ETIAS application if you visit this country first. If you'd travel to another country, say Greece or Norway, then you'd have to select Greece or Norway as the first destination.
Requirements to apply for the ETIAS if you're from Palau
For the ETIAS application form to be successful, it's important that you offer the following requirements. Take into account that these are necessary both for iVisa.com's online method and the Official ETIAS method:
A valid passport that will not expire until at least 3 months after the visit.
A method of payment (credit or debit card, Paypal).
A current email address so that the online document can be given.
Aside from that, you could need other requirements if you use the official website. But, if you opt to apply for the ETIAS using iVisa.com's application form, then you'll need nothing more.
Prices and processing times for the Denmark ETIAS
The Denmark ETIAS for citizens of Palau will be an obligatory requirement by 2022, which is why we cannot offer you the exact price of it yet. What we can tell you is that it won't be expensive and by using iVisa.com's application form, you'll be able to have it in a couple of days or even a few hours. This is a great advantage because using the official website can be more tedious and time-wasting.
By using iVisa.com, you'll be able to choose one of the following processing times:
Standard Processing Time: This standard option allows you to wait a standard time by paying the least expensive price.
Rush Processing Time: With this option, you'll wait less time, but the price will increase a bit.
Super Rush Processing Time: This is the most expensive option but it's also the fastest so it can be an excellent method if you're in a rush.
How to apply for the Denmark ETIAS with iVisa.com
You can apply for the Denmark ETIAS using the official ETIAS website, but you should know that since it's the official option, it can be too crowded most of the time, making it harder for you to apply. If you apply with iVisa.com, you won't have to suffer from that because it's a lot easier and faster. The steps you have to complete are:
First, click here to complete the questionnaire with basic info and select your processing option.
Second, check the information you gave before, and after that, pay for the service.
Third, double-check the spelling once more, upload the requirements, and send your online form. After that, you'll just have to wait for it via email inbox.
Remember that iVisa.com's customer service is always at your service if you have doubts.
How much time do I need to apply?
It depends on the application method you choose. We can tell you that with iVisa.com's application form you won't have to spend more than 20 minutes of your day.
What is the European Union?
The European Union (EU) is an economic and also political union with 28 member states. It was necessary to support peace on the continent, but it has increased in importance since being installed. The EU countries can influence many aspects of European policymaking, but these are based on what the legislative institutions of the EU say.
The EU isn't the same as the Schengen Area. Therefore, foreign citizens traveling to the EU can travel freely only between countries in the Schengen Area, but not between the entire countries in the EU.
You cannot use the Denmark ETIAS in all of the EU countries.
What is the Schengen Area?
The Schengen Area is an agreement created in a lot of countries that belong to the EU. Schengen countries are those European countries that have signed the Schengen agreement. These nations have no internal border controls, allowing free movement between the participating countries.
There are currently 26 Schengen member states, and most of them are part of the EU. However, some countries that belong to the EU aren't part of the Schengen Union, like Ireland.
Other countries are part of the Schengen Area but not of the EU, like Iceland, Norway, Liechtenstein, and Switzerland.
Please remember that the Denmark ETIAS is available only in the Schengen Area.
Is it safe to apply with iVisa.com?
Of course! You can always feel safe when using iVisa.com's application form because we have a trustworthy work team and a modern security platform that will always keep your information safe. You can read these reviews to verify it!
Where can I read more?
In case of having more doubts about this process, you can contact iVisa.com's customer center. You can also check iVisa.com's blog page to read other FAQs.
Whenever you feel ready, apply for the Denmark ETIAS for citizens of Palau, and enjoy your trip!