If you ever want to visit a wonderful country located in the Caribbean that offers to all tourists breathtaking natural paradises that will blow your mind, then you should go to Dominica. Do not underestimate this small island because you will find vast mountains, incredible waterfalls, spectacular views of the beaches, and the magnificent Champagne Reef. The best part is that Dominica is closer than you think!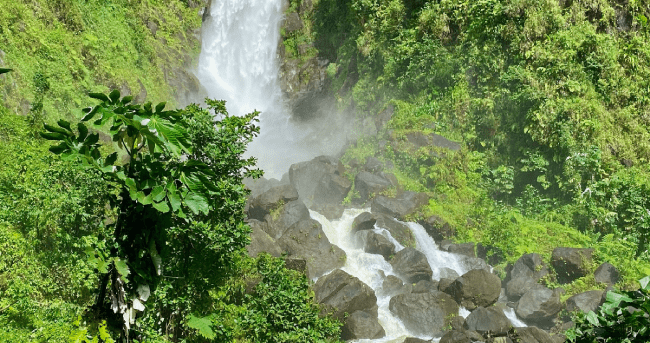 In case you want to visit this fascinating country, you should know the travel restrictions that have been taken to prevent a new COVID-19 outbreak in Dominica. All tourists wishing to explore Dominica must present two documents: From one side, you will have to show a negative result from the COVID-19 PCR Test. You must take this test for 72 hours in advance. On the other side, you will have to present the Dominica Health Questionnaire to report your health condition, information about yourself, and so on.
Both documents are necessary to enter Dominica. If you miss any of these, your access will be denied. It means that you will need time to complete both, especially the Dominica Health Questionnaire, that may be difficult to achieve for you. iVisa.com understands that you may need help, so we have prepared a straightforward way to obtain it. We will provide you the best service while you wait comfortably at home.
Learn more about both documents, and how iVisa.com is the best option to get your Health Questionnaire by reading this article.
Frequently Asked Questions
What is the Dominica Health Questionnaire and the COVID-19 PCR Test?
The COVID-19 PCR Testing is a test that informs if someone carries with COVID-19 or not. This result is essential if you want to visit Dominica because it is one of the measurements implemented to prevent more cases from abroad. The test must be taken in an authorized laboratory.
The Dominica Health Questionnaire is a declaration in which you report that your heath condition is Optimus to enter the country. In that report, you will provide information about yourself, and about your trip.
Which risk category is my country?
Low-risk: Grenada, Montserrat, Antigua & Barbuda, Barbados, The Cayman Islands, Norway, Iceland, New Zealand, Bermuda, Greenland, Singapore
Medium risk: Finland, Sweden, Nigeria, Switzerland
High-risk: Curacao, Canada, Italy, Jamaica, Trinidad & Tobago, Guyana, Belize, Guadeloupe, Martinique, United States, Brazil, India, Russia, South Africa, Peru, Mexico, Haiti, Colombia, Chile, Spain, Iran, United Kingdom, France, Japan, Bolivia, Aruba, St. Vincent & Grenadines,Germany, Argentina, Dominican Republic, Ecuador, Panama, Surinam, St. Lucia, Sint Maarten, Saint Martin, Turks & Caicos Islands, Anguilla, St. Kitts & Nevis, BVI
Do I need a COVID-19 vaccine or vaccination certificate to enter Dominica?
No, it is not necessary. As of today, COVID vaccination passports or certificates are not mandatory to enter Dominica. Now if you are a Covid vaccine certificate holder, you won't need to follow a quarantine.
Approved vaccines are Pfizer, AstraZeneca, Moderna, Janssen, Sinopharm.
Since information may change quickly, we advise you to follow up on the latest Dominica travel updates and/or contact your local embassy.
Do children have to present the COVID-19 PCR Test?
Yes, children older than five years old must present this document.
Do I need to quarantine when I get to the Dominica?
Unvaccinated travelers from high-risk countries need to quarantine for 5 days and take a COVID-19 test on day 5 of quarantine. If the result is negative, they will be released from quarantine. Fully vaccinated travelers coming from high-risk countries don't need to quarantine.
What is the price to obtain the Health Questionnaire and how long do I have to wait for the document?
The Health Questionnaire process has different costs since we offer three alternatives for you. These are the following:
Standard Processing Option: You will only have to pay

USD 20.00

, and you receive your Health Questionnaire in

24 hours

.
Rush Processing Option: You wait

8 hours

, and it costs

USD 35.00

.
Super Rush Processing Option: The Health Questionnaire is received in

4 hours

by paying

USD 60.00

.
What information do I have to provide for the Health Questionnaire?
The application form that iVisa.com has designed for you is not as complicated as you might think. You will have to fill info about yourself, your passport number, details about your health, and your trip.
You will also be asked to attach:
What are the steps that I have to follow with iVisa.com?
The process is pretty simple with iVisa.com. You won't have to follow more than three steps, so you don't have to worry about anything else. You still have the option to do it on your own, but keep in mind that the Health Questionnaire has a complex language that might be difficult to understand. If you choose iVisa.com, you will have to follow the next steps:
First, fill the application form, and select your favorite processing option.
Second check all your data, and proceed with the payment.
Third, upload your info, and submit it.
Did you make your decision already? Then click here, and start now.
Is it secure to use iVisa.com?
iVisa.com is safe, indeed. Customers from all over the world have used our services and their experiences have been excellent with us. You can check more about our reviews here.
Can I get in touch with you if I have further questions?
You can keep reading our iVisa.com page to learn about these procedures. You can also contact a support agent if you need help.