It's safe to say that international travel will never be the same since the COVID pandemic started. For travel to resume, all the countries in the world have had to make tough decisions and implement strict guidelines and requirements for people trying to enter their territory. One of the most important tasks for border personnel is to make sure that travelers comply with the national public health recommendations.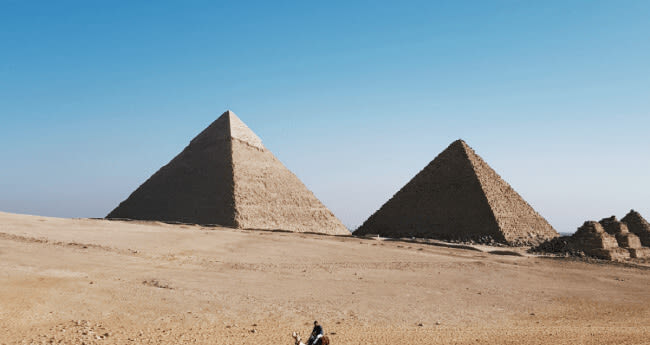 With that said, countries like Egypt now require travelers additional documents. These documents prove that the traveler is ready to enter the country and that he or she is free from any illness that could disrupt national health policies and economic growth. Whether you are traveling by land, air, or sea, you will have to produce the required paperwork in order for you to gain entry.
Head to iVisa.com right now and learn How Citizens of the United Kingdom Can Travel to Egypt During Coronavirus and start your application for the documents.
Apply In Advance
Never wait for the last second to start preparing for your trip. Start the application process in advance, even if you're planning travel months down the line, and we'll be sure to get your order on time and valid for your flight.
Frequently Asked Questions
How Citizens of the United Kingdom Can Travel to Egypt During Coronavirus?
Aside from applying for a regular visa, passengers arriving from the UK must now present a copy of their negative PCR test certificate upon arrival. The test must be taken within 72 hours upon arriving at an Egyptian airport. Only the UK passengers coming from London Heathrow will be allowed an extended time of 96 hours in their covid test certificate prior to their flight departure in consideration of the longer travel and transit time it takes on the said airport. Don't have a health declaration form yet? Get yours at iVisa.com to experience a quick and easy application. Plus, our services include travel tips on How Citizens of the United Kingdom Can Travel to Egypt During Coronavirus.
Do I need a COVID vaccine or vaccination certificate to enter Egypt?
No, you don't. As of today, COVID vaccination passports or certificates are not a mandatory to enter Egypt. Now if you are a Covid vaccine certificate holder, you won't need to present a negative PCR test nor to follow a quarantine.
Accepted vaccines are AstraZeneca, Janssen, Moderna, Pfizer-BioNTech, Sinopharm, Sinovac and Sputnik V. You are considered vaccinated if all doses of a vaccine against SARS-Cov-2 have been administered for at least two weeks before traveling.
Please note: the PCR test and the vaccination certificate must contain a QR code.
Do I need to take a PCR COVID-19 Test before traveling to Egypt?
COVID test prior to arrival: PCR or rapid antigen test within 72 hours
COVID test exemptions: Fully vaccinated travelers and children under 12
Is there a quarantine requirement on arrival in Egypt?
Quarantine requirements: There are no quarantine requirements in Egypt.
Will I also need a covid test certificate if I will just be transiting through an Egyptian airport?
Arriving passengers who only need to pass through the international zone of an Egyptian airport no longer have to present a PCR test certificate unless mandated by their destination country's authorities.
Only passengers in transit who must stay in a hotel or who are leaving the airport during their transit period will be asked to present a copy of their covid test certificate. iVisa.com has all the information you need to know on How Citizens of the United Kingdom Can Travel to Egypt During Coronavirus. We can also help you fill out your application form accurately in order to get a visa successfully.
Can you give me the processing times and fees for the application?
You have three options to choose from.
The option with the slowest processing speed is Standard Processing. It is also the most affordable of the three.

USD 20.00

-

24 hours

.
For faster turnaround, you can use Rush Processing. It also costs a bit more than the Standard option.

USD 35.00

-

8 hours

.
The best choice for those who are in a hurry to get their health declaration forms is the Super Rush Option. It has the quickest processing out of the three options.

USD 60.00

-

4 hours

.
Start filling out the application now and get more details about How Citizens of the United Kingdom Can Travel to Egypt During Coronavirus.
Who is exempted from this mandatory document?
Children under the age of 7 years old will not be required to show a covid test certificate. They are, however, required to have a regular visa in order to be granted entry into Egyptian territory.
Planning to take the kids on a family trip in Egypt? Start filling out your application forms for the whole family at iVisa.com today.
Is it safe to give the whole family's information when using your website?
iVisa.com will only collect information needed in order to complete your visa application. Our employees are ethically trained to keep your data confidential and safe. Most importantly, we keep up with the latest encryption practices in order to avoid security breaches.
Need help with your application? Apply with iVisa.com's one-stop service.
What if I have more questions?
You can use the widget on iVisa.com to contact our customer service team. You also have the option to send your queries about How Citizens of the United Kingdom Can Travel to Egypt During Coronavirus via email to [email protected].
iVisa.com Recommends!
Egypt is not only famous for the iconic Pyramids of Giza but is also known for the Nile, the longest river in the world. It's also the best place to take your dream safari experience. Egypt's land is 90% covered in desert. Tourists will surely enjoy a scenic view of desert oases while riding on horseback.
Anytime is the best time to travel to Egypt because of its beautiful weather. But today is the right time to find out How Citizens of the United Kingdom Can Travel to Egypt During Coronavirus so you can already start planning your trip. Pay iVisa.com a visit and complete your visa application now!