Note: Since July 20th, 2022, the Egypt Declaration Form is no longer necessary to enter the country.
During these times when there are infectious diseases at loose, you need to be vaccinated before traveling. You would think that Do I need a vaccine to travel to Egypt? and the answer is yes because it protects you against any diseases that may come your way.
Once you are assured that your trip is going to be safe, you will enjoy it very well. You should read about all the precautions which you should take before traveling on our website iVisa.com. It contains all the necessary information for you to plan your travel safely. You need to be vaccinated for hepatitis A, hepatitis B, typhoid, yellow fever, polio, etc before you can enter the land of Egypt. To apply for your visa to Egypt, visit iVisa.com.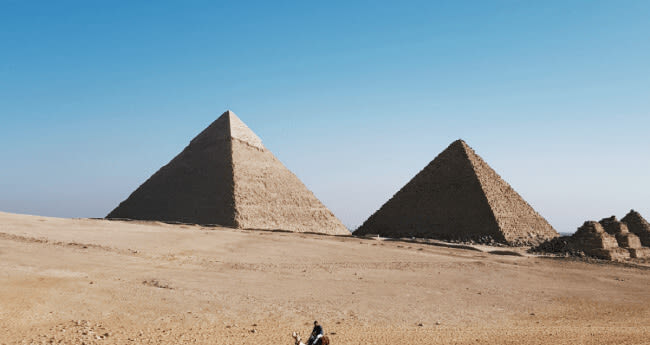 Apply for your documents with us
The first thing do is to enter iVisa.com application website to see if you're eligible for any kind of document.
After that, fill out the application request.
As soon as you fill out the form, ensure that your information is correct to avoid mistakes, and choose a processing speed.
Join all the items needed for the application form and send it once you're ready.
Now you can wait for your document via email inbox.
Frequently Asked Questions
Do I need a vaccine to travel to Egypt?
It's necessary to count on certain vaccines like Yellow Fever, but remember that it all depends on the country you were born or the last country you've been to.
Do I need a COVID vaccine or vaccination certificate to enter Egypt?
No, you don't. As of today, COVID vaccination passports or certificates are not a mandatory to enter Egypt. Now if you are a Covid vaccine certificate holder, you won't need to present a negative PCR test nor to follow a quarantine.
Accepted vaccines are AstraZeneca, Janssen, Moderna, Pfizer-BioNTech, Sinopharm, Sinovac and Sputnik V. You are considered vaccinated if all doses of a vaccine against SARS-Cov-2 have been administered for at least two weeks before traveling.
Please note: the PCR test and the vaccination certificate must contain a QR code.
Do I need to take a PCR COVID-19 Test before traveling to Egypt?
COVID testing requirements: There are no testing requirements.
Is there a quarantine requirement on arrival in Egypt?
Quarantine requirements: There are no quarantine requirements in Egypt.
What is the processing time for an Egypt travel visa?
The processing time of your visa depends on certain parameters, under which the type of plan you choose highly determines the processing time. We have these 3 offers:
Standard Processing:

USD $86.99

-

6 Business Days

.
Rush Processing:

USD $138.99

-

4 Business Days

.
Super Rush Processing:

USD $201.99

-

2 Business Days

.
You don't need to worry about Do I need a vaccine to travel to Egypt? as all of it is cleared on our website.
What are the details required to apply for an Egypt travel visa?
Below are listed the documents to apply for the Egypt Travel visa. Make sure you have all these before you go on our website and apply. Correct details are a must.
Scan of passport personal details
Copy of passport's last page
Are these methods safe to apply for an Egypt travel visa?
You can be 100% assured that the method and processing we use are safe for you to apply for a travel visa. Moreover, we always focus on safeguarding the process of visas for our customers as it is the number one priority. Vaccination requirement information on our website will remove all your doubts on Do I need a vaccination to travel to Egypt?.
Where and how can I apply for an Egypt travel visa?
To apply for the Egypt travel visa Click here. After you click the link, you will get redirected to the application process where you have to fill every detail carefully. Incomplete applications would be rejected. Read all the necessary information on our website about Do I need a vaccine to travel to Egypt?.
Do I need to be vaccinated for yellow fever vaccination before applying for a visa?
You need to be vaccinated for yellow fever vaccination before you can enter Egypt. This is a mandatory provision for the protection of travelers and residents. You will have to present proof of vaccination upon your arrival at the Egypt airport. Visit our website, for information on any of your thoughts on Do I need a vaccine to travel to Egypt?
Can I get multiple entries to Egypt through the same visa?
You have 3 months to enter Egypt from the starting date if you've applied for an e-visa. You can stay there for 30 days in Total, this info should be indicated on your invitation letter by your employer.
Where can I learn more about the Egypt travel visa?
You should find all the relevant information related to travel visas on our website iVisa.com. It contains info about Egypt's travel visa and many different countries visas too. You will be assured of any vaccination processes and thoughts of Do I need a vaccine to travel to Egypt? can be cleared there too. Take your time to read through the descriptions and FAQ section so that you are stress-free about visa processes.
iVisa.com recommends
Egypt is a country which is well-known for its tourist-friendly image, and, for the kind of landscapes, it has got. Egypt comprises various civilizations that have lived there for centuries and left marks on their culture. The population of Egypt is 82.6 million which is not much compared to the geographical area it has got. Every travel opportunity to Egypt should be a no-brainer. But you need to keep yourself safe during travel to any countries.
Egypt has millennia-old monuments located along the fertile Nile River Valley, including the colossal pyramids of Giza and the Great Sphinx, as well as the tombs of the Valley of the Kings and the hieroglyph-lined Karnak Temple in Luxor. In the capital, Cairo, there are Ottoman monuments, such as the Muhammad Ali Mosque and the Egyptian Museum, a treasure trove of antiquities.
Discover more about this country by planning your trip without stress and applying for the necessary documents with us!