Japan is one of the countries where citizens can receive an electronic visa for Egypt. Subsequently, for Japanese citizens a visa from Egypt is easier to get than ever, and those who want to apply are no longer required to make a trip to the embassy. With iVisa, you can apply online from the comfort of your own home! It is easy, fast and simple, all you need is a few documents and an internet connection.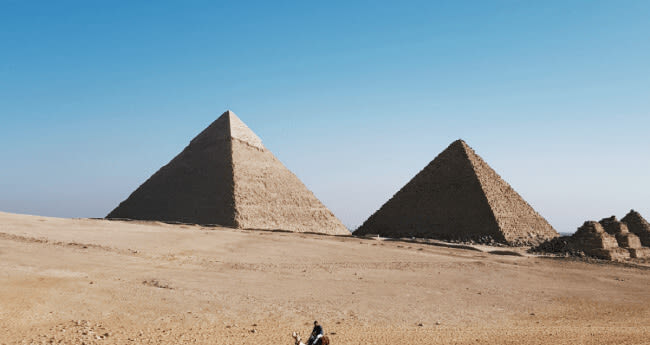 Frequently Asked Questions (FAQs)
I have a Japanese passport, do I need a visa to visit Egypt?
Yes, visitors with a Japanese passport are required to apply for an Egypt eVisa. You can check requirements here.
What is the electronic visa?
The eVisa serves as a means of authorization that allows tourists from different countries to join Egypt. The processing and obtaining of the document is online, that's why it's called ''electronic visa''.
How long can visitors with a Japanese passport stay in Egypt with an eVisa?
Japanese visiting Egypt with an eVisa will be able to stay in the country for a maximum of 30 days in Total and they will have a Single Entry.
Do I need to supply any documents to apply?
iVisa will require the following to submit your application
Passport Personal Details Scan

Last Page of Passport (if applicable)
How long is the Egypt eVisa valid?
The eVisa for Egypt is valid for 90 days after issued.
What are the processing times and prices?
We offer our applicants three options:
Standard processing – your visa application is processed within 6 Business Days, and the price is USD $61.49 (service fees included).

Rush processing – you will receive your visa within 4 Business Days, and the total price of it is USD $114.99 (service fees included).

Super rush processing – this is the fastest option. You will get your Egypt e-visa in only 3 Business Days, with a total price of USD $153.99 (service fees included).
PLEASE NOTE: As for the visa type, you have two choices: Single Entry Visa and Multiple Entry Visa. The prices for the first one can be found above, while the price for the Multiple Entry visa is USD $117.99, USD $182.99 and USD $238.99, respectively.
Start your own application here.
In what mode does the eVisa work?
To issue your Egypt eVisa, iVisa utilizes Egypt's eVisa system. We enter the information provided and after the Egyptian government reviews it, they notify us of the outcome of your eVisa application.
Does it take a long time to apply for a visa?
You only need to fill out our easy application form, that it will not take more than 10 minutes of your time. Then, we will handle the rest.
How can I apply for the eVisa online?
To complete the application form follow these easy steps:
We will require you to type in your general information. There you must also select the timeframe of process and the visa entry type.

Revise everything you did in the first part and do the payment.

The last step will ask you to upload additional documents and complete a personal questionnaire. After that, click submit and wait for your visa to arrive in the timeframe you chose.
Click here to start. After you are done, submit your form and wait for your visa to arrive. In case you need assistance filling out your application, iVisa has a fantastic support service that you can call at any time.
What comes after I finish the application?
When you finish filling out the form, all you have to do is send it in and we will let you know by email about the status of your visa. The approved eVisa will be sent to you in PDF format (also by email. Next, present a printed version of your eVisa along with your passport once you enter Egypt.
I am traveling with children, do I need to create an account for them to apply?
No, you do not. Parents can apply for their children in conjunction with their own application.
How can I apply for my family or friends?
You just need to make sure to have all the required documents (aforementioned in this article.) If you plan to visit this country with a group of friends or family, you can do it by clicking on ''add new applicant'' in the application form and submitting the corresponding documents from each member.
If I'm only transiting through Egypt, do I require an eVisa?
If your stop is less than 48 hours, you will not need a visa. Remember that you must present proof that you are there only in transit.
The above DOES NOT apply to nationals of Iran (who always require a transit visa), Afghanistan, Lebanon, Palestine, and the Philippines, who must remain in the transit area at all times.
If I made a mistake while filling the form, how can I fix it?
If you made a mistake when entering your data online then please contact our customer service representatives as soon as possible via online chat to assist you.
Is it safe to use iVisa to get my eVisa?
The service we offer always has the necessary parameters to meet all the needs of our clients in terms of the visa process. We have experience in this area for several years, and we continue to move forward. The data we use internally, save, and protect your private information from any network on the Internet and does not expose it. In addition, we have many customers who always show their satisfaction and appreciation of the service with us through positive comments we receive at Trustpilot.
I have more unresolved questions, where can I find more details?
For a faster resolution click here and start chatting with one of our customer service representatives. Alternatively, you can find more info and FAQs here.