Slovakia is a member of the European Union, and since all the citizens of the EU have access to an Egypt electronic visa, an Egypt visa for Slovakian citizens is now more convenient than ever. The application process is entirely online, and your efforts are minimal. iVisa.com can help you with the process for a small fee. This way, you can get your visa in as little as three days.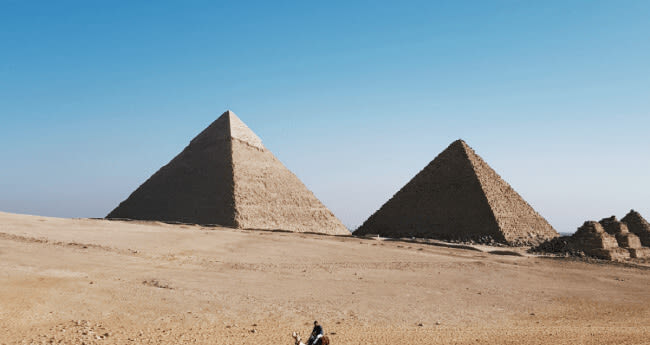 There's more information about the Egypt visa for Slovakian citizens in this article. That's why we recommend you to continue reading so you can get ready for your upcoming trip to the land of the Pyramids of Giza and the Valley of the Kings.
Frequently Asked Questions
Do I need an Egypt eVisa if I'm from Slovakia?
Yes, you do need an Egypt Visa to enter this country, but the good thing is that this visa is completely online. You can easily apply for it with iVisa.com. If you want to find out more information about the Ukraine Visa for the Egypt Visa for Slovakian Citizens, go here.
What is an Egypt eVisa?
The Egypt eVisa is an approved authorization that certain foreigners need to enter Egypt for tourism purposes. This document is mandatory but it's a lot easier to receive than a usual visa.
You can apply for the eVisa on our website whenever you want as our online service it's available 24/7.
What documents do I need to get the Egypt eVisa?
To get the process started, you need to provide a few things for iVisa.com. However, these items are nothing out of the ordinary, and you should get them in no time. Here's a list of everything you have to give:
A valid passport: you have to be a passport holder to get this eVisa. Don't forget to make sure that's valid while you stay in Egypt.
A scan of the information page of your passport: this is important while completing the form.
Means of payment: you'll have to pay for this eVisa while applying. You can use Paypal or a debit/credit card for that.
A valid e-mail address: iVisa.com will send you the document via e-mail, which means that there's no room for error when you fill in the application. If you fail to type in the correct address, you will not have access to your visa, which is most unfortunate because you have to go through the application process again. Double-check the spelling before you submit your application, and you should be fine.
How much does Egypt eVisa cost?
The cost of the Egypt Electronic Visa is determined by the processing option you choose while completing the application form. It's also influenced by the visa type. As for the timeframe in which your visa arrives, you are given three options:
Standard processing time: when you select this option, your Egypt e-visa will arrive via e-mail within

6 Business Days

. This is the cheapest processing time you have at hand. It costs only

USD $61.49

.

USD $25.00

is the price of the visa itself, and the other half goes to iVisa.com as a service fee.
Rush processing time: this option will shorten the application processing time by one day. Your application will be processed within

4 Business Days

, and you will be charged

USD $114.99

.
Super Rush processing time: if you have an emergency and need to be on a plane to Egypt as fast as possible, this is the option for you. Your application will be processed within

3 Business Days

. As you may have guessed, the price goes higher as well. You will be charged

USD $153.99

.
As for the visa type, the cost of a single-entry visa can be found above, and a multiple-entry visa is USD $60.00. Both allow a maximum stay of 30 days Per Entry.
Learn more about the Egypt Visa for Slovakian Citizens here.
How can I apply for this document?
After you get all the items required, you can move forward and complete the application form we designed at iVisa.com Filling this online form is easy, but if you need personal support, iVisa.com's customer service can be reached 24/7 without any extra fee.
These are the steps you have to follow in the form:
The first step asks you to present your general information, but you have to choose a processing option as well. This will set the total price you will be charged for your eVisa.

The second step asks you to complete the payment and correct your form in case there's some mistake.

The last step asks for the application's supporting items. You have to upload them. When you're ready with this step, submit your form, and iVisa.com will manage the remainder.
You can click here to see more information about the Egypt Visa for Slovakian Citizens.
Is iVisa.com 100% safe?
Yes, for sure! iVisa.com is a professional company that's been offering official eVisas since 2013. We work hard every day and we also know that there's a fear of giving personal information online, especially with many hazardous websites around, but feel relieved by knowing that this is not the case with us.
iVisa.com process your eVisa the fastest and safest way possible. It has a 9.5 'Excellent' rating from more than 19,000 reviewers on Trustpilot. You can get your Egypt eVisa just as soon as many of our customers do by using our online form.
I still have doubts about the Egypt Visa for Slovakian Citizens, where can I get more info?
In case there are more questions about this process, we recommend you chat with one of our customer service agents here. However, you can also read other facts about the *Egypt Visa for Slovakian Citizens on this link.
As you can notice, getting an Egypt eVisa for Slovakian citizens cannot be simpler. The process is straightforward, and the costs are minimal. However, if you need any help getting through the application process, iVisa.com can help you every step of the way. Contact us today and get ready for this adventure!