The UK is among the record of 46 countries whose citizens can employ for an Egypt digital visa. A visa for Egypt visa from the UK is available online. It is possible to use the services supplied by iVisa, and the whole process is online. You are not required to go to the embassy, you will not waste any time, and all that is possible with little money. It cannot get any better than that.

Frequently Asked Questions (FAQs)
What is an Egypt eVisa?
The eVisa is an empowerment document that permits people to input Egypt.
How long is the Egypt eVisa valid for?
This Egypt eVisa includes a validity of 90 days after issued granting one entrance for a stay of 30 days in Total.
What are the documents required to apply?
There are a number of things that you ought to prepare. Here's a listing of all those requirements:
A valid passport -- in case you don't have a passport, you are able to get one easily. In case you have one, make sure that it is valid and will remain as such for the following six months from your date of arrival in Egypt. Your visa application will be denied.

A scan of the information page of your passport – you will be required to upload it in step three of the application form.
Respond a private questionnaire -- in the measure three of this application form it will ask you to answer a set of personal questions. It's nothing out of the normal and it doesn't take too much time.
Way of payment -- because you're needed to make the payment until you submit your program (step two of the program,) you have to get a debit or credit card ready. In case you've got a Paypal account, you ought to be aware that iVisa accepts that.
What are the processing times and prices?
The price of your visa is dependent upon two things: processing visa and time type. In Terms of the former, iVisa Provides you three options:
Standard processing – once you pick this choice, your Egypt eVisa will arrive through email within 6 Business Days. This is the processing period you've got at hand. It costs just USD $74.99.

Rush processing – this option may shorten the application processing period by a single day. Your application will be processed in 4 Business Days, and you'll be billed USD $123.99.

Super Rush processing – if you have an emergency and want to be on a plane to Egypt as quickly as you possibly can, this can be the choice for you. You obtain it in just 3 Business Days. The price goes as well, as you might have figured. You'll be charged USD $182.99.
Click here to start your application.
How does the Egypt eVisa work?
In November 2017, the Egyptian government implemented a new eVisa system that streamlines the application process and speeds up lines at border control. The application process is quick and simple - you just need to provide some basic information.
An eVisa is an official document permitting entry into and travel within Egypt. Once your application is approved, we recommend that you carry a printed copy of the document.
How long does it take to apply for an Egypt eVisa?
Just 10 minutes is the time you'll need to apply.
How can I apply for a visa for Egypt from the UK?
Once you've got all you'll need, you are able to move on into this application form. It's straightforward to comprehend, works for British citizens, and it is composed of 3 steps.
The first one is going to ask you to fill in your personal info, and to pick a processing period and a visa kind. Both will establish the price of your document. In terms of the processing period, You've got three choices: standard, rush, and super rush.

The next step will ask you to revise measure one and make the payment.

Step three includes added documents to upload and also a private questionnaire. You submit your program and wait patiently when you're finished.
Should you require help using the application form, all you need to do is telephone iVisa's support service. It's available to assist you.
What happens after I've applied?
Once the application is finished, you are going to obtain the eVisa. No need to take care of the embassy. We do it for you so that you do not lose precious time.
How can I apply for my family or friends?
You simply have to be certain that you have all of the necessary documents (you can see previously in this article) and apply here introducing their information. In the event you want to apply for more than 1 individual, it is possible to do this by clicking 'Insert new candidate' from the application form and finishing the information required.
For transiting cases, do I need an Egypt eVisa too?
You will not need one if your transit time/layover will be less than 48 hours (you must show your next ticket flight). Leaving the airport may be permitted but you will have to hand over your passport. You will need to inquire with your airline, as many offer short duration tours to their passengers with transit times/layovers between 6 and 48 hours.
If your transit time is less than 6 hours, you may leave the transit area, but not the airport.
What can I do if I make a mistake in my application?
Your Egypt eVisa is connected to your passport number, if we submitted your application you cannot make any adjustments and you'll need to re-apply, but we won't bill you the following service fee. Consequently, if that is true, please contact our customer service representatives when possible through online chat to help you.
Can I see an eVisa sample?
Here it is: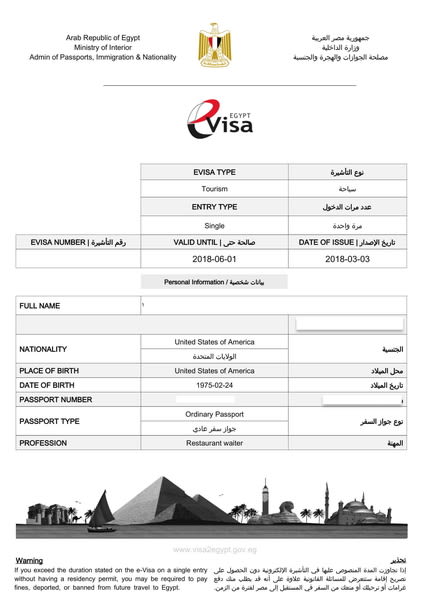 Is it safe to use iVisa to get my Egypt eVisa?
Lots of men and women feel that online information escapes and their private info is in danger of getting into the incorrect hands. That is not true with our services. Security is provided by us for your data and we spend a great deal in our database's safety. Your personal information could not be safer. You can check what hundreds of happy customers say about us here.
I have more questions, where can I find more info?
For extra info, click here and start chatting with one of our customer service representatives. Find more info and FAQs here.