Before traveling to Egypt, you should first check and see whether you are eligible for a visa on arrival from Egypt or for an Egypt eVisa. Even though both visa types have the same purpose and both allow you to enter Egypt legally, by applying for an Egypt eVisa you save more time than when you opt for a Visa on Arrival, which means you will make the most out of your time in Egypt. You will find more information about both visa types in this article.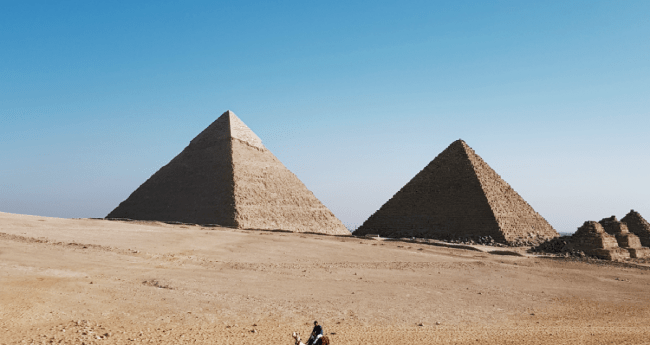 Frequently Asked Questions (FAQs)
Visa On Arrival
What nationalities are eligible for a visa on arrival to Egypt?
There are 104 countries whose citizens are eligible for an Egypt visa on arrival:
Albania, Andorra, Antigua & Barbuda, Argentina, Australia, Austria, Bahamas, Belgium, Bhutan, Bolivia, Brazil, Brunei Darussalam, Bulgaria, Cambodia, Canada, Chile, Colombia, Costa Rica, Croatia, Cuba, Cyprus, Czech Republic, Denmark, Dominica, Dominican Republic, Ecuador, Estonia, Fiji, Finland, France, Georgia, Germany, Greece, Grenada, Guinea, Guyana, Haiti, Hungary, Iceland, Ireland, Italy, Jamaica, Japan, Kazakhstan, Kiribati, Laos, Latvia, Liechtenstein, Lithuania, Luxembourg, Malaysia, Maldives, Malta, Marshall Islands, Mexico, Micronesia, Monaco, Montenegro, Nauru, Nepal, Netherlands, New Zealand, Nicaragua, North Macedonia, Norway, Palau, Panama, Papua New Guinea, Paraguay, Peru, Poland, Portugal, Romania, Russia, Saint Kitts and Nevis, Saint Lucia, Samoa, San Marino, Sao Tome & Principe, Serbia, Seychelles, Singapore, Slovakia, Slovenia, Solomon Islands, South Korea, South Sudan, Spain, Saint Vincent & Grenadines, Suriname, Sweden, Switzerland, Taiwan, East Timor, Tonga, Trinidad and Tobago, Tuvalu, Ukraine, United Kingdom, United States, Uruguay, Vanuatu, Vatican City, Venezuela.
As long as you are a citizen of one of the countries mentioned above, you can obtain a visa on arrival.
How can I obtain a visa on arrival and what is its price?
As the name suggests, this visa is issued when you arrive in Egypt. Once you land, you need to go to the visa on arrival window, after getting in the queue at the immigration office. There, you need to pay USD $25.00, and you will be given a visa sticker to attach to your passport.
Keep in mind, however, that when you pay for your Egypt visa on arrival, you need to pay in US dollars. You are not allowed to use any other currency, and it is preferable if you have the exact amount. Also, you need to pay in cash because credit or debit cards are not accepted.
eVisa
What is an eVisa?
An eVisa is a type of document that is sent to your e-mail in PDF format and it is also electronically attached to your passport. It is very simple to obtain and has a much easier issuing process than the visa on arrival.
How do I know if I am eligible for the eVisa?
There are 46 countries whose citizens can get an Egypt eVisa (more than the ones for visa on arrival), and in order to find out whether you are eligible or not, you can use iVisa.com visa checker. Just choose your nationality and Egypt as a destination, and the information will be displayed.
How can I apply for an eVisa?
Getting an Egypt eVisa requires an application form. You need to complete an online form with all the required information, upload some documents, and make the payment. Once you hit submit, iVisa.com will send your application to the visa issuing authority. All that is left for you to do is wait for your visa to arrive in the timeframe you choose and you will be ready for your trip to Egypt!
What are the visa requirements for Egypt?
An Egyptian visa will require the last page of your passport and a scan of your passport personal details. Here is the full list of required items:
Passport Scan

Last Page of Passport (if applicable)
How long does it take to apply for an Egypt eVisa?
Filling in the application form will take you less than 10 minutes. That is all you need to do! And you can do it from the comfort of your house! Then, iVisa.com will handle the rest and send you your eVisa to the email you provided.
What are the processing times and prices?
iVisa.com offers three options for it:
Standard processing – your visa application is processed within 6 Business Days, and the price is USD $86.99 (service fees included).

Rush processing – you will receive your visa within 4 Business Days, and the total price of it is USD $138.99 (service fees included).

Super rush processing – this is the fastest option. You will get your eVisa in only 2 Business Days, and you will be charged USD $201.99 (service fees included).
Click here to start your application.
How does an Egypt eVisa look like?
This is how the Egypt eVisa looks like: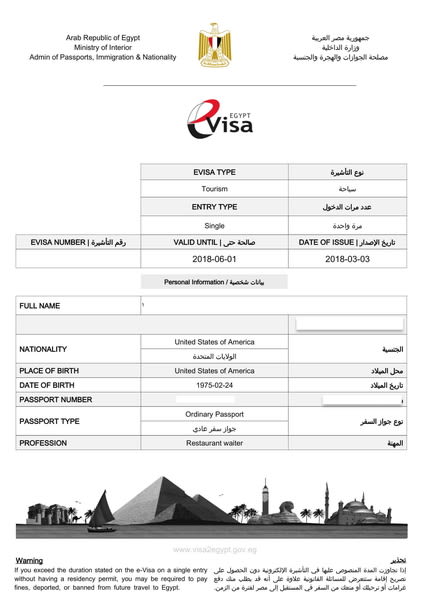 Is it safe to use iVisa.com to get my Egypt eVisa?
Many people think that online information leaks and that their personal info is at risk of getting into the wrong hands. However, that is not the case with our services. We provide maximum safety for your personal data, confidentiality, and we invest a lot in the security of our database. Your personal information could not be safer. You can check what hundreds of happy customers say about us here.
Final Thoughts
By applying for an eVisa instead of a Visa on Arrival you will not only save time but also you will be much less stressed about your application process. By using iVisa.com´s services you will have a group of experts committed to making sure you obtain your travel documentation without problems. Remember that if you need assistance or have any doubt, all you have to do is call iVisa.com's support service. It is available to help you 24/7.