Knowing the right and latest travel information is one of the first steps a traveler should do when planning a holiday during a pandemic. This is especially true because countries around the world, including Egypt, made significant changes to their entry requirements, all in a great effort to minimize the spread of the infectious disease which is COVID-19. In their aim to protect the country's economic welfare and public health, Egypt will now require all arriving tourists, including its own citizens, to present additional documents to prove that they do not carry COVID-19, or have been exposed to the virus.
Obtaining the new entry requirements is simple and easy especially when you know How Citizens of France Can Travel to Egypt During Coronavirus. So start your application for all the necessary documents at iVisa.com.
Note: Since July 20th, 2022, the Egypt Declaration Form is no longer necessary to enter the country.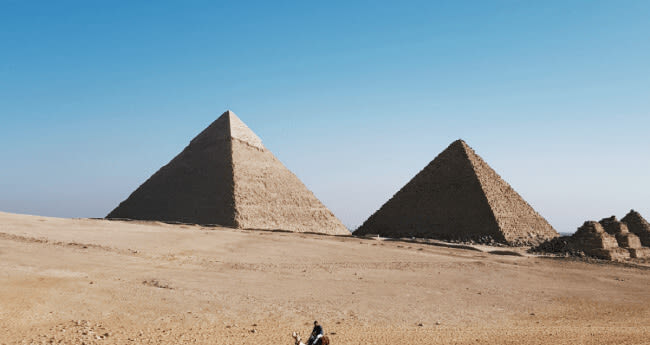 Apply In Advance
It's easier to travel when you have your documents ready beforehand. Let iVisa.com take care of your application so you can focus on other important things for your trip.
Frequently Asked Questions
How Citizens of France Can Travel to Egypt During Coronavirus?
Arriving passengers from France can travel to Egypt provided they comply with the COVID-19 entry requirements set by the Egyptian authorities. Aside from the mandatory requirement to complete a visa application when entering Egypt, citizens of France must present a printed copy of their PCR COVID-19 test showing a negative result to the border authorities in Egypt in order to gain access to the country.
The covid test certificate must be taken no more than 72 hours prior to your arrival to the country unless you came from China, Thailand, Japan, London Heathrow, Frankfurt, Pari, North and South America, where you will be allowed to present a covid test certificate with a maximum of 96 hours prior to your departure.
Let us help you with your application so you can enjoy your trip to Egypt without stressing out.
Do I need a COVID vaccine or vaccination certificate to enter Egypt?
No, you don't. As of today, COVID vaccination passports or certificates are not a mandatory to enter Egypt. Now if you are a Covid vaccine certificate holder, you won't need to present a negative PCR test nor to follow a quarantine.
Accepted vaccines are AstraZeneca, Janssen, Moderna, Pfizer-BioNTech, Sinopharm, Sinovac and Sputnik V. You are considered vaccinated if all doses of a vaccine against SARS-Cov-2 have been administered for at least two weeks before traveling.
Please note: the PCR test and the vaccination certificate must contain a QR code.
Do I need to take a PCR COVID-19 Test before traveling to Egypt?
COVID testing requirements: There are no testing requirements.
Is there a quarantine requirement on arrival in Egypt?
Quarantine requirements: There are no quarantine requirements in Egypt.
Are children exempted from these entry requirements?
Children under the age of six years old can travel to Egypt without presenting a covid test certificate. In addition, all passengers who have a transit flight to an Egyptian airport and have no plans of leaving the airport premises are also not required of the additional document.
All citizens of France regardless of age are still required of a visa when going to Egypt. Fill out the application form for the whole family to make sure you get your visa on time. Enjoy a complete guide on How Citizens of France Can Travel to Egypt During Coronavirus when you use our services.
What are the processing times and fees?
The cheapest process is the Standard option. However, it also has the longest turnaround.

USD $77.99

-

6 Business Days

.
Getting the Rush process is faster but the application costs more than the Standard one.

USD $134.99

-

4 Business Days

.
Your best choice is the Super Rush option which processes the application the quickest. Great for those who are in a rush to have their documents on hand.

USD $182.99

-

2 Business Days

.
Have iVisa.com take care of your documents for you and How Citizens of France Can Travel to Egypt During Coronavirus.
What if I don't have a PCR covid test certificate upon arrival?
Passengers who fail to bring a PCR covid test certificate but have a direct flight to either Sharm el Sheikh/Hurghada/Taba/Marsa Alam airports may take a PCR covid-19 test upon arrival and will be charged with the test fee.
They will then be quarantined in a hotel until they receive the result of their test. If the result shows positive, they will be subject to isolation which will be supervised by health officers of the Ministry of Health of Egypt. If it is negative, they can continue their travel to the country.
Head straight to the application form to start the process and we will take care of it for you.
How can I be sure my personal information is not compromised when using ivisa.com's website?
We run various security protocols all the time in order to make sure that our client's personal information is safe from any form of external threats. This way, our clients can confidently fill out their visa application forms with guaranteed data privacy. Not only do we keep your information safe but we also help you learn How Citizens of France Can Travel to Egypt During Coronavirus. Acquire your travel documents here.
I have more questions, where can I go for help?
We answer customer queries through the chat widget on our website. Contact our customer service reps or send us an email at [email protected] for information on How Citizens of France Can Travel to Egypt During Coronavirus and other questions.
iVisa.com Recommends!
People travel for many reasons. If your reason for traveling is to try different cuisines, Egyptian food is definitely to die for!
Aside from erecting all the famous landmarks that Egypt is known for today, ancient Egyptians also have a great influence on how Egyptians prepare their delicious food today. Among their famous traditional foods are Umm Ali, Egypt's version of pudding that was served way back in the 13th century, and the Konafa, an Egyptian sweet made of shredded kunafa pieces, filled with cream or cheese baked and eaten with syrup.
Think it tastes more delicious than it sounds? Why not try it sooner! Start filling out your Egypt visa application at iVisa.com.