If you are planning a trip to Egypt, you should know that most travelers need to apply for an Egypt Visa. But, Is Egypt Visa-Free? Well, there are some exemptions. Tourists from the US, the EU, or the UK who are traveling to (and remaining in) Sharm El Sheikh, Dahab, Nuweiba, and Taba don't need a visa, as long as their trip doesn't last more than 15 days. But don't worry, even if you do need to get an Egypt Visa, the process is very easy. With iVisa.com, it only takes around 15 minutes to complete the application.
Is Egypt Visa-Free? - Read all about it on our FAQs.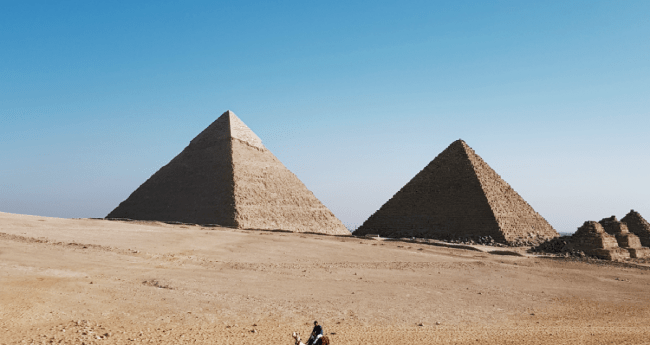 Frequently Asked Questions
Are there any COVID-19 requirements I should learn about before traveling to Egypt?
Yes! All travelers, both foreign and national, need to present a negative PCR test result on arrival. The test cannot be older than 72 hours. Proof of vaccination is preferred but not mandatory.
But these conditions are constantly changing. That's why we've put together a product page, so all our visitors can stay up-to-date with the current restrictions due to COVID-19.
We invite you to check it to learn the answer to your question: Is Egypt Visa-Free?
What is the Egypt Visa and how can I obtain it?
The Egypt Visa is an electronic travel authorization that grants visitors entry to Egypt. There are two options for this visa: Single Entry and Multiple Entry. They are both valid for 90 days after issued and allow a 30 days Per Entry.
To apply at iVisa.com you just need to complete these three steps:
First: Fill in our online form using your details and select the processing time that best suits your needs.
Second: Make sure that all the information entered is correct to avoid any issues and pick a form of payment. We accept both credit and debit cards.
Third: Upload the required documents and apply.
Apply here and travel to Egypt!
Do I need any documents to apply for the Egypt Visa?
Of course! But the necessary documents are easy to get. You just need the following requirements:
A clear scan of your passport's information page - It cannot have any glares or smudges and your passport needs to be valid for another 6 months after your trip.
Email address - To receive your documents once ready.
Payment method - You can use a credit or debit card.
Is Egypt Visa-Free? - Keep reading below to find out more about Egypt Visa!
What are the processing times and fees for the Egypt Visa?
Our processing times and fees vary depending on whether you need a single entry or a multiple entry visa and how fast you want to receive your Egypt Visa.
In the case of the single entry visa:
Standard Processing:

6 Business Days

for

USD $86.99

Rush Processing:

4 Business Days

for

USD $137.99

Super Rush Processing:

3 Business Days

for

USD $199.99
For the multiple entry visa:
Standard Processing:

90 days after issued

for

USD $93.99

Rush Processing:

90 days after issued

for

USD $118.99

Super Rush Processing:

90 days after issued

for

USD $146.99
Is Egypt Visa-Free? - Check your requirements for your nationality using the Visa Checker tool!
Can iVisa.com be trusted?
Absolutely! Our security guidelines are strictly enforced to keep all your information secured. We've been in this business for a long time, but if you don't believe us, read what our previous customers have said about our services in the user reviews section.
Is Egypt Visa-Free? - Enter your nationality to check your requirements!
I still have doubts, how can I contact one of your agents?
Our customer care agents can be contacted through our website. They are available 24/7 to answer any questions, like Is Egypt Visa-Free?
iVisa.com Recommends
Explore Aswan -This serene Nile Valley, located 899km from Cairo, is where the Nile is most majestic.
The town is small but packs a great number of monuments and sites, plus some great tours start here. One of the top activities to do here is sailing. Take this opportunity to sail to the temple of Philae. In a day, you can visit the ancient site, visit the Agha Khan mausoleum and explore the St. Simeon Monastery.
Take some time to stroll around town and soak up its magic. Wander along the walkway and watch the feluccas slowly sailing the Nile. Aswan offers the best views of the river, flowing through granite rocks and around lush islands. Stop at a floating restaurant and enjoy freshly caught fish.
Take some time to explore the rich Nubian culture at the souk. Here you'll be able to shop for spices, souvenirs, and many African goods. Sit down at one of the food stalls and spend some time watching the comings and goings of the locals in this dynamic market.
Lastly, Aswan is a great starting point to go on a Nile cruise. You can also join a tour here to visit Abu-Simble, the famous temple dedicated to Ramses II and Nefertari.