El Salvador Travel Guide: All you need to know to visit El Salvador in 2023
Welcome to El Salvador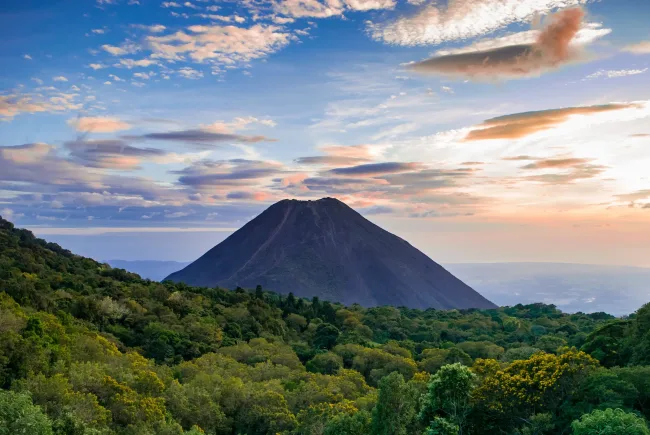 Many people frequently visit Central America, but rarely think of visiting El Salvador. Don't miss the chance to explore some of the country's amazing attractions, such as volcanic lakes and archeological sites. And because El Salvador isn't inundated with tourists you have the freedom to interact directly with the locals.
This ultimate El Salvador travel guide will give you tips on how to prepare for your trip and the fun activities you can do when you get there.
Document checklist for El Salvador
Valid passport with blank passport pages

Sufficient funds

Health declaration

Return airline ticket

Tourist card that you can purchase upon arrival
Essential El Salvador travel information
Currency - The official currency in El Salvador is the U.S. dollar.

Daily budget for 1 person - You should plan to spend around $75 per day on your trip.

Languages - The official language in El Salvador is Spanish and is spoken by nearly the entire population.

Number of travelers per year - El Salvador recorded about 1.22 million international tourist arrivals in 2021.

Socket type - Type A and B, 115 V and the frequency is 60 Hz.

Time zone - Central Standard Time (GMT-6).

Top 3 cities to visit - San Salvador, Santa Ana, and San Miguel.

Top 3 landmarks/monuments - Divine Savior of the World Monument, the National Cathedral, and La Libertad.
Visa information for El Salvador
Numerous visitors can enter El Salvador without a visa for a stay of up to 90 days. Nationals from countries that don't require a visa include the United States, South Africa, Ireland, and Australia. To find out if you need a visa, use our Visa Checker Tool.
The El Salvador Visa explained
You can obtain a visa for El Salvador by contacting your local El Salvador embassy and submitting a visa application along with a cover letter describing your travel plans.
Other requirements for applying for a visa include a valid passport with at least six months validity, bank statements, travel insurance, a hotel reservation showing accommodations for the duration of your visit, and airline tickets showing that you'll be leaving the country.
Visa difficulty index for El Salvador
Accessibility: 3/5 Unfortunately, the electronic version of the visa is not available on iVisa, which means you have to contact an embassy to find out how to get a paper visa.
Time to get your visa: 3/5 A visa for El Salvador typically takes 3 to 10 business days to process.
Costs: 3/5 For the visa application, El Salvador levies a non-refundable fee of $50.
Typical costs and budget for El Salvador
Here is a guide to what you'll spend on a daily basis traveling through El Salvador on a mid-range budget. Daily spending per person - Be prepared to pay $75 per day. This includes:
Meals - Expect to pay around $20 for meals per day.

Transport - Local transport will cost you around $15 per day.

Hotel - The average hotel price in El Salvador is around $40.
For a budget of around $1000 per week, a couple can stay in a comfortable hotel, eat at mid-range restaurants, and see the country.
Transport and ways to travel around El Salvador
There are many ways to get around El Salvador and you can choose one that better suits your needs. Here are several forms of transport to get around El Salvador comfortably.
Flying to El Salvador
The main airport in El Salvador is the Monseñor Óscar Arnulfo Romero International Airport in San Salvador.
Some airlines that offer flights to this destination include:
American Airlines

United Airlines

Air Canada

Spirit Airlines

Avianca
However, it's very difficult to find an airline that flies directly to El Salvador. Most flights have a stop-over in one of the major South American transport hubs, such as Santiago de Chile or Mexico.
Arrival and immigration tips for El Salvador
Here are some travel tips for a smooth arrival:
Make sure you have a valid passport and visa to enter El Salvador.

The U.S. dollar is the official currency of El Salvador. Travelers are advised to bring cash in U.S. dollars, as it's almost impossible to exchange other currencies in El Salvador.

You have to declare cash in excess of $10,000.

Upon your arrival, make sure to purchase a tourist card for $12.
Bus travel in El Salvador
The main mode of transportation in El Salvador's cities and throughout the country is the bus, which can get you to almost anywhere in the country. Cities and villages have their own bus stations where fares cost less than $0.50 per single ticket for short rides. Due to increased traffic on weekends, fares can increase.
Mini buses in El Salvador
You can find small tour companies that sell seats in minivans or mini buses in most of the popular places in El Salvador. These can also take you almost anywhere, including neighboring countries. Although these minivans are more expensive than regular buses, you shouldn't have to spend more than $10 wherever you go.
Taxis in El Salvador
Taxis are easy to find in El Salvador, although they sometimes appear as tuk-tuks in smaller towns. Since most don't have meters, you should negotiate the price in advance. The cheapest alternative is a tuk-tuk, which can take you a few blocks for less than $1 USD. Check with the staff at your hotel or hostel for the price before you leave, so you can be sure you won't be overcharged.
Safety in El Salvador
El Salvador, despite its widespread reputation, is a safe destination if you take a few precautions. Here are our best safety tips for traveling to El Salvador without incidents.
Avoid bad neighborhoods such as Mejicanos, Apopa, downtown San Salvador, and Ciudad Delgado.

Beware of petty crimes such as pickpocketing, especially when using public transit. Avoid showing off your valuables.

Consider only using official ATMs at hotels, malls, or banks because credit card skimming is an issue in the country.

The western tourism areas of San Salvador are the safest locations in El Salvador. The Monument to the Divine Savior of the World is located in the city's safest neighborhood, as local authorities patrol the area. You can use its closeness to you to gauge how safe the area is around you.

Monitor local media to stay up-to-date on new security or safety risks.
Weather in El Salvador
The dry season in El Salvador lasts from November to April, while the rainy season lasts from May to October, similar to the rest of Central America.
Peak travel time for El Salvador is during the dry season when people flee from the cool climate in the north. Daytime highs usually reach 30°C/86°F and temperatures never drop below 10°C/ 50°F.
Must do and see in El Salvador
Tropical El Salvador is known for its verdant scenery, and illustrious native and colonial past. On your trip, be sure not to miss these beautiful sights:
A nice day trip from San Salvador is the Ruta de las Flores, where you can admire picturesque colonial towns, villages, and coffee farms. Stop in lively towns like Nahuizalco, where the buildings are decorated with murals.

Los Chorros is a collection of natural swimming holes that cascade from towering volcanic cliffs and are surrounded by ferns, flowers, and moss.

Visit La Gran Via, an outdoor shopping center with a variety of stores, including restaurants, cinemas, music venues, pubs, and live events. It's a nice place to spend an afternoon, and at night the locals come here to drink cocktails and go clubbing.

The diving in El Salvador is among the best in all of Central America. In the mild waters off Los Cóbanos, a popular beach resort on El Salvador's west coast, reefs, underwater rocks, and even shipwrecks can be discovered.

In the rugged north, a small colonial village called Suchitoto sits on Suchitlan Lake. Every weekend, crowds of Salvadorans from San Salvador (and other nearby towns) flock to this well-known cultural center to visit its many galleries and markets.
Typical El Salvadorian food to try
Pupusas - These simple corn or rice flour tortillas are filled with a variety of savory fillings, such as cheese, refried beans, pork rinds, or loroco.
Yuca frita - Deep-fried cassava cut into thick pieces and served sizzling hot. You can eat them with a side dish of curtido for a winning combination.
Empanadas con leche o frijol - One of the best treats in El Salvador. You can buy this healthy fried plantain delicacy from street vendors and bakeries. Frijol's empanadas de leche are based on plantains that are fried until soft.
Vaccine information for El Salvador
Before you go, find out what standard vaccine and COVID-19 precautions are required for entry into El Salvador. To check all vaccination requirements and medical advisories for this country, we recommend you visit the CDC website.
How to visit El Salvador's volcanoes
There are many volcanoes to visit in El Salvador, and Cerro Verde National Park is the best place to observe some of them. Izalco, Ilamatepec, and Cerro Verde are located in this park.
The Santa Ana volcano is one of the most beautiful volcanoes in the world. You could get to Santa independently or be part of a tour. If you choose to get there on your own, there are two ways to do so. You can use the chicken bus which is relatively cheaper than the other option and will cost you around $0.90 one-way.
Another option is to take an Uber would cost roughly $25-30 for a single trip. Yet, the Santa Ana Volcano walk cannot be completed without the assistance of a guide. Essentially, the only thing you'll be doing on your own is getting to and from the National Park.
When you get there, look for El Tibet, whether on your own or as part of a Santa Ana Volcano Tour. This is a restaurant where the local tour guides congregate. The guide will cost you around $3, and will lead you and your group along the road for about 50 meters before turning left onto the track.
Trustpilot recommended. We lead the industry in innovation and reputation