Home
>
ETIAS France: Requirements, How to Apply & More
ETIAS France: Requirements, How to Apply & More
What is the ETIAS visa waiver for France?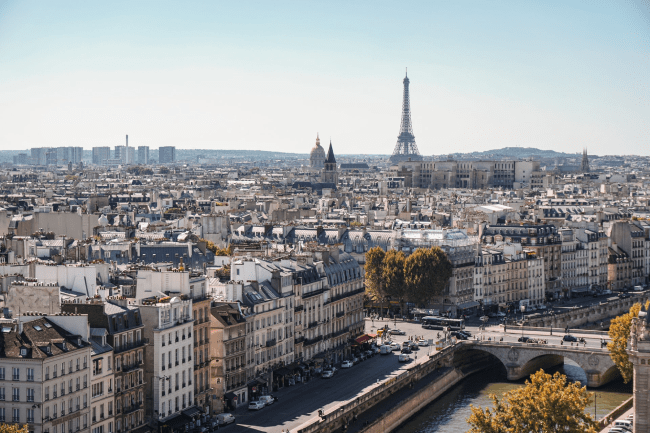 Traveling abroad to France for tourism, business, transit, family visit, or medical purposes? You may need to apply for the France ETIAS visa waiver (European Travel Information and Authentication System).
This electronic travel authorization system will go into effect by the end of 2022. The France ETIAS allows eligible passport holders to travel to France and Europe without a visa.
On this page, you'll find more information about:
How the ETIAS France works
If you need an ETIAS to enter France
How to apply for the ETIAS for France
How long the application for the ETIAS France will take
What the difference is between the ETIAS France and a Schengen visa
More information about traveling to France
Frequently asked questions about the ETIAS for France
Whether you're going on a holiday or are visiting France for business or other purposes, your trip starts here.
How does the France ETIAS system work?
The ETIAS visa waiver for France is expected to work similarly to the ESTA border control system, that certain visitors currently need to enter the United States. If you need an ETIAS visa waiver for France, you will have to obtain one before you enter the country or another Schengen area member state.
You can apply for the ETIAS France online in just a couple of minutes, and it lasts for three years or until your passport expiration date. Within this period, you are allowed multiple entry to France for tourism, business, family visits, transit, or medical treatment, and stay up to 90 days each time.
Do I need an ETIAS visa waiver to visit France?
Citizens from non-Schengen states, and who currently have visa-free access to Schengen countries will soon have to apply for a visa waiver under the ETIAS authorization system before they visit France.
If you are planning a trip to France or anywhere else in the European Union, the new ETIAS France could apply to you if:
You are not a citizen of the EU
You are not a citizen of a country that currently needs a visa to enter France or the Schengen zone
You are a citizen of a Schengen country that's not an EU member, such as Iceland, Liechtenstein, Norway, or Switzerland
Do you need another visa to enter France, Europe, or the Schengen zone? Get more information here.
How to apply for the France ETIAS
To get your valid ETIAS visa waiver for your trip to the French republic, simply follow the iVisa online application process and provide the necessary information.
The information provided on the ETIAS France application must be up-to-date, complete, and accurate. Once applied, all data will be safely cross-checked across various security databases.
Filling out the ETIAS France application form
On the ETIAS application form, you will be asked to fill out different sections depending on the country of citizenship you have chosen. The following information must be provided:
Biometric or passport data such as:
First name
Middle name
Last name
First EU country you would like to visit
Education and work experience
First EU country you intend to visit
The eligibility and background questions address any medical conditions, travel to countries at war, countries from which you have been deported or denied entry, and criminal record.
For minors, the parent or guardian must also apply for ETIAS.
Family members of EU nationals who are eligible citizens of other countries must submit proof of relationship and other relevant documents, such as a residence card.
Submission of the application
After completing the application, payment of the application fee is required to proceed with the final submission. You will then need to complete the following steps:
Verify the accuracy of the information you have provided.
Verify that you are eligible for funding
Verify whether or not you meet the risk factors.
If the information is correct and you meet the eligibility requirements for ETIAS for France without posing a risk, the Etias system should be able to accept your application. The entire process will usually only take a few minutes.
However, if you receive a rejection from the ETIAS system, your application will have to be processed manually. You can expect the manual process to take approximately 96 hours (4 days) or a maximum of 2 weeks.
With iVisa.com you will have an expert checking your application form and contacting you if we need any extra information, so you can avoid the likelihood of errors or rejection, saving time and money in the long run.
Documents required to obtain the ETIAS France?
To obtain an ETIAS for France, you must meet the following visa waiver requirements:
A valid passport from an authorized issuing country for at least 3 months from the date of arrival in France.
Bank card (credit or debit) for payment of the ETIAS fee.
A current email address to which the approved ETIAS for France will be sent.
When issued, the approved ETIAS for France will be electronically linked to the holder's passport. According to the ETIAS requirements for entry into France, the holder must have a passport for entry into the Schengen area that matches the passport used to apply for the ETIAS.
If the traveler's passport expires during the validity period of the ETIAS, a new ETIAS application must be submitted.
Depending on the first Schengen state the applicant enters, additional mandatory requirements may be requested to meet in order to obtain an ETIAS for France.
What happens after the ETIAS France application?
It only takes a few minutes to get an ETIAS for France. If your application for some reason has to be manually processed, or if you need to provide additional info, it might take longer. However, your application should be finalized within a maximum of 96 hours. Once your application is processed, you'll receive your approved ETIAS for France via email. It is recommended to download your approved ETIAS visa waiver digitally on a mobile device and print a copy to let airport officials scan it prior to boarding.Make sure to bring along the same passport registered during the application process.
Pricing and processing options to obtain your ETIAS
As the entry visa has not yet been launched there are still no confirmed prices available, but in the meantime, iVisa.com has decided to offer 3 options of payment and processing for you to choose from. Depending on how fast you need the document or your budget available, we have an option to suit your needs.
Standard Processing Time: This option is for travelers who do not have their trip coming soon and can wait for their travel documents to be processed.
Rush Processing Time: You will get your ETIAS faster than standard, but you will have to spend more in the process.
Super Rush Processing Time: This process is perfect for those who need the document urgently and need to travel as soon as possible. Of course, this one costs a little more than both previous options.
Differences between the ETIAS and the Schengen visa
The European Travel Information and Authorization System (ETIAS travel authorization), which is due to be introduced at the end of 2022, can be confusing for many travelers that want to enter Europe. You might wonder if you need an ETIAS authorization or a Schengen area visa to travel to and between European countries. Well, let us explain!
More about the ETIAS and the European Union
The European Commission has been working on the ETIAS travel authorization system for quite some time. The European Union has created this authorization system to protect and strengthen its border control system.
The main goal of creating the French ETIAS requirements is to identify possible threats or risks associated with visitors traveling to any of the Schengen area countries.
More about Schengen visas
The Schengen area is often confused with the EU, but there is a significant difference. Many countries belong to the Schengen area, and many of these member states are also a part of the European Union.
A Schengen visa allows travel within the 26 member states of the Schengen area and is specific to the country applied for. It is not necessarily valid to visit other Schengen countries. In the case of travelers from eligible countries, wishing to visit two or more Schengen member states, it is necessary to apply for a visa for the country in which most time will be spent. The Schengen area visa allows a maximum stay of 90 days.
Do you need a Schengen visa?
FAQs about the ETIAS for France
Can I study or work in France with an ETIAS?
With a French ETIAS, you can participate in a short course or training program, provided that the maximum duration of your stay in the French or Schengen area does not exceed 90 days.
Therefore, while you are in Italy with an ETIAS, you are not allowed to enroll in a French college, do an internship, or work as a student or professional.
Can children and infants apply for the ETIAS France?
All persons, including infants and children, must present a travel authorization upon landing in the Schengen area to be allowed to enter. However, applicants under the age of 18 are not required to pay the Italy ETIAS application fee.
Do I need to apply for a French ETIAS if I hold a long-term Schengen visa?
As a valid long-term visa from an EU Member State entitles you to enter the Schengen area, it is thus not necessary to apply for an ETIAS travel authorization as long as you have a Schengen visa.
Can I apply for the ETIAS if I have a criminal record?
Yes, you may apply for an ETIAS at any time and explain the circumstances of your conviction. If you are denied the opportunity to obtain an ETIAS, you may appeal to the Member State that made the decision to deny your application for an ETIAS.
About iVisa
Get a visa, ETIAS for France, or travel document in a few simple steps with iVisa, without having to go through a tedious procedure of dealing with an embassy to verify your document. We offer a user-friendly experience to guide you through the France ETIAS process.
Available 24/7, our customer support team is here to assist you and answer any questions that you might have regarding the ETIAS visa waiver for France. Rest assured that your personal information is in good hands with our confidentiality policy.
Visit France: Travel information
As someone once said, Paris is always a good idea, and anyone who has ever been to the City of Love would surely agree. But France is more than just Paris! Don't spend all your time in the French capital.
The most visited country in the world is known for its world-class vineyards, award-winning restaurants, fashion, art, lively cities, and gorgeous landscapes. Here, joie the vivre is truly a lifestyle.
Pick a few specific destinations and delve deeper into the culture of France. In any case, if you are a connoisseur of food, fashion, art, or history, France will not disappoint. Here are our top 5 tips for traveling to France:
Learn a few basic French words
Check off the highlights…
…then get off the beaten path.…
Breathe in the endless culture and history
Prepare your visas or ETIAS for France.
Where can I read more?
Other Available Visas: France?