Visiting French Polynesia is a dream come true for the thousands of international travellers who cross it's borders every year. After being closed for a period of time, the tourists whose flights were cancelled and package trips were delayed have been able to re-book their vacations as of the 15th July, when international visitors were invited to return to this impressive island destination.
Opening up the region came with risks, so the local authorities put in place various measures to protect local residents and other travellers. These measures aim to reduce the spread of COVID-19 by testing the new arrivals for the disease both before and after their flight. An additional measure that must be carried out by all incoming tourists include the completion of a Health Declaration, which asks applicants various questions regarding their health status, places they've visited or lived in the past few months and contact details so that authorities can get in touch with you easily.
Visiting French Polynesia is the perfect way to recuperate and relax after the past few stressful months. Sandy beaches, magnificent views and striking sunsets are just some of the treats that await you. There's more than 100 islands to discover, and with so much to see you're bound to forget all your worries in next to no time. So don't delay, click here to get started with the French Polynesia health registration requirements and start planning your next adventure to this captivating beach paradise.
Note: Since March 28th, 2022 the French Polynesia ETIS is no longer necessary to enter the country.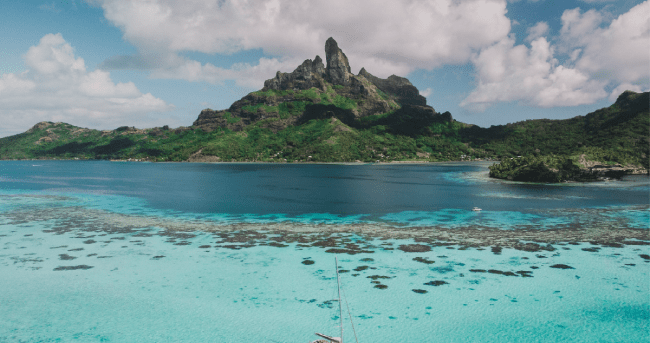 Frequently Asked Questions
Are French Polynesia health registration requirements essential for all travellers?
The requirement for visitors to complete a health registration is necessary for all new travellers arriving in French Polynesia. As an island nation, the number of new cases of COVID-19 is likely to increase with the number of new visitors. With this in mind, the local authorities took action to try to limit the amount of cases, with the use of various methods aiming to identify carriers of the disease.
The measures that are currently in place include the completion of a Health registration document which focuses on the applicants current state of health, the places they have been living or staying since the pandemic began and full contact details so that they can be contacted in the event of an emergency.
What other health requirements are necessary to enter French Polynesia?
The other important measure to remember before setting off is the COVID-19 test. Travellers wishing to enter French Polynesia must now arrive at the boarding gate with a negative test result. Refusal to produce this essential document will result in denial to board the plane.
Once you arrive in the country, you will also be handed a second COVID-19 test, which must be carried out in your destination. Again, this is an essential part of the health measures put in place to protect other travellers and local residents. Speak to an online team member if you have any doubts about these requirements.
Do I need a COVID vaccine or vaccination certificate to enter French Polynesia?
Yes, French Polynesia has been taking steps to restore travel within its borders. In order to enter French Polynesia for tourism purposes, you'll need to display your COVID vaccination certificate. If you are a COVID-19 vaccine certificate holder coming from an approved country, you won't need to follow a quarantine.
Accepted vaccines are Pfizer, Moderna, Janssen and Astrazeneca.
You are considered fully vaccinated:
7 days after your second Pfizer, Moderna and Astrazeneca dose
28 days after the Janssen vaccine
Is it obligatory to take a PCR test before entering the country?
COVID test prior to arrival: PCR within 72 hours or antigen test within 24 hours before boarding.
Do I have to quarantine upon arrival?
Quarantine requirements: There are no quarantine requirements in French Polynesia.
Where can I complete the French Polynesia health registration requirements?
Filling in the health registration form is the easiest part of planning your next trip to French Polynesia. You can fill out the form for free on the government website, however iVisa.com also offers an impressive document processing service which has been tailor-made to be easy to use and simple to understand. Apply now to receive your vital French Polynesia health registration document in less than 4 hours. iVisa.com has years of experience in dealing with official government entities so your paperwork is in safe hands.
Do children need to fill out French Polynesia health registration requirements too?
Even children must comply with the rigorous French Polynesia health registration requirements. An adult can fill out the form on their behalf, however children over the age of 5 must also submit to a COVID-19 test. Children under the age of 5 are exempt from testing. Speak to an online iVisa.com agent if you'd like to discuss this further.
Is it safe to use iVisa.com for my French Polynesia health registration requirements?
iVisa.com's goal is to improve the travel experience for tourists around the world. It's difficult to find consolidated information about visas worldwide, as constant changes, updates and requirements mean a lot of information goes out of date quickly. iVisa.com is here to fill this gap, so now you can find the most recent news about visas and entry requirements for all kinds of holiday destinations. iVisa.com is able to provide this top of the range service by charging a small processing fee for your visa needs. With the money raised from these processing fees, iVisa.com invested in high quality firewall and data protection services, which ensures that your personal information is safely locked away.
Where can I learn more about the French Polynesia health registration requirements?
These frequently asked questionsserve as an introduction to the idea of the Health Declaration that all tourists arriving in this fabulous beach destination must complete. If you're heading to French Polynesia soon, and have accrued many more questions during the course of reading this update, then we suggest that you hot-foot it over to the relevant section on iVisa.com's official website. If your questions require a personalised response then you can also check out the chat function where iVisa.com's team members are waiting to answer your queries online, or why not give us a call!