The EU started permitting explorers from a select gathering of nations to visit Georgia as the nation's people resume their outskirts to unfamiliar appearances. Georgia earned a spot on the rundown subsequent to monitoring its COVID-19 episode.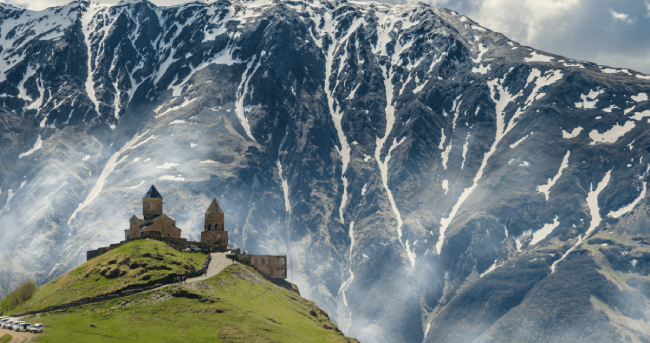 In any case, Georgia has disputed, putting off the choice on when it will begin to open up its own fringes for individuals to enter or leave. The specialists have said that the border will stay shut for one more month at least. Keep checking iVisa.com regularly to find out more about Georgia COVID-19 Travel Restrictions.
Frequently Asked Questions (FAQs)
WHAT IS THE PRE-REGISTRATION FORM FOR GEORGIA?
The Georgian government has established a new process for incoming visitors. They need to complete the Pre-Registration Form, so authorities have a database of all the international visitors in Georgia. This will allow the Georgian authorities to better control the coronavirus pandemic. If you are ready to start, remember you can do the application 48 hours before the start of your trip.
WHAT TYPES/METHODS OF TESTING ARE PERFORMED AT THE AIRPORT?
PCR testing is performed at the airport. Speak to one of the team members at iVisa.com if you're not sure about the different types of testing.
Do I need a COVID vaccine or vaccination certificate to enter Georgia?
Yes, Georgia has been taking steps to restore travel within its borders. In order to enter Georgia, you'll need to display your COVID vaccine passport or vaccination certificate.
Only residents of EU Countries, Israel, Turkey, Switzerland, Norway, USA, UK, Saudi Arabia, Qatar, UAE, Bahrain, Armenia, Azerbaijan, Ukraine, Kazakhstan, Russia, Belarus, Uzbekistan, Tajikistan, Kyrgyzstan, and Turkmenistan can enter Georgia without the COVID-19 vaccination.
IN WHAT CASES IS PCR TESTING REQUIRED AT THE AIRPORT?
PCR testing at the airport applies to citizens/residents of the EU member states that consent to testing in advance (in the application). Use the Visa Checker Tool if you're not sure if this applies to you.
DO MINORS NEED TO COMPLETE THE FORM?
No, minors don't need to complete the form if they are under 16 years old. Every person entering Georgia who is 16 or older has to apply for a Pre-Registration Form. Adults traveling with minors under 16 years old, should mention this during their application, so the Georgian authorities are aware you are traveling with children.
WHAT DOCS DO I NEED TO PROVIDE?
You should complete the form with personal information and trip details. For example, you will provide name, nationality, mobile number, last visited countries, address in Georgia, among others. You must have the next items too:
A Passport scan which is your main identification.
An email address to receive the Pre-Registration Form.
Payment, iVisa.com charges a small fee to obtain the document and you can pay with a credit/debit card or Paypal account.
Remember to specify if you are traveling with children under 16 years old. In case they are over 16 years old, they should get their own Pre-Registration Form.
WHAT ARE THE PROCESSING TIMES?
Time is relevant for all iVisa.com services, for this reason, there are three options to choose from:
Standard alternative, the usual service for most iVisa.com customers.
Rush alternative, if you are in a hurry, select the faster option.
Super Rush alternative, your trip is happening soon, then go for the quickest method.
Contact iVisa.com support agents for further advice.
WHEN IS QUARANTINE MANDATORY?
Quarantine requirements for Georgia depend on your vaccination status and where you are arriving from.
Fully vaccinated visitors from all countries can enter Georgia by air without any testing or quarantine requirements.
Residents of the following countries are allowed to enter Georgia by air without a Covid vaccine: EU Countries, Israel, Turkey, Switzerland, Norway, USA, UK, Saudi Arabia, Qatar, UAE, Bahrain, Armenia, Azerbaijan, Ukraine, Kazakhstan, Russia, Belarus, Uzbekistan, Tajikistan, Kyrgyzstan, Turkmenistan, Japan, Canada, Kuwait, China, South Korea, Moldova, and Oman can enter Georgia by air without the Covid vaccine. As long as persons arriving from these countries present a negative PCR test taken within 72 hours prior their visit to Georgia, there are exempt from quarantine requirements. In addition, they must also undergo a PCR test on day 3 of their stay.
Travelers from India need to quarantine for 14 days.
WHO COVERS QUARANTINE-RELATED EXPENSES?
The state pays expenses in the case of Georgian citizens whilst citizens of EU member states cover their own. Chat here for the latest updates about the Georgia COVID-19 Travel Restrictions
IS IT POSSIBLE TO GO INTO SELF-ISOLATION?
Self-isolation is possible in the following cases:
Based on a given person's health condition confirmed by a written document.
If requested by diplomats and international missions (ensuring supervision over compliance with rules).
Persons going into self-isolation fill in a relevant form and indicate their address.
Compliance of the indicated address with healthcare recommendations is verified by the Emergency Situations Coordination and Urgent Assistance Center LEPL.
Chat to one of the friendly team members on the website.
HOW ARE VISITORS TRANSPORTED TO THE QUARANTINE HOTEL? IS IT MANDATORY TO LEAVE THE HOTEL AFTER THE EXPIRATION OF THE QUARANTINE PERIOD?
The state provides transport from the airport to the hotel. The hotel room must be vacated after the expiration of a 14-day period, provided that the follow-up PCR test is negative. iVisa.com is the best website to find all the information you need to know about Georgia COVID-19 Travel Restrictions.
IS MY INFORMATION SAFE WITH IVISA.COM?
Of course! All the information on the iVisa.com platform is safe. We follow the highest security standards so travelers can feel confident their information is completely safe with iVisa.com. Check out the previous clients' opinions and apply with iVisa.com.
I HAVE SOME QUESTIONS, WHERE CAN I GET MORE INFORMATION?
iVisa.com supports you with a customer service team that can help you solve your questions. You can also send an email to help@ivisa.com, we will reply to you as soon as possible.
The Pre-Registration Form is very easy, start your application with iVisa.com!