Due to the COVID-19 Pandemic, The Government of Georgia decided to launch the Georgian Pre-Registration Form as a mandatory document to enter this country. This travel requirement will be necessary for all foreign citizens wishing to enter Georgia for leisure or business purposes. But the citizens of France, Estonia, Germany, Latvia, and Lithuania are allowed to enter the country without any restrictions,if they possess the Pre-Registration Form.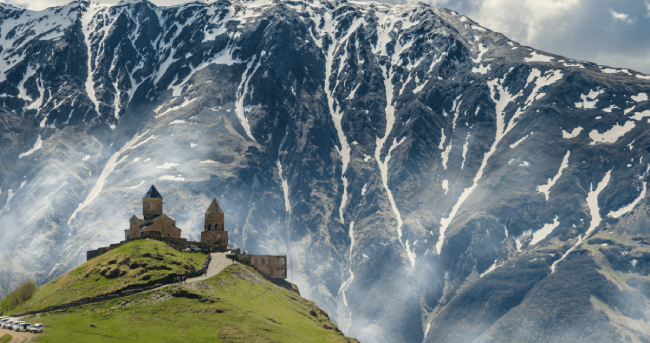 iVisa.com is offering this document already, in an easy and swift setup. Read along to know more about the details for the citizens of Lithuania willing to visit Georgia during the Coronavirus.
Frequently Asked Questions (FAQs)
WHAT IS A PRE-REGISTRATION FORM?
The Pre-Registration Form is a required document for all international travelers entering Georgia during the pandemic. This form is a direct response to the coronavirus outbreak, as a way to control passengers' information and keep the virus controlled in Georgia. You must begin your application no less than 72 hours before your trip.
Get yours with iVisa.com! Apply now!
DO I NEED A PRE-REGISTRATION FORM AS A CITIZEN OF LITHUANIA?
Citizens of Lithuania are among the select group of travelers with permission to enter Georgia. Therefore, if you have a Lithuania passport, you must also have a Pre-Registration Form before traveling to Georgia.
You can easily start here!
Do I need a COVID vaccine or vaccination certificate to enter Georgia?
No, you don't. COVID vaccination passports or certificates are not mandatory to enter Georgia. Now if you are a Covid vaccine certificate holder, you are exempted from testing requirements.
Since information may change quickly, we advise you to follow up on the latest Jamaica travel updates and/or contact your local embassy.
Do I need to take a PCR COVID-19 test before traveling to Georgia?
COVID testing requirements: There are no testing requirements.
Do I have to quarantine when I get to Georgia?
Quarantine requirements: There are no quarantine requirements in Georgia.
CAN I DO THE 14 DAYS OF QUARANTINE ON MY OWN TERMS AT HOME?
The Georgian government takes into consideration the 14 days of quarantine only for these cases:
You are from a special case that doesn't allow you to do the institutional quarantine. For example, a pregnancy, death in your family, a serious medical condition or you are a parent to children under 10 years old.
You have a negative COVID-19 test. The procedure is only valid if it was done 96 hours before your travel date and if you make a declaration of the test authenticity.
For both cases, you will need to provide extra information during your application so the Georgian government assesses your situation and decides to grant your entire quarantine at home.
Start your Pre-Registration Form now!
Do you have some doubts about this requirement? Reach out to our support agents for further information.
WHAT DOCUMENTS ARE REQUIRED?
You must provide information related to personal details and your trip. You should also provide the following on the iVisa.com platform:
A passport scan that will be attached to your Pre-Registration Form.
A valid email address to get any communication from iVisa.com.
A Payment option, choose between a Paypal account or a credit/debit card. Remember iVisa.com charges a minimum fee for the service.
WHAT ARE THE PROCESSING TIMES TO OBTAIN THE SELF-DECLARATION FORM?
Standard (

USD $33.49

), an average waiting period (

24 hours

) with the lowest price.
Rush (

USD $58.99

), quicker service (

8 hours

) to acquire the Pre-Registration Form.
Super Rush (

USD $97.99

), for travelers who can't wait much time for their document (

4 hours

).
Not sure which one to select? Contact our customer service for some help.
WHAT STEPS DO I NEED TO FOLLOW?
There are only three steps to get the Georgian Pre-Registration Form:
Answer the questionnaire in the form and choose the waiting period (Standard, Rush, or Super Rush).
Review your details and correct any mistakes. Select a payment alternative with Paypal account or with a credit/debit card.
Upload all the documents required, like your passport scan.
Excited to travel to Georgia? Then start your Pre-Registration Form.
WHAT IS THE PROCESS DURING MY ARRIVAL?
The Georgian government has set up medical screening procedures at all international entry points. Authorities will check your temperature and assure you don't have any symptoms related to COVID-19. Then, you must show your Pre-Registration Form that will confirm you comply with the health regulations. Finally, you will be assigned the facility for your institutional quarantine in Georgia.
CAN I TRUST IVISA.COM?
Of course! iVisa.com has been working with travel documentation for years and previous clients have left wonderful reviews about iVisa.com. You can feel confident iVisa.com uses the highest security standards within its platform.
WHERE CAN I OBTAIN MORE INFORMATION?
iVisa.com has a full team of support agents waiting for your message to help you. You can also write to [email protected].
Begin the Pre-Registration Form and travel to Georgia soon!