Known locally as the "Volksfest," Oktoberfest is one of the largest beer festivals and traveling funfairs in the world. It is held every year in Munich, Bavaria. The festival attracts more than six million visitors every year. And no wonder, as the Munich Oktoberfest is something everyone should experience once in their lifetime. In this article we will tell you more about how you can be part of the beer-drinking fun!
The original Oktoberfest beer festival was a part of the celebration of the Bavarian crown prince Ludwig's wedding in 1810. Since then, it has grown into the world's largest celebration of Bavarian culture in Germany. Millions of liters of beer are consumed in just two weeks at the various beer tents, beer gardens, and beer halls.
In addition to beer drinking, there are fairground activities, amusement park rides, and games. Continue reading for more things to do during the Oktoberfest celebration and how to organize your trip there.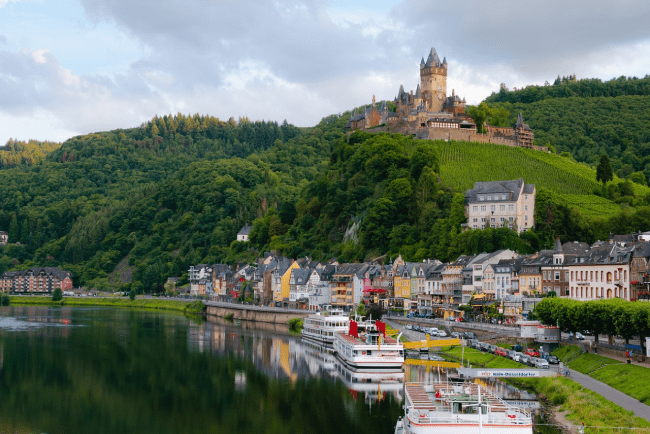 What is Oktoberfest Germany?
In case you've never heard of it (which is hard to believe!), Oktoberfest is officially the world's largest folk festival, situated just outside Munich, Germany. The event spans two weeks from mid-September to early October. The basic activities are enjoying performances of music and traditional dancing, going for rides at the funfair, and dressing up in lederhosen or dirndls. However, Oktoberfest is primarily about beer. Beer, beer, beer.
The location is the exact same as the first Oktoberfest was held. It is located just a short tram ride from Munich's city center and is named after prince Ludwig's bride: the Theresienwiese, Wiesn for short.
When is Oktoberfest?
In 2022, the event will take place between September 17th and October 3rd. The 2020 and 2021 editions were canceled, which means 2022 will be a significant year to celebrate Oktoberfest. Although the name Oktoberfest makes it seem the celebration is in October, it's actually mainly in September.
About Oktoberfest beer
Only local Munich local breweries exclusively produce Oktoberfest beer, such as the popular Helles lager. But pace yourself, half pints don't exist and the drinks come in one-liter steins only, served in rapid succession. You'll enjoy witnessing beautiful barmaids balancing up to 12 at a time!
If you don't like to drink beer, ask for Radler (lemon-flavored beer) or sit down at the Weinzelt instead, the only wine tent at the event.
Making reservations at Oktoberfest beer tents
To be honest, 'tent' is not the right way to describe these 14 wooden beer halls with a capacity of 10,000 people. In every hall, you'll find a bunch of Germans and tourists drinking, dancing on tables, and singing, but each has its own vibe. The Augustiner tent is more of a local Bavarian experience, while the Hofbrau tent is where most tourists hang out. The Schottenhamel is the tent where it all starts! The first keg is tapped here at noon on the first day of the festival.
The festival opens early, but the beer flows only from around 10 a.m. and beer booths stop serving at 10:30 p.m. Make sure to get your beer tent reservations on the Oktoberfest website in advance, as this is something you can't miss while in Munich! A third of the tables are for walk-ins, but seats fill up fast. If you don't have a reservation, prepare to arrive early at around 6 a.m.
Oktoberfest dress code
While traditional costumes aren't mandatory, they're definitely part of the experience, and who doesn't like a dress-up?! Lederhosen are traditionally worn by men, whilst the dirndl consists of a skirt, apron, and bodice for women. And why not throw in some fun hair braids? While the locals spend up to thousands of euros on their traditional Bavarian outfits, there are cheaper options for sale in Munich or online.
Apparently, how you tie your apron indicates how available you are... If you tie it to the right, it means you're taken, and if you tie it to the left, it means you're single. A German tinder, so to speak.
How much does it cost to visit Oktoberfest?
It's free to enter all the tents, contrary to what many people think. The average beer costs around EUR 12-13, and most full meals cost EUR 12-20. Some tents offer lunch specials for a good deal, and you'll find tons of stands everywhere with yummy bites to eat.
Tip: Grab a pretzel around noon to soak up some of the alcohol before heading back to the party!
Table reservations in beer tents are technically free, but food and drinks must be ordered. A table for 10 will total around EUR 300 EUR, depending on where you are.
Other things to do at Oktoberfest Munich
In addition to its boozy reputation, Oktoberfest is also a big family event with an amazing funfair on the festival grounds. Here are some of the things to do besides, you know, drinking beer.
Attend the traditional parades
If you're not up at the crack of dawn to hunt for a seat at one of the tents on the opening day of Oktoberfest, you might be lucky enough to admire the colorful grand parade of carriages, floats of each tent, and people in traditional costumes winding through Munich's streets.
Additionally, there is a very special event held during Oktoberfest on the first Sunday of Oktoberfest: the Traditional Costume Parade. Over 9,000 people march along in traditional outfits, representing dozens of villages and clubs from across Bavaria.
Go on a ride at the funfair
Along with mind-blowing tents, the Oktoberfest funfair grounds offer thrilling carnival rides, like the Olympic Rings roller coaster, which takes you on as many as five loops, or the Devil's Wheel. Odds are, a few beers in you will suddenly develop enough courage to go on one of them.
Watch live performances and music
The classic Oktoberfest bands will be playing plenty of fun traditional music during the day, and as the night goes on, hit songs will make their way into the mix. Let loose and dance on the benches while singing along.
Besides music in the tents, there are other shows, such as the Wiesn Landlords' Concert and puppet shows that are worth a visit.
Eat all the food
Stuffing your face is by far one of the best things to do at Oktoberfest. Spend your lunch and dinners soaking up the alcohol with Oktoberfest food like roast chicken, pork knuckle, bratwurst or weißwurst, pretzels, gingerbread, roasted almonds, and cotton candy.
Check out the stalls outside the tents for a cheaper alternative. Often, they will have "to-go" foods just as good as the food being served in tents, but at a much lower price.
Oktoberfest tours
If you're not sure how to go about organizing your trip to Oktoberfest, attending Oktoberfest with an organized tour can be a good option. It's also a fun idea for solo travelers, as you'll attend the event with a fun group of people without having to think about the logistics such as reserving a table.
Tours include reserved seating in a tent, as well as beer and food. You will also learn about the history of Oktoberfest as you explore the festival grounds with a guide.
Traveling to Oktoberfest in Germany
Here are some extra tips to prepare for your trip to Germany to celebrate Oktoberfest.
How to get to Oktoberfest in Munich
As Oktoberfest takes place within the Bavarian city of Munich, the airport closest to it is Munich Airport. Munich Airport offers excellent connections to other destinations across Germany, with some of the major cities being served directly by international airlines.
During Oktoberfest, metros, buses, and trams in Munich are more frequent than usual. However, it can get pretty busy. Luckily, Theresienwiese is very centrally located and routes are short. Download the free app "MVG Fahrinfo" to plan your journey by public transport in Munich and buy tickets.
Current COVID-19 measures in Germany
Travelers entering the country no longer need proof that they have been vaccinated, recovered, or tested for COVID-19. However, this may change on short notice. Make sure you check the latest updates with your airline or the German government health ministry.
Applying for a visa for Germany
Before planning your trip to Oktoberfest, make sure you have all the correct travel documents and requirements in place for entering Germany, to ensure that you can enjoy the event in all its glory.
Depending on your nationality, you may need a visa to visit Germany. This may be a short-stay Schengen visa or the ETIAS visa waiver from 2023.