The fascination around Ancient Greece captures the attention of most international visitors. The Acropolis Museum in Athens showcases the most important findings of this ancient civilization. This is just one of the reasons you should be thinking about visiting Greece soon, but be aware of the latest immigration regulations.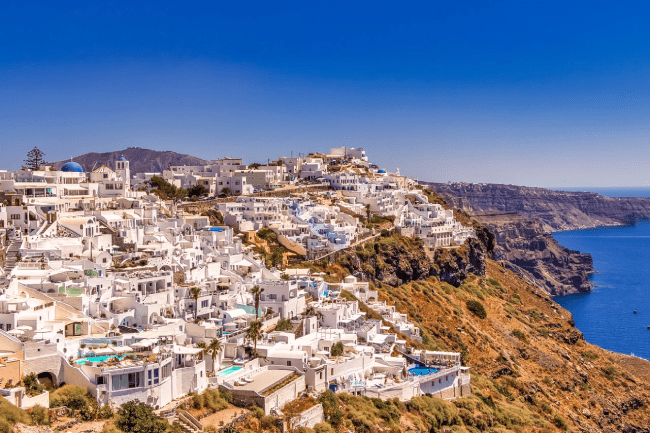 Citizens of Bosnia and Herzegovina will need to follow the new immigration guidelines to Greece, which includes the ETIAS online form. The European Union implemented this electronic system to better control non-EU travelers' information and use it for safety reasons.
You get the chance to do it easily with iVisa.com. We bring you a fast, simple, and reliable service that you can start here.
Continue reading about the Greece ETIAS.
Frequently Asked Questions (FAQs)
What is an ETIAS?
The ETIAS is the new online system created by the European Union to collect specific information about international visitors who want to visit the Schengen countries. ETIAS is the acronym for European Travel Information and Authorization System.
The EU has faced an increase in crime rates and irregular immigration in the last few years, for this reason, ETIAS will support the management of information from visitors that could be a threat to European countries.
I'm from Bosnia and Herzegovina, do I need an ETIAS?
Yes, ETIAS are requested for citizens of Bosnia and Herzegovina as long as they want to visit Greece or any of the 26 states that are part of the Schengen agreement.
Citizens from countries that are currently visa-free to the Schengen area, need to get an ETIAS. Bosnia and Herzegovina is included in this list.
We are sure you are ready for your Greece trip, then start the application today!
Do I need to get an ETIAS for each European country?
No. The ETIAS is not an exclusive document per country, your ETIAS is valid for the 26 Schengen countries whether you only want to visit Greece or more than 10 countries in the Schengen area.
As well, be careful about the country you intend to visit first during your trip, as this has to be clearly stated in your ETIAS. For example, if you put Greece as the first country of visit, then you must travel to Greece first. If by any chance you try to enter through another country, which is different from what your ETIAS says, your entry could be denied.
Any questions? Contact iVisa.com support team and ask away!
How long is the Greece ETIAS valid?
The authorization document is valid for 3 years. When you travel to Greece, you can stay a maximum of 90 days in the Schengen space.
We are sure Greece is on your bucket list, start here your application, and travel soon!
What info will I be requested for the Greece ETIAS?
The ETIAS will request information about your name, address, place of birth, nationality, and anything related to your trip. Other questions around safety could be about criminal records, health risks, among others. Be sure to answer with honesty because this data will go through other international bases for further confirmation. As usual for any iVisa.com process, you will need:
A scan of your passport with a visible image of your photo.
An email address , be sure this email is valid.
Payment methods, iVisa.com charges a minimum fee for its fast service that you can pay with credit/debit card or with a Paypal account.
What processing times does iVisa.com offer?
According to your needs in time and money, you get to choose between these three options:
Standard method, moderate waiting time for a cheap price.
Rush method, quicker alternative for a higher fee.
Super rush method, you can use this alternative when your trip is very soon and you can't wait long to get your document.
How is the process for Greece ETIAS?
We have a 3-step process that you can finish easily:
First, write down all the information requested and select one of our processing times.
Second, double-check your answers for any spelling errors and correct them. Pay with a credit/debit card or Paypal.
Third, get the documents required into the online form and submit your application.
Apply now with iVisa.com and get your ETIAS very soon!
What will I get in my email?
iVisa.com will send you the documentation about ETIAS to your email. Don't forget to have this email and any documents attached at all times with you when traveling. We are sure airport officers will request your ETIAS.
Can I trust iVisa.com for the ETIAS?
Yes, you can! We are very proud of the quality work we offer you on our platform. Our teams and systems are here to serve you and you can be sure you are receiving the best process by checking our customers' reviews. Your Greece ETIAS will be in the best hands if you choose iVisa.com.
Where can I acquire more info?
Contact iVisa.com's service agents for any inquiries about the process or processing times. Any question is welcome and we won't doubt to help you.
Start the application and travel next!