Greece is certainly one of the strongest spots for global tourism there is.
However, due to the pandemic, it has currently created some travel restrictions that are aimed to reduce the effects of the novel coronavirus within their community.
For instance, all flights that are coming from North Macedonia are only permitted to land in Greece through Athens International Airport Eleftherios Venizelos because of Greece's decision to ban landings from all other Greek airports until July 31, 2020.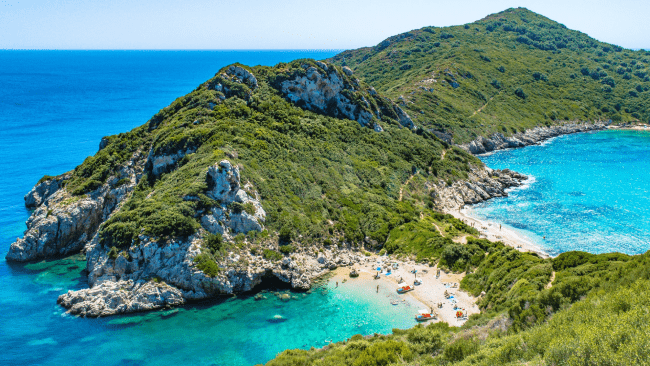 In order for you to be allowed to enter Greece, you will also need to show a Health Declaration upon arrival.
The good thing is, iVisa.com can help you process this travel document easily and from any of your mobile devices from the convenience of your own place, or from any location in the world!
If you're traveling from Macedonia to Greece for the fall or a business trip, learn all you need to know about the most recent method being implemented by the Greek Government to ensure the safety of residents and non-residents.
FREQUENTLY ASKED QUESTIONS (FAQs)
WHAT IS A HEALTH DECLARATION?
A health declaration is a document in which you truthfully declare your health condition along with your travel history of the last 14 days. This is a way for the Greek government to carry out the necessary diagnostic screening and keep everyone safe throughout this season.
WHY DO I NEED A HEALTH DECLARATION TO TRAVEL TO GREECE?
You need to display a Health Declaration upon your arrival so you can enter this country to aby with Greece's new travel restrictions which aim to keep narrowing the range of coronavirus within its community. Through its Passenger Locator Form (PLF) or Health Declaration, Greece will continue ensuring the security of foreign citizens and residents until the travel restrictions are lifted.
Request your Health Declaration through iVisa.com here.
Do I need a vaccine to travel to Greece?
No, you don't. As of today, COVID vaccination passports or certificates are not mandatory to enter Greece. Now if you are a Covid vaccine certificate holder, you won't need to present a negative PCR test. Since information may change quickly, we advise you to follow up on the latest Greece travel updates and/or contact your local embassy.
That's what you have to know about the Greece Vaccination Requirements: Do I need a vaccine to travel to Greece? Remember you will need other documents to enter Greece. You may also need the Greece Passenger Locator Form.
HOW DO I REQUEST A HEALTH DECLARATION?
You can request your Passenger Locator Form at Greece's official website and follow all the long steps related to its application or you can process one quickly and securely through iVisa.com. The process is simple, convenient and once you complete it, the health declaration will be sent to you as a QR code.
WHY AM I GOING TO GET A QR CODE?
The QR code will be directly sent to your email and it will help you with Greece Port Authorities.
The immigration officers will ask you to showcase your travel documents along with the QR code of your Health Declaration. Later, once they run your QR code through their electronic devices, your personal details and travel information will show up within their internal system together with your Health Declaration. By doing this, you will be allowed entry to Greece.
Apply for your Health Declaration on this page.
WHAT DOCUMENTS DO I NEED TO PROVIDE TO GET MY HEALTH DECLARATION?
In order for us to help you process your health declaration online, you will need to provide us with the following list of documents:
Passport Scan: we will ask you to please submit a scan of your passport so we can have all your personal details and contact information.
Return Flight Ticket: please be advised that this document is valid for a limited period of time which is why you will have to show the immigration border control proof of your valid return ticket.
Accommodation Proof: this can be either a hotel reservation or a letter from your host in Greece.
Valid Email Address: our review team will send out this document directly to your email, which is why you need to provide a valid email address.
Method of Payment: after you finish filling out the application form, you will be asked to select a method of payment. You are allowed to pay via Paypal or with your credit or debit card.
WHAT ARE THE PROCESSING TIMES AND PRICES TO GET A HEALTH DECLARATION?
As an international tourist, we understand why these are your top concerns. You will be able to obtain your health declaration through iVisa.com's user-friendly platform with the help of our incredible team of experts who will take care of your application in the best way they can. Here are the available types of processing times and fees for you to pick the one that works best for your traveling needs:
Standard Processing Time:

USD 20.00

-

24 hours

.
Rush Processing Time:

USD 35.00

-

8 hours

.
Super Rush Processing Time:

USD 60.00

-

4 hours

.
Process your Health Declaration with iVisa.com here.
HOW DO I PROCESS MY HEALTH DECLARATION?
Processing your Health Declaration with iVisa.com is as easy as it gets! Besides, our platform is very reliable. We guarantee that it will not take you longer than 10 minutes to finish these three uncomplicated steps:
First fill out your application form on this page by simply answering a few questions. After you complete them, just select the processing time that suits your travel needs.

Second, double-check the information that you have provided so you can proceed with the payment through Paypal or with any of your credit or debit cards.

Third, just submit your passport scan. Now, our amazing review team will check your application and send the Health Declaration as a QR code straight to the email you provided. This way, you only have to show it to the immigration officers once you arrive at the airport.
Just keep in mind that you can contact us any time if you need further assistance. Our customer service team will be happy to solve any of your questions.
DO MINORS NEED TO PROCESS A HEALTH DECLARATION?
Yes, minors should also process their Health Declaration because they are not exempt from getting the novel coronavirus. The good news is, you can request more than one Health Declaration with the help of iVisa.com right here.
CAN I TRUST IVISA.com TO PROCESS MY HEALTH DECLARATION?
Rest assured iVisa.com's platform is very trustworthy. Although we are not affiliated with Greece's government in any way, we are an accredited travel agency with a great review team that will run your application in the most reliable way. You can read what our customers say about our services whenever you like.
WHERE CAN I FIND INFORMATION IF I HAVE DOUBTS ABOUT HOW TO PROCESS MY HEALTH DECLARATION?
You can get in touch with our customer service agents at any time! They are available for you 24/7. You can reach out to them through chat, phone +1 (786) 460-2707 or by writing an email to help@ivisa.com