Planning a trip to Greece can be something exciting, but you should always take note of all the requirements that you might need at the airport. One of the requirements asked is the ETIAS authorization, an important tool to visit any country in the Schengen Area. In this article, you can learn how to apply for the Greece ETIAS for the Citizens of Montenegro by completing a straightforward online application form.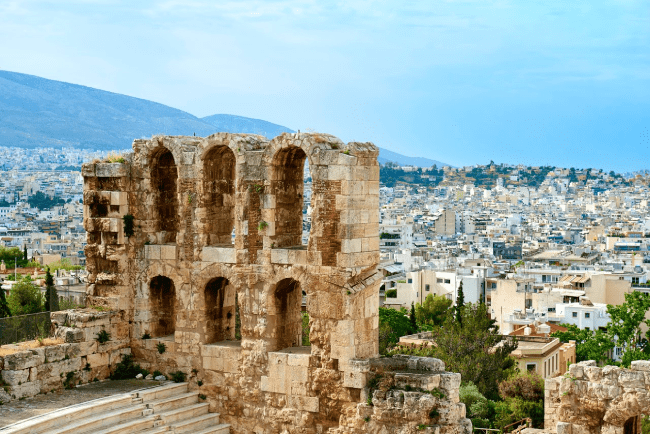 Although it seems a tiring thing to do, it can be a quite simple procedure thanks to the online application form that iVisa.com provides you. This online procedure can take about 20 minutes to complete because iVisa.com created an easy-to-use platform.
Please note that the ETIAS will be mandatory by 2022. If you don't get your ETIAS when arriving at the airport, you could find inconveniences there. To avoid this, we suggest reading these FAQs.
Frequently Asked Questions / FAQs
What is an "ETIAS" and why do I need it?
ETIAS (European Travel Information and Authorization System) is an official program that authorizes foreign travelers to visit the Schengen Area due to an electronic document linked to their passports.
The Schengen Agreement Commission declared that the ETIAS system is very similar to the U.S. ESTA system. However, you should remember that not all the foreign travelers will be eligible to receive an ETIAS authorization, as the ETIAS is only available for 62 visa-free nations.
This system was designed to have better control of each traveler to ensure that this person is admitted to enter the Schengen Area.
How many countries require ETIAS authorization?
As you saw in the previous information, only 62 countries can apply for ETIAS authorizations. All of these countries are visa-free, so they don't need to apply for a paper visa or any similar document unless the traveler wants to live or work long-term. Montenegro is one of the 62 nations that can get an ETIAS, so if you own a Montenegrin passport, then you can apply for the ETIAS.
Just remember that the ETIAS authorization is useful only in the countries that are part of the Schengen Area, so you can use it in only 26 countries by now.
What documents should I get to apply online?
iVisa.com created an effortless platform, so you won't have to collect a lot of things to apply online. You'll just have to provide the following:
Your valid passport.
Your current email address
Your credit/debit card or Your Paypal account to pay the fees.
Remember that these requirements are necessary only if you use iVisa.com's service. You might need other documents if you apply for your ETIAS authorization with the ETIAS official platform.
Some requirements that you could need if you apply with the ETIAS official website are criminal records, public health declarations, employment details, Past European travel information, etc. But with iVisa.com, you don't have to be too specific with these requirements as long as you offer the list of documents mentioned before.
How much does an ETIAS authorization cost?
iVisa.com simplifies a lot the ETIAS procedure. That's why you have to pay a fee for the service. But, since the ETIAS is a new document, it's quite difficult to provide you the exact price by now. What we can let you know is that the costs always include the Government's fees (so you don't calculate it on your own) and that we have 3 procedure alternatives according to how soon you need to get your authorization:
Standard Procedure Option: This option is the most affordable and as the name indicates, it has an average waiting (a few days).
Rush Procedure Option: This option is faster but it also has a higher price.
Super Rush Procedure Option: This is the most expensive alternative but it has the fastest waiting.
Don't forget that we don't charge anything until you see the total price and accept it.
How can I apply?
You can apply with the official webpage, but note that this method is time-consuming. Your other option is to apply with iVisa.com, which is a lot quicker and it won't require you to provide many things, you'll just have to complete the following:
Firstly, fill in the initial questionnaire with your personal information and select the procedure alternative you prefer.
Secondly, verify that your information is ok and pay for iVisa.com's service.
Thirdly, double-check everything, including your email address, and upload the documents iVisa.com asks. Lastly, click the "submit" button and wait for your Greece ETIAS to arrive via email.
If you want to start your process, click here.
How much time do I need to apply for the ETIAS?
Since iVisa.com easy-to-use platform is excellent to process your document fast, you'll only need 20 minutes or fewer to apply. We always recommend filling in the online form carefully and without a rush. If you feel under pressure because you want the ETIAS as soon as possible, then remember that you can select the Super Rush procedure alternative. By doing this, you'll avoid any mistakes while filling in the application form.
Keep in mind that this is the average time you need with iVisa.com's online form, you could spend more time by using the European Commission option since they ask you to attach more requirements.
Is it safe to use iVisa.com's service?
iVisa.com always works hard to provide a reliable security system. We have a valuable platform that won't risk your personal data, so you can be sure that while you apply with us, your information won't be put in danger. If you have doubts about it, you can check these reviews with the opinions of our clients.
Where can I find more information?
If there are other questions or doubts about the ETIAS process, or you have any issue while completing the online form, then you can contact [our customer service work team to receive personal attention via chat. Another option is to explore iVisa.com's webpage to read other FAQs.