Ancient Greece was one of the oldest civilizations in the world that left behind plenty of historical sites. The Acropolis of Rhodes is one of them and it showcases the Temple of Apollo, who was the Greek God of light, medicine, and prophecy. Learn more about Greek history by visiting this amazing country and learning about the new entry requirements.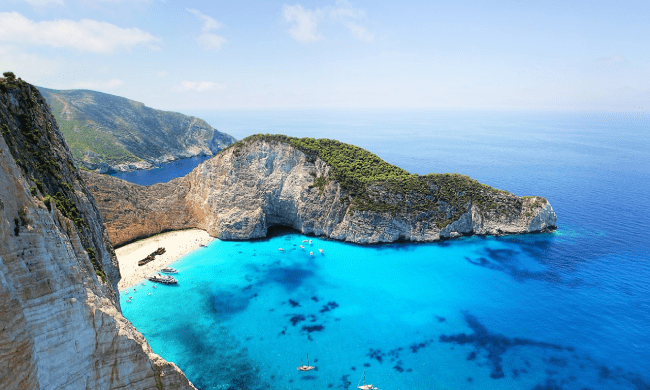 International travelers should know about the new dispositions to enter Greece. The European Union is establishing an online form call ETIAS. This document will be mandatory for non-EU citizens from countries that are visa-free to the Schengen area. Guatemala is part of this list.
iVisa.com is facilitating the ETIAS process by offering you a simple, fast, and trustworthy service. If you want to know further about Greece ETIAS, read our next FAQs.
Frequently Asked Questions (FAQs)
What is ETIAS?
ETIAS is the new electronic system created by the European Union to control the European borders through information from international travelers. More specifically, ETIAS means European Travel Information and Authorization System.
The ETIAS online form will create a database where the European Union hopes to detect and stop visitors that could pose a threat to the Schengen countries.
Begin the application with iVisa.com today!
Do I need an ETIAS as a Guatemala citizen?
Yes, citizens of Guatemala need an ETIAS. All the 62 countries that are visa-exempt to the Schengen area are required an ETIAS. Guatemala is among these countries.
Go to the application page and enjoy Greece soon!
Is Greece ETIAS comparable to a visa?
No, ETIAS and visas are not comparable. The main difference is the process, for visas you need to get an appointment at the consulate and fill out long forms. The ETIAS authorization only requests an electronic form that can be done easily with iVisa.com.
Also, if you are requested an ETIAS it means you are from a country that is visa-free to the Schengen zone. On the contrary, if you are requested a Schengen visa, then you don't need an ETIAS.
Is the Greece ETIAS valid for other countries?
Yes, as long as these other countries are part of the Schengen agreement. ETIAS is not exclusive of Greece, this authorization is valid for the 26 Schengen countries in Europe.
Ready to travel to Europe? Then go here and start your application.
How long is Greece ETIAS valid?
The validity of the ETIAS document is for 3 consecutive years. When traveling you get a maximum of 90 days to stay in the Schengen zone.
Apply now and get to know Greece soon!
What info and docs are requested by the ETIAS?
Mainly personal information that concerns name, address, birthplace, parents' details, etc. It is very likely you will be asked about criminal records, previous trips, and health conditions. Remember that your answers will be confirmed cross-checked with other international databases.
Keep these following requirements:
A Passport's scan.
An email address that should be valid.
Payment alternative iVisa.com gives you two options for payment, use a Paypal account or pay with a credit/debit card.
What are the processing times to get the ETIAS?
Either you have plenty of time or your trip is very soon, you can choose between these three options:
Standard, typical service with the average waiting time.
Rush, your ETIAS document will be processed quicker.
Super rush, your trip is around the corner? get the fastest service.
How is the Greece ETIAS process?
You only need to follow these next 3 steps:
Fill out the answers in the online questionnaire and pick a processing time.
Check the information in the electronic form and decide a payment method between a *credit/debit card or a Paypal account**.
Upload the travel documents required, such as your passport.
It's as easy as it sounds! Travel to Greece with your ETIAS now!
What answer will I receive in my email?
You will be receiving your ETIAS in your email. Make sure you put a valid email in your application as this will be the iVisa.com main communication. If do you have any questions, message our support agents who will gladly help you.
How secure is iVisa.com?
iVisa.com is specialized in travel documentation, therefore, safety is a top priority. The iVisa.com platform and team follow with strict security guidelines to keep all information secure in the most effective way. Don't hesitate to consult our customers' opinions so you are sure of our quality.
iVisa.com is not related to EU immigration or Greece border control, however, as an external agency, we have plenty of knowledge and expertise to process your ETIAS for your European trip.
How can I get more information?
Keep exploring iVisa.com website for more information about ETIAS or other travel documents you might need. Also, contact the customer support team for any inquiries.