Traveling during the pandemic can definitely get tricky at times. This is why is really important to know the kind of restrictions that nations across the world are taking to protect the health of both residents and non-residents.
Greece is certainly one of the most beloved destinations for all and as a matter of fact, it currently allows entry to US passport holders, including permanent residents of the Schengen countries, along with Bulgaria, Croatia, Cyprus, Iceland, Lichtenstein, Norway, Romania, Switzerland, Ireland, plus the United Kingdom. Additionally, non-US passport holders with US permanent residence permits may enter Greece as well.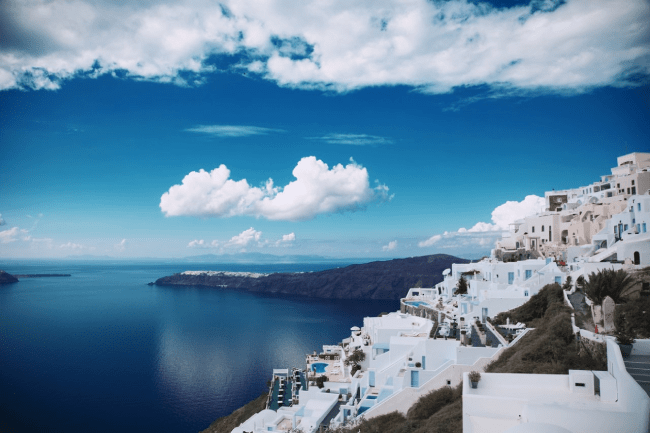 However, you will need a Health Declaration to enter Greece at the moment of your arrival.
A Health Declaration is a document in which you truthfully declare your health along with your travel information within the last 14 days to help limit the spread of the novel coronavirus within the Greek community. If you don't process this document before your trip, you will not be allowed to enter Greece.
Fortunately, you can save time and prevent undesirable issues with the port authorities by applying for your Health Declaration with iVisa.com before you travel. The process is simple, reliable and it won't take you longer than 10 minutes!
So, if you're visiting Greece soon, please continue reading to get the most up to date information on how to request your Health Declaration through our highly intuitive platform from the comfort of your own home today.
FREQUENTLY ASKED QUESTIONS (FAQs)
WHY DO I NEED A HEALTH DECLARATION TO ENTER GREECE?
Just as we mentioned, it is necessary for you to showcase a Health Declaration upon your arrival so you can enter this country. Greece is working hard to keep limiting the spread of coronavirus within its community and its Passenger Locator Form (PLF) or Health Declaration is their way to secure the protection of residents and non-residents till the pandemic is over.
Process your Health Declaration with iVisa.com here.
HOW EXACTLY CAN I GET A GREECE HEALTH DECLARATION?
You can request a Passenger Locator Form at Greece's official website or App and follow all the lengthy steps concerned to its application or you can process one promptly and reliably through iVisa.com. The process is fast, secure and once you complete it, the health declaration will be sent to your email as a QR code.
WHY ARE YOU GOING TO SEND ME A QR CODE?
The QR code will be provided within the confirmation email and it will help you with Greece Port Authorities.
The immigration deputy will ask you to show your travel documents and the QR code of your Health Declaration. Then, when they pass your QR code through one of their electronic devices, your personal details and travel information will show up in their internal system along with your health declaration. This way, you will be allowed to enter Greece.
Apply for yours on this page.
Do I need a vaccine to travel to Greece?
No, you don't. As of today, COVID vaccination passports or certificates are not mandatory to enter Greece. Now if you are a Covid vaccine certificate holder, you won't need to present a negative PCR test. Since information may change quickly, we advise you to follow up on the latest Greece travel updates and/or contact your local embassy.
That's what you have to know about the Greece Vaccination Requirements: Do I need a vaccine to travel to Greece? Remember you will need other documents to enter Greece. You may also need the Greece Passenger Locator Form.
WHAT DOCUMENTS DO I NEED TO PROVIDE TO GET MY GREECE HEALTH DECLARATION?
In order for us to help you process your health declaration online, you will need to provide the following documents through our platform:
Passport Scan with Personal Details: you will be requested to kindly upload a scan of your passport so we can have all your personal details and contact information.
Return Flight Ticket: please be advised that this document is valid for a limited period of time for which you will have to show the immigration officers proof of a valid return ticket.
Accommodation Proof: this can be either a hotel reservation or a letter from your Greek host.
Valid Email Address: our expert team will send this document straight to your email, this is why you must provide us with a valid email address.
Choose a Payment Method: once you finish filling out the application form, you will be asked to choose a method of payment. You are allowed to pay through Paypal or with your credit or debit card.
WHAT ARE THE PROCESSING TIMES AND FEES TO GET AN GREECE HEALTH DECLARATION?
As an international traveler, we get why these are your main concerns. You will be able to get your health declaration through iVisa.com's highly intuitive platform with the help of our amazing team of experts who will handle your application in the best possible way. These are the three types of processing times and fees for you to select the one that works best for your traveling needs:
Standard Processing Time:

USD 20.00

-

24 hours

.
Rush Processing Time:

USD 35.00

-

8 hours

.
Super Rush Processing Time:

USD 60.00

-

4 hours

.
Process your Health Declaration with iVisa.com now.
HOW EXACTLY DO I PROCESS MY HEALTH DECLARATION?
Processing your health declaration with iVisa.com can't get any easier! Plus, our platform is highly secure. You can bet that it will not take you more than 10 minutes to complete these three uncomplicated steps:
Fill out your application form here by simply answering a few questions. After you complete them, just select the processing time that fully attends your travel needs.

Second, make sure to double-check all the information that you rendered so you can proceed with the payment through Paypal or with any of your credit or debit cards.

Third, just submit your passport scan. Now, our master team will check your application and mail you the Health Declaration as a QR code right to the email you provided. This way, you only ought to show it to the immigration authorities once you get to the airport.
Keep in mind that you can reach out to us at any time if you require further assistance. Our customer service reps will be pleased to solve any of your doubts.
DO MINORS ALSO NEED A HEALTH DECLARATION?
Yes, minors must also process their Health Declaration because they can also be infected and transmit COVID-19. The great news is, you can request more than one Health Declaration with the help of iVisa.com on this page.
HOW SAFE IS IVISA.com TO PROCESS MY HEALTH DECLARATION?
iVisa.com's platform is extremely safe. Even though we are not related to Greece's government, we are an authorized travel agency with an expert review team that will reliably run your application in the most responsible way. You can check out what our customers say about our services for your peace of mind.
WHERE CAN I FIND INFORMATION IF I HAVE MORE DOUBTS ABOUT HEALTH DECLARATIONS?
You may contact our customer service team whenever you like! They are available at any time. You can reach out to them via chat, phone +1 (786) 460-2707 or by emailing help@ivisa.com