To travel to Greece, you don't need many documents if you are a citizen of Nicaragua. Keep in mind that a visa is not among the requested requirements. However, you should know that the European Commission will ask you to offer an ETIAS to enter Greece and other Schengen countries. The good thing is that the ETIAS isn't difficult to obtain, and if you read the information in this article, you'll know the most important things about the Greece ETIAS for Citizens of Nicaragua.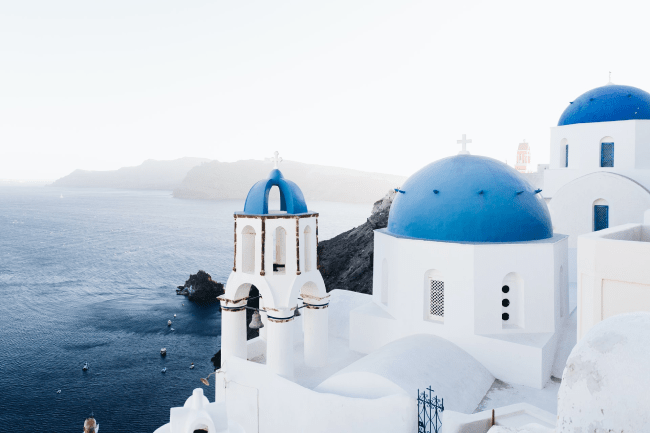 As we mentioned earlier, you can obtain this document just by doing an online process. In fact, if you use iVisa.com's online form, you can have your document ready in a few days or even hours.
Just don't forget that if you don't get the ETIAS before traveling to Greece, the official authorities could deny your entry. To avoid this situation, we recommend you to read the following details about the Greece ETIAS.
Frequently Asked Questions / FAQs
What is the meaning of ETIAS?
ETIAS is the acronym used for the European Travel Information and Authorization System, a visa waiver system that provides you the permission to enter the Schengen Zone with an electronic link in the passport.
You could have difficulties entering Greece or another Schengen country if you don't get an ETIAS upon arrival. Consider that this document is useful only in 26 countries of Europe, which belong to the Schengen Area.
The ETIAS program was created to provide better tracking of the foreign citizens traveling to the Schengen countries to ensure that they qualify to enter this area. As you can see, the ETIAS was created to control illegal immigration and control possible threats for the countries in the Schengen Zone.
How many countries are eligible for the ETIAS?
62 countries are eligible for the ETIAS at the moment, and they're visa-exempt. These countries shouldn't apply for a paper visa to enter the Schengen Area. But, if the traveler wants to live, work, or study in the Schengen Area for more than 3 months (long-term period), then it'll be necessary to apply for another type of document that's not the ETIAS.
Nicaragua is one of the 62 countries eligible for the ETIAS, so you need to apply for the Greece ETIAS for Citizens of Nicaragua before planning the rest of your trip.
Please remember that you have to select the first country of your trip as the first destination in the ETIAS online form. After you do this, you can travel to the rest of the countries with the same ETIAS while you don't exceed the 3 months. You should be careful with this recommendation because if you choose another country as your first destination, you could find issues on your trip.
What documents should I get to apply for the ETIAS?
With the easy-to-understand platform that iVisa.com created, you won't need to search for a lot of things to successfully apply. You just have to provide these:
A valid passport and a copy of its information page.
An email address where you'll obtain the ETIAS authorization
A credit/debit card or a Paypal to pay for the service and the fees.
If you apply with the ETIAS official website you might require other documents like the Health Declaration, your criminal records, etc. Therefore, we suggest applying with iVisa.com's online form to avoid wasting time and effort in vain.
How much should I pay for the ETIAS?
This document is way too new, so it might be hard to get all the information about the exact price by now. Nevertheless, we can give you some general details about iVisa.com's processing options, including how much time you could wait for your ETIAS. You should also consider that the total price for this document always includes the Government's fee.
These are our processing alternatives:
Standard Procedure Option: This processing option is highly requested because it's the cheapest one. It's the best alternative if you don't require your document too fast.
Rush Procedure Option: To obtain the ETIAS authorization faster, you can apply with this alternative, but the price will increase.
Super Rush Procedure Option: This option is made for those who need the document as fast as possible, and that's why it has the highest price.
It's important to mention that iVisa.com never charges anything without the valid permission of the applicant.
How is the application process?
You can get your ETIAS authorization using the official ETIAS website, but it can be a tiring process because it demands a lot of time. But, if you apply with iVisa.com you won't get a headache with long forms because you'll just have to do this:
Firstly, fill in the initial questionnaire, and after that, pick the processing alternative you prefer for your document.
Secondly, confirm that the spelling is alright (without mistakes) and proceed with the payment.
Lastly, review all the documents required by iVisa.com and upload them. Once you're ready, click on "submit" and that's it!
Now it's time for you to relax and wait for your document.
How much time do I need to apply for my document?
iVisa.com's online form is designed to be completed in 20 minutes or even fewer thanks to the effortless accompanying system it has. However, we always suggest our clients complete the application form carefully to avoid typos. We also remind you that you can choose the Super Rush Procedure alternative if you need your document as soon as possible.
Is it safe to use iVisa.com?
iVisa.com's principal aim is to make its clients feel secured, which is why we work so hard to make our system a safe option for travel requirements without risking our clients' information. Be sure that all the personal information you provide is protected and it doesn't get unauthorized access. You can read these reviews to confirm it.
Is there more information about the ETIAS authorization?
Yes, there's other information you could get about this process, especially if you still have doubts about it. You can get in touch with iVisa.com's customer service work team via chat to get personal attention. You can also read other travel tips or questions by exploring more of iVisa.com's webpage. Just remember that you can enjoy your next trip to Greece by applying for your Greece ETIAS now with iVisa.com!