We have great news! The Indian Ministry of Health and Family Welfare has announced new travel guidelines to enter India. The new regulations are mandatory for all international passengers entering India, which includes citizens of Germany.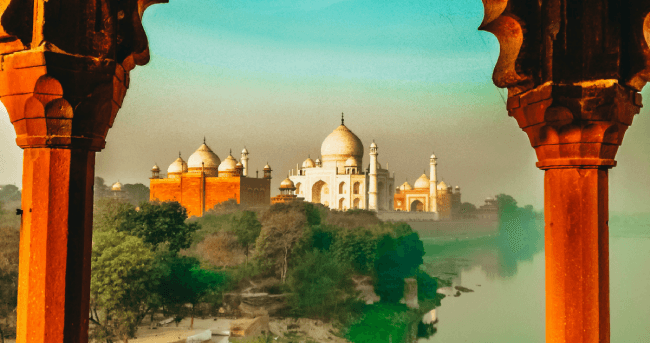 Due to the coronavirus pandemic, the Indian government has been very cautious about opening its borders. However, now with new requirements for international travelers, it's easy to see frontiers opening slowly. In this case, India is introducing a required document called the Self-Declaration Form.
iVisa.com is here to help you with the India Self-Declaration Form with a fast, simple, and 100% reliable service you can acquire from the iVisa.com platform.
Are you ready to visit the Taj Mahal and enjoy one of the most famous sites in the world? Then keep reading about the new Self-Declaration Form.
Frequently Asked Questions (FAQs)
What is an India Self-Declaration Form?
The India Self-Declaration Form is a mandatory document that international visitors entering India must fulfill. The form is meant to better control the coronavirus pandemic and have a full registry of international visitors entering the country.
You should start your application at least 72 hours before your travel date. Start checking the application page with iVisa.com.
Are citizens of Germany required to have a Self-Declaration Form?
Yes, citizens of Germany and any international visitors coming to India need to have a Self-Declaration Form. Germany is among the few countries allowed to travel to India during the coronavirus pandemic.
This is your chance to visit India, start your Self-Declaration Form!
Do I need to quarantine myself upon arrival?
The Self-Declaration Form requires a 14-day quarantine upon arrival. Remember this is mandatory and reinforces the health measures to stop the spread of COVID-19. You will need to pay an institution, approved by the government, for the first 7 days of quarantine, and the next 7 days can be done in the comfort of your home.
Do I have to quarantine myself in an institution?
According to the latest health guidelines, the Indian government requests that your first 7 days in-country, you must do an institutional quarantine. But in case you are under the next scenarios, you could do the 14 days at home.
You have a major reason to do quarantine at home for the 14 days, such as pregnancy, serious illness, death in your family, and/or you have children under 10 years old.
If travelers submit a negative COVID-19 test that has been done 96 hours before the trip. Make sure to put this information within your form with a declaration about the authenticity of the test.
The Indian government will review your application in which you need to specify your special circumstances with the correct documentation. The Indian authorities have the final decision to either let you do a self-isolation at home or do it as established with an institution during the first week.
Go for the Self-Declaration Form!
Do I need a COVID vaccine or vaccination certificate to enter India?
No, you don't. As of today, COVID vaccination passports or certificates are not a mandatory to enter India. Since information may change quickly, we advise you to follow up on the latest India travel updates and/or contact your local embassy.
What information do I need?
The Self-Declaration Form will request personal information and trip details. Also, check the next requirements:
Passport scan, show the scan with your photo and personal details.
Email Address, that must be valid.
Payment method, iVisa.com has two options for payments, either you use a Paypal account or pay with a credit/debit card.
What are the processing times?
[iVisa.com] wants to help you with your Self-Declaration Form so review the next processing times according to your needs:
Standard service, the typical option for the lowest price.
Rush service, in case you are in a hurry, this is the best alternative.
Super Rush service, for the fastest option, choose the Super Rush service.
Not sure which one to choose? Connect with our support team for some help.
What steps do I need to follow?
Respond to all the questions on the Self-Declaration Form and select a processing time.
Check if all your information is correct. Proceed to pay with Paypal account or with a credit/debit card.
Attach your passport scan and any other required documents.
This is an easy process and you can do it now with iVisa.com, go here.
What should I expect at my arrival?
Either you arrive by air, sea, or land, the process will be the same. You will go through a medical screening that will test symptoms related to coronavirus. As well, you must provide the Self-Declaration Form in a printed paper or with your electronic device. After you are clear from these procedures you will be assigned an institution for your first 7 days of quarantine. After that period, you should finish quarantine at your home.
Is iVisa.com safe?
For sure! iVisa.com works with systems under strict security guidelines. Information from travelers is kept secure within the iVisa.com platform. Trust iVisa.com services just like our previous customers, who left comments about our professional work.
Where can I get more information?
You can always contact the customer service team for more details about the Self Declaration Form. Continue exploring the iVisa.com main page or start your application now!