According to the new Indian Union Ministry for Health and Family Welfare guidelines, all travelers entering India will not longer have to go through mandatory quarantine for a period of 14 days upon their arrival. Besides an Indian visa, all travelers will have to present an India Health Declaration directly at the airport on arrival. If you're visiting India soon, please keep on reading to get all the necessary information to process your Health Declaration.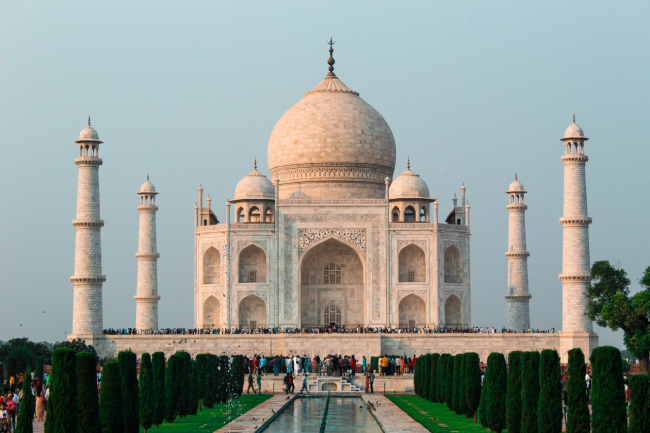 An Indian Health Declaration is a document in which you truthfully declare your health along with your personal and contact information to help limit the spread of the novel coronavirus within the Indian community. If you don't show this document, you will not be allowed to enter this country.
Fortunately, you can save time and avoid unnecessary issues with the port authorities by processing your Health Declaration or India visa with iVisa.com before your trip. The process is safe, fast and it won't take longer than 10 minutes.
If you're visiting India soon, please keep on reading to get all the necessary information to process your Health Declaration through our highly intuitive platform from the comfort of your own home today.
Frequently Asked Questions (FAQs)
WHY IS IT NECESSARY TO GET AN INDIA HEALTH DECLARATION?
Just as we mentioned earlier, it is mandatory to display an Indian Health Declaration upon arrival to be allowed entry to this country. India is working hard to stem the spread of COVID-19 in their community and their India Health Declaration is a way to ensure the safety of residents and non-residents during the pandemic.
Request your Health Declaration before your trip with the help of iVisa.com today.
HOW EXACTLY CAN I GET AN INDIA HEALTH DECLARATION?
You can get a Health Declaration by filling out a simple form with some basic information including your recent health status, your personal details, and your flight and trip information. Once you complete the form and it is approved, the health declaration will be sent to your email as a QR code.
WHY ARE YOU GOING TO SEND ME A QR CODE?
The QR code is going to help you once you get to India's airport.
The immigration officer will ask you to show your visa and the QR code of your Health Declaration. Then, when they pass your QR code through one of their electronic devices, your personal information will appear in their internal system along with your Health Declaration. This way, you will be allowed entry to India.
Request yours by applying here.
Do I need a COVID vaccine or vaccination certificate to enter India?
It is not mandatory to be fully vaccinated to travel to India, but it is highly recommended for international travel. If you have a recognized vaccination certificate, you are exempted from testing requirements.

Vaccine certificates from Albania, Algeria, Andorra, Angola, Antigua & Barbuda, Argentina, Armenia, Australia, Austria, Azerbaijan, Bahamas, Bangladesh, Bahrain, Belarus, Belgium, Bhutan, Brazil, British Virgin Islands, Brunei, Botswana, Bulgaria, Canada, Cambodia, Cayman Islands, Chad, Chile, Colombia, Dominica, Costa Rica, Côte d'Ivoire, Croatia, Cuba, Cyprus, Czech Republic, Denmark, Dominican Republic, Ecuador, Egypt, El Salvador, Estonia, Eswatini, Finland, France, Gabon, Georgia, Germany, Grenada, Guatemala, Guyana, Honduras, Hong Kong, Hungary, Iceland, Indonesia, Iran, Iraq, Ireland, Israel, Italy, Jamaica, Japan, Kazakhstan, Kenya, Kuwait, Kyrgyzstan, Laos, Latvia, Lebanon, Liberia, Liechtenstein, Lithuania, Malaysia, Maldives, Mali, Mauritius, Mexico, Moldova, Mongolia, Morocco, Mozambique, Myanmar, Namibia, Nauru, Nepal, New Zealand, Netherlands, Nicaragua, Nigeria, North Macedonia, Norway, Oman, Paraguay, Panama, Peru, Poland, Portugal, Philippines, Qatar, Fiji, Republic of Korea, Romania, Rwanda, St. Kitts and Nevis, San Marino, Saudi Arabia, Serbia, Seychelles, Sierra Leone, Singapore, Slovakia, Slovenia, South Africa, Spain, Sri Lanka, Palestine, Suriname, Sweden, Switzerland, Syria, Taiwan, Thailand, The United Kingdom, Trinidad & Tobago, Turkey, Turks & Caicos Islands, UAE, Uganda, Ukraine, United States of America, Uruguay, Venezuela, Vietnam, Zimbabwe are accepted.

Travelers will be considered fully vaccinated if 15 days have passed since the completion of a COVID-19 vaccination schedule.
Since information may change quickly, we advise you to follow up on the latest India travel updates and/or contact your local embassy.
Do I need a COVID-19 test result to enter India?
COVID-19 test prior to arrival: PCR within 72 hours.
COVID-19 test on arrival: 2% of arrivals will be tested on arrival at the airport.
COVID-19 test exemptions: Children under 5 and travelers with recognized proof of vaccination are exempted.
Is there a quarantine requirement in India?
Quarantine requirements: There are currently no quarantine requirements in India.
WHAT DOCUMENTS DO I NEED TO SUPPLY TO GET MY INDIA HEALTH DECLARATION?
In order for us to help you process your health declaration online, you will need to provide the following documents through our platform:
Passport Scan with Personal Details: you will be requested to kindly upload a scan of your passport that contains all your personal details and contact information.
Select a Payment Method: when you finish filling out the application form, you will be asked to select your method of payment. You are allowed to pay through Paypal or with your credit or debit card.
WHAT ARE THE PROCESSING TIMES AND FEES TO GET AN INDIA HEALTH DECLARATION?
As an international passenger, we understand why this is one of your principal concerns. You will be able to get your health declaration through iVisa.com's highly intuitive platform with the help of our diligent team of experts who will handle your application.
These are the three types of processing times and fees for you to choose the one that best works for your touring needs:
Standard Processing Time: USD 34.49 - 24 hours.

Rush Processing Time: USD 54.99 - 8 hours.

Super Rush Processing Time: USD 106.99 - 4 hours.
Process your Health Declaration with iVisa.com now.
HOW CAN I APPLY TO GET MY INDIA HEALTH DECLARATION?
Processing your health declaration with iVisa.com is as easy as it gets! Besides, our system is very secure. You can bet that you will not take longer than 10 minutes to complete these three uncomplicated steps:
Fill out your application form here by simply answering a few questions. After you complete them, just select the processing time that fully attends your travel needs.

Then, make sure to double-check all the information that you rendered so you can proceed with the payment through Paypal or with any of your credit or debit cards.

Finally, just submit your passport scan. Next, our master team will check your application and mail you the Health Declaration as a QR code right to the email you provided. After this, you only ought to present it at the immigration authorities once you get to the airport so your personal information and Health Declaration appear in the system.
Keep in mind that you can reach out to us at any time if you need further assistance. Our customer service reps are pleased to answer any of your doubts.
DO MINORS ALSO NEED AN INDIA HEALTH DECLARATION?
Yes, minors also have to process their India Health Declaration because they could also be affected and transmit COVID-19. The good news is, you can request more than one Health Declaration with the help of iVisa.com by clicking here.
HOW SAFE IS IVISA.com TO GET MY INDIA HEALTH DECLARATION?
iVisa.com's platform is quite safe. Even though we are not related to the Indian's government, we are an accredited travel agency with a proficient review team that will carefully run your application in the most responsible way. Please check out what our customers have to say about us for your peace of mind.
WHERE CAN I FIND MORE INFORMATION IF I HAVE FURTHER DOUBTS ABOUT HEALTH DECLARATIONS?
You can contact our customer service team. They are accessible at any time. You can reach out to them via chat, phone, or by emailing [email protected]