Please be aware that if your visa was issued before October 6th, 2021 it is no longer valid and you will need to apply for a new visa.
The United Kingdom is one of the 150 countries for whose citizens India releases e-visas. That means you are able to apply and receive an Indian visa using the internet only. There are no trips involved, no wasting time in line, and you do not have to wait an extended period of time to get the document you need. And as an UK business person, you do not want to waste any time in getting a visa the old fashioned way, the service provided by iVisa will help you along the way of applying for your Business e-visa.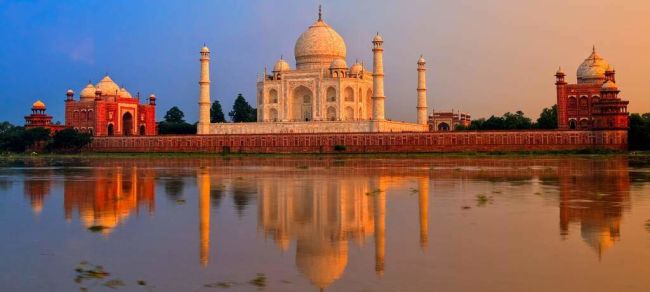 Frequently Asked Questions
What is an India Business e-Visa?
The India Business e-Visa is an official document allowing the entry into India for business purposes only.
What are the documents needed to apply?
Before applying online, you need to have these documents at hand:
Your passport copy in PDF format.

A digital passport photo in JPEG format.

A copy of Business Card in PDF format.

A credit/debit card, we also accept Paypal, Alipay, Wechat.
How long is the India Business e-Visa valid?
The validity of this e-Visa for UK citizens is for 1 year after issued.
What are the processing times and fees?
With iVisa, applicants have 3 options when it comes to processing time, the cost depends on that option.
Standard processing – your visa application will be ready within 5 days, and the price is USD 157.50.

Rush processing – you will receive your visa faster, 3 days, and the total to be charged is USD 187.50.

Super rush processing – this is the fastest option there is! You will get your India Business e-Visa in 2 days, and you will be charged USD 222.50.
WHAT IS THE APPLICATION PROCESS FOR AN INDIAN BUSINESS VISA?
iVisa's application for an Indian Business e-Visa is really simple. It has 3 steps:
The first step is to complete the application form with your personal information. Then select the processing speed from the options named above.
The second step is to check your answers and complete the payment. Make sure that all of the answers you supplied are correct. Any errors could lead to an invalid e-visa!
The last step is a questionnaire and the photo upload. It is also at this point when you need to upload your passport scan and a copy of your business card. Other documents may be required, depending on individual circumstances. Once you're done, you can send us your form.
Click here to start!
After you are done, you can click submit and wait for your e-visa to arrive. In case you need help, iVisa has a fantastic support service that you can call 24/7.
How long can UK citizens stay in India with a Business e-Visa?
UK citizens applying for a Business eVisa can enter India for a maximum of 180 days in Total. All visits are only directed to business or tourism purposes, so you can NOT look for paid work or employment.
How many times can I enter India with a Business Visa?
The India Business Visa allows you a Multiple Entry.
How can I apply for my family or friends?
You can apply for friends or family. Remember to have all the documents (you can see above in this article). In case you need to apply for more than one person, you can do that by clicking 'Add new applicant' in the application form.
How do I know if my visa is approved?
We will notify you through e-mail as soon as the Indian government approves your visa.
How does a Indian business e-visa look like?
Here is a sample: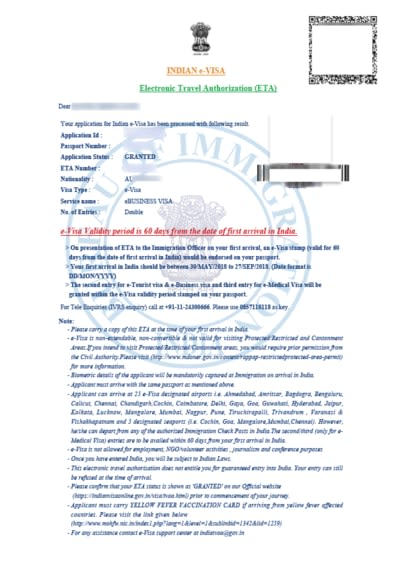 I have more unresolved questions, where can I find more information?
For a faster and personal answer click here and start chatting with one of our customer service representative. You can also find more information and FAQs here.
You have to admit that it is more convenient to use an online service, rather than wasting any precious time at the consulate. iVisa will help you focus more on your great adventure to this beautiful country!