Indian business visa for UK citizens: discover all of the requirements, costs, and process to apply
India is an amazing destination for a vacation but also an important country when we talk about business activities. It's one of the fastest-growing economies in the world and a lot of travelers visit the territory for business purposes. To enter India for Business or pleasure, it's necessary to apply for an Indian visa.
A large number of nationalities can fill in an online application form for an India business e-Visa. Unfortunately, the e-business visa, e-medical visa, and Indian e-Visa for tourists aren't available for citizens from the United Kingdom at the moment. We hope that the Indian immigration authority makes the UK eligible for the e-business visa soon since e-visa processes are so much easier than the regular visa application.
This article will explain all the entry visa requirements to visit India, for an e-business visa and important information to apply at the Indian embassy too. Keep reading to learn everything you need for this trip.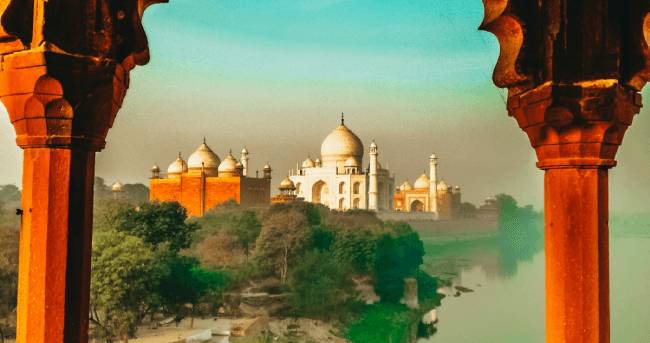 Business visa for India from UK: How to apply for it
Since the electronic Indian visa is not available for UK citizens at the moment, you'll have to wait to apply, but hopefully it'll be back again soon. The easiest way to apply is using the India Visa online Application system at iVisa.
While you wait for the eVisa to become available again, feel free to head down to any India Application Center and check out the requirements or anything else you may need to know about the suspension of the visa.
Visa requirements
For the valid visa application you'll need a passport with at least two blank visa pages, machine-readable and valid for at least 180 days beyond your planned exit date. Besides these requirements, you'll have to present a color copy of your Passport Identification Page.
You also may need to present a Business Introduction Letter from the applicant's UK employer to prove the business purpose of the trip. All letters must be written on company letterhead, including a UK postal address.
The application also requires a fully completed Self Declaration for the visa. You can learn further information below or in this article.
How to apply for an India business visa online
If you have one of the nationalities eligible to apply for the Indian business e-Visa, the whole process is very simple. It takes 10 minutes to submit the iVisa application, providing your personal information, the applicant's passport details, some flight details, and attaching any required documents.
You'll need to have on hand: a passport copy in PDF format, a digital passport photo in JPEG format (following the same requirements from the regular visa above), a copy of a Business Card in PDF format, and a credit or debit card to pay the feed.
Learn all the steps for the e-visa application below.
The complete process of an electronic India visa
Get your Indian business visa online in three simple steps:
First, read all the information and fill out your details, such as the passport number. Then, choose your preferred processing time.
Second, double-check and verify your information then make the online payments for the visa fee with a credit or debit card.
Third, attach any documents required and click on the submit button to finalize your application form.
Once you receive your visa by e-mail, we advise you to print the document to show to immigration authorities upon arrival in India.
India Self Declaration Form
The India Self Declaration is a mandatory travel document for all passengers visiting India. The official document does not replace a visa, but it's an important measure to help the local authorities to control the spread if COVID-19 and track new cases.
All travelers can apply online, in just a few clicks, and receive the declaration in their email inbox.
Click here to apply online for the India Self Declaration!
Frequently Asked Questions
Can UK citizens apply for an Indian business e-visa or e-tourist visa?
Yes, when UK citizens must apply for an India Business Visa before traveling to India for business, if that is their purpose of travel. Otherwise you have the option of a Tourist visa and a Medical visa. Each one has its own specific requirements. You can read more on our Indian Visa product page about each one of the visa specifications.
How long is the India Business e-Visa valid for?
This Indian visa remains valid for 1 year after being issued and for a maximum of 180 days in total per entry. It's a multiple entry visa.
What are the documents required to apply for an e-Visa?
For those who can apply for an online visa, there are just a few documents that the traveler needs to provide, and iVisa will do most of the work. Here is what you need:
Digital photo of yourself: It is recommended that the photo is recently taken. You should not make any unusual facial gestures in it, and the background should be white.
A passport scan of the information page.
Means of payment: iVisa accepts credit cards and debit cards.
What are the photo requirements for the India business visa?
For this document, you have to upload a digital photograph as part of the application process. The photo has to comply with the following requirements:
The height and width of the photo must be equal.
It must present an image of your full face, front view, with both eyes open.
The applicant's face must be centered.
It must have a white background.
No shadows on the face or the background.
Please upload your photo without any borders.
If you don't have a recent photo you can get one quickly using our Passport photo service.
Processing times and fees for the India business e-visa
For those who can apply for Indian business visas, here are three options of processing times, with varying prices per option:
Standard processing – 5 days: USD 88.00.
Rush processing – 3 days: USD 118.00.
Super Rush processing – 36 hours: USD 153.00.
What does the electronic India visa look like?
See a sample of the India e-visa below:
Who can I speak to if I have more questions?
If you have any questions about traveling to India, the iVisa's team is available 24/7 to help. You can contact our customer support team online or via email at [email protected].