Please be aware that if your visa was issued before October 7th, 2021 it is no longer valid and you will need to apply for a new visa.
Please note: the Self Declaration Form for India is currently unavailable. Please check back frequently for updates.
After closing its borders due to COVID-19, India is allowing international travelers to enter its territory. However, there are new mandatory health guidelines for all visitors. Air India passengers and all other visitors are required to have the India Self-Declaration Form when entering the country. This document will help authorities prevent the spread of the coronavirus pandemic. Keep reading to find out about the India Self-Declaration Form so you are prepared when this form is available again.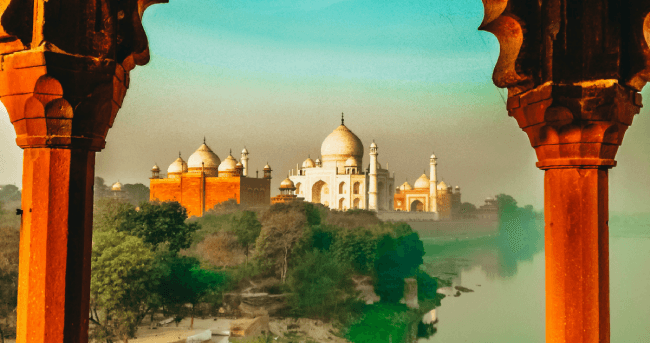 Frequently Asked Questions (FAQs)
What is the most important requirement to enter India during coronavirus?
From August 8th, 2020, Indian authorities are requesting a Self-Declaration Form. This is the most important requirement to enter India and it's mandatory for all international passengers. You must start your application at least 72 hours before the travel date and by completing the form you are accepting all the new health regulations during your stay.
Begin the application here!
Do I need a COVID-19 test result to enter India?
COVID-19 test prior to arrival: PCR within 72 hours
COVID-19 test on arrival: All arrivals at New Delhi, Mumbai, Kolkata, Chennai, Bengaluru, and Hyderabad from "at risk" countries must pre-book a test on arrival. The link will be provided on the application form. 2% of arrivals from non-"at risk" countries will be tested on arrival.
COVID-19 test exemptions: Children under 5 are exempt
Is there a quarantine requirement in India?
Quarantine requirements for "at risk" country arrivals: All travelers arriving from "at risk" countries will be tested on arrival.

Travelers who test positive on arrival test: Further testing in isolation facility for new virus variant. If the traveler tests positive for new variant they must remain in strict isolation in facility until a negative test result is obtained. If the traveler tests negative for the new variant they can leave when discharged by medical staff.
Travelers who test negative on arrival test: 7 days home quarantine, day 8 PCR and 7 days self monitoring. If the day 8 test is positive, travelers must attend isolation facility as above.
Quarantine requirements for non-"at risk" country arrivals: 7 days home quarantine with a PCR on day 8 for all travelers Ready to start? Obtain the Self-Declaration Form now!
How is the quarantine at an institution?
The Indian government has approved centers where international travelers will go through their first week of quarantine. As well, the cost of this quarantine will have to be paid by travelers. Still, if you are within a special case, you could request the entire quarantine at home. This is only possible if you relate to the next situations:
You are pregnant and/or have children under 10 years old.
You have a critical illness and/or there is a death in your family.
You can provide a negative coronavirus test.
In case, you are under these specific scenarios, then provide further documents to request a home quarantine. The Indian authorities will assess your case and give you a final answer.
Apply for the Self-Declaration Form now!
Which countries are on the "at risk" list?
Countries classed as "at-risk": Countries in Europe, the United Kingdom, South Africa, Brazil, Botswana, China, Ghana, Mauritius, New Zealand, Zimbabwe, Tanzania, Hong Kong, Israel, Congo, Ethiopia, Kazakhstan, Kenya, Nigeria, Tunisia and Zambia
Countries classed as not "at risk": The rest of the world.
Do I need a COVID vaccine or vaccination certificate to enter India?
No, you don't. COVID vaccination certificates are not mandatory to enter India, however fully vaccinated travelers from category A countries will not have to quarantine. Since information may change quickly, we advise you to follow up on the latest India travel updates and/or contact your local embassy.
Accepted vaccines: WHO approved COVID-19 vaccines are accepted
Fully vaccinated eligibility: Travelers will be considered fully vaccinated if 15 days have passed since the completion of a COVID-19 vaccination schedule.
Do you want further details? Contact a support agent to help you.
What documents do I need?
The Self-Declaration Form will require the following items:
A scan of your passport with a view of your photo and personal details.
An email address, that must be valid.
Payment, iVisa.com has a small price for the service which you can pay with a Paypal account or a credit/debit card.
The form will require personal information and travel details. As well, if you are thinking to require a home quarantine then provide documents to support your case, like medical reports, children's identification, etc.
What are the processing times?
For your convenience, iVisa.com has designed 3 procedure times and each one with its respective price. Check out these three options that iVisa.com has for you:
Standard service, a moderate time to wait for the Self-Declaration Form.
Rush service, a faster option when in a rush.
Super Rush service, for the highest fee you get the fastest option.
Connect with the customer service team if you have some doubts.
What is the process for the Self-Declaration Form?
If you apply with us, the process will be very easy to obtain your Self-Declaration Form. Just follow these steps:
First, fill out the information in the online form and choose a processing time (Standard, Rush, or Super Rush).
Second, review your answers and select a payment option with a Paypal account or with a credit/debit card.
Third, attach the scan of your passport. In case you are requesting an institutional quarantine exemption, upload supporting documents.
Start applying and go to India soon!
Is there a special process during my arrival?
Yes, you will go through a thermal screening to check your temperature. As well, medical personnel will check any symptoms related to coronavirus. During this process, you should provide the Self-Declaration Form for the final entry validation. After this, you will go to the facility approved by the government to have the first week of quarantine. Then finish your quarantine at home and you are ready to visit India.
Is iVisa.com safe?
It's 100% safe. All processes in the iVisa.com platform are safe, systems work around strict security regulations and information is carefully safeguarded. Review the comments from our clients about the great service that iVisa.com can offer you.
Where can I obtain more information?
Message the customer support team that is available 24/7 for any inquiries. Also, write an email to help@ivisa.com
Start the Self-Declaration Form and travel to India!