India is a fascinating destination for a vacation! The country has a rich culture, very spiritualized people, colorful streets, and tasty food. This experience can be life-changing! But, before packing your bags, there are some travel documents that you'll need to prepare for this trip, such as the Self-declaration form, required for Air India passengers, and the Indian visa.
After closing its borders due to COVID-19, India fully reopened for tourism on 15 November 2021. The Indian government developed the Self-declaration form for Air India passengers to welcome international travelers to its territory since the beginning of the COVID-19 pandemic, along with new mandatory health guidelines for all visitors. It's a measure to control the spread of the coronavirus and to keep India safe for tourists and locals.
Besides the COVID-19 requirements at the airport, the visa is still a mandatory document to visit. A long list of countries is eligible for an Indian e-Visa. You can use our Visa Checker to see if your nationality is one of them, otherwise, you need to go to an embassy to apply for a tourist visa, business visa, or medical visa.
In this content, you'll find useful information for your trip, all details you must know to apply for the travel documents, and coronavirus measures in the territory. Count on iVisa to help you with all you need for this trip, quickly and easily for hassle-free entry to India.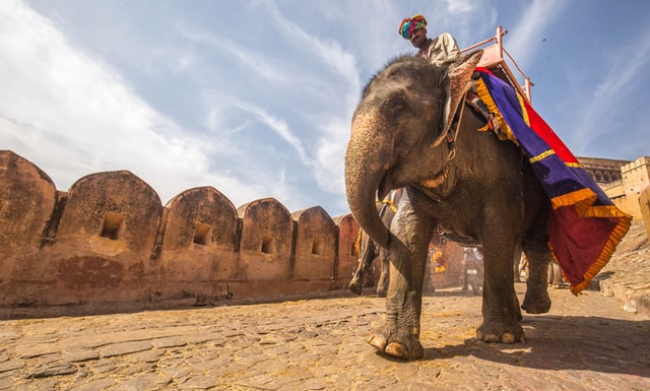 India Self-declaration Form for Air passengers
In August 2020, Indian authorities started to request a Self-Declaration Form from air Indian passengers at the airport. The government is relaxing Covid-19 protocols little by little, but this is still mandatory for Indian entry, so all international passengers have to submit the form. It's an important and simple measure that helps local authorities to control the spread of coronavirus and track new cases of the disease. Just be aware that the official document does not replace a visa.
Travelers must start the Self Declaration application at least 72 hours before their travel date and by completing the form they are accepting all the new health regulations during the stay. This will be an easy task to accomplish in your travel to-do list because you can apply online, in just a few clicks, and receive the declaration in your email inbox. The form is valid for 30 days after arrival and is a Single Entry document.
Keep reading to learn about all the requirements and how to apply.
The Self-Declaration Form requirements
The Self-Declaration is a form that you must fill out on the iVisa application page. It's an ordinary form, so you must submit basic personal information for the trip and pay the processing fee. You'll need the following items:
A scan of a valid passport with a clear view of your photo and personal details.
A valid e-mail address to receive the form.
Payment method. Credit cards or debit cards are accepted by iVisa.
Fill in the form with the required personal information and travel details, like medical reports, children's identification, and health status.
How to apply for the Indian Self-Declaration?
The best thing about the Indian Self-Declaration is that it's very easy to apply! You can submit your information using a computer or your smartphone. It's just a few steps online, and then iVisa will take care of the Self-Declaration for you. Just follow these instructions:
First, fill out the information on the iVisa application page and choose a processing time (Standard, Rush, or Super Rush).
Second, review your answers and select a payment option with a credit or debit card.
Finally, attach the scan of your passport and upload supporting documents.
Then, all you'll need to do is wait for the Self-Declaration form that it'll arrive in your e-mail inbox.
Processing time and fees
On the iVisa website, you'll find three different options for processing the document, so you can choose according to your needs. Check out the processing times and fees:
Standard processing (

USD 31.99

-

24 hours

), a moderate time to wait for the Self-Declaration Form.
Rush processing (

USD 61.99

-

8 hours

) is a faster option when in a rush to travel.
Super Rush processing (

USD 95.99

-

4 hours

) is the fastest option to get the document.
COVID-19 requirements and restrictions in India
The coronavirus pandemic is not over yet, so it's important to know which are the COVID-19 protocols in the country when you travel. The India COVID-19 protocols and restrictions are a little different for fully vaccinated and unvaccinated visitors, for example. Besides submitting an India self-declaration form, there are a few requirements as a measure to control coronavirus cases. Check below what India requests in terms of COVID-19 test, vaccination certificate, and home quarantine.
Since information may change quickly, we advise you to follow up on the latest India travel updates before departure.
Covid-19 testing protocols
Nowadays, children under 5 and travelers with recognized proof of vaccination are exempt from the COVID-19 test. Otherwise, unvaccinated visitors have to present a negative PCR test result to enter the country.
Indian authorities also have a random test requirement. A subsection (2% of the total air passengers) is chosen for random post-arrival testing at the airport on arrival. They submit their samples and are allowed to leave the airport. In case someone tests positive, the traveler has to be treated and isolated as per the laid down standard protocol.
Unvaccinated travelers: Present COVID-19 test prior to arrival - PCR within 72 hours.
Vaccination certificate
It is not mandatory to be fully vaccinated to travel to India, but it is highly recommended for international travel. If you have a recognized vaccination certificate, you are exempted from testing requirements.

Vaccine certificates from Albania, Algeria, Andorra, Angola, Antigua & Barbuda, Argentina, Armenia, Australia, Austria, Azerbaijan, Bahamas, Bangladesh, Bahrain, Belarus, Belgium, Bhutan, Brazil, British Virgin Islands, Brunei, Botswana, Bulgaria, Canada, Cambodia, Cayman Islands, Chad, Chile, Colombia, Dominica, Costa Rica, Côte d'Ivoire, Croatia, Cuba, Cyprus, Czech Republic, Denmark, Dominican Republic, Ecuador, Egypt, El Salvador, Estonia, Eswatini, Finland, France, Gabon, Georgia, Germany, Grenada, Guatemala, Guyana, Honduras, Hong Kong, Hungary, Iceland, Indonesia, Iran, Iraq, Ireland, Israel, Italy, Jamaica, Japan, Kazakhstan, Kenya, Kuwait, Kyrgyzstan, Laos, Latvia, Lebanon, Liberia, Liechtenstein, Lithuania, Malaysia, Maldives, Mali, Mauritius, Mexico, Moldova, Mongolia, Morocco, Mozambique, Myanmar, Namibia, Nauru, Nepal, New Zealand, Netherlands, Nicaragua, Nigeria, North Macedonia, Norway, Oman, Paraguay, Panama, Peru, Poland, Portugal, Philippines, Qatar, Fiji, Republic of Korea, Romania, Rwanda, St. Kitts and Nevis, San Marino, Saudi Arabia, Serbia, Seychelles, Sierra Leone, Singapore, Slovakia, Slovenia, South Africa, Spain, Sri Lanka, Palestine, Suriname, Sweden, Switzerland, Syria, Taiwan, Thailand, The United Kingdom, Trinidad & Tobago, Turkey, Turks & Caicos Islands, UAE, Uganda, Ukraine, United States of America, Uruguay, Venezuela, Vietnam, Zimbabwe are accepted.

Travelers will be considered fully vaccinated if 15 days have passed since the completion of a COVID-19 vaccination schedule.

If you are traveling with minors, keep in mind that children under 5 years of age are exempt from COVID-19 testing and proof of vaccination too.
Since information may change quickly, we advise you to follow up on the latest India travel updates and/or contact your local embassy.
Quarantine
In general, all countries that don't request Indian citizens to quarantine also have a free-quarantine entry into India too. But, if the travelers test positive on arrival, the Indian authority will decide if the passenger has to undergo home quarantine or institutional quarantine.
Do you still have questions?
If you still have doubts about the Self-declaration form for Air India passengers or any other travel documents mentioned, then feel free to contact our visa experts 24/7. You can talk to the iVisa customer support team at any time, or email us at [email protected].