Diwali is one of the most significant religious holidays in India. It's even celebrated around the world by Hindu, Sikh, and Jain people. Read more about this five-day celebration and how to celebrate it in this article.
During Diwali, also called the festival of lights, the triumph of good over evil is celebrated with spectacular rituals and decorations. It's held for five consecutive days annually around October.
Find out below how to celebrate the Hindu festival in India and how to prepare your trip, including obtaining a visa for India and what to expect.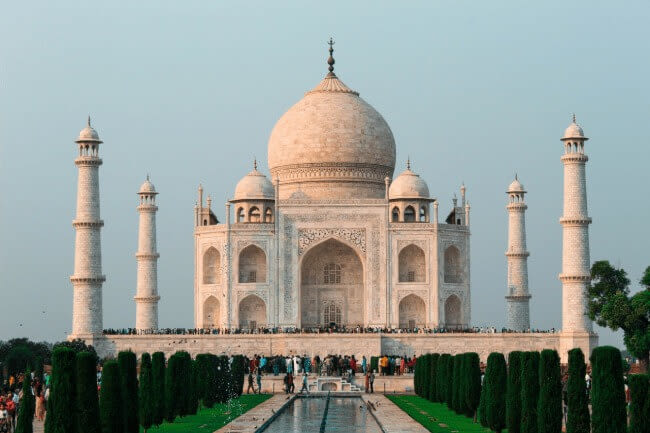 The ultimate Diwali festival travel guide
Diwali is one of the biggest celebrations in India and expanded to most parts of the world where Hindus have established themselves. The word Diwali comes from the Sanskrit word Deepavali, meaning 'row of clay lamps'. As the nickname suggests, more than a million lamps will be lit by locals to show their inner light that safeguards them from the darkness.
The Diwali story is about the return of Rama and Sita, two deities, to Ayodhya, an ancient city in India. According to local legend, Lord Ram was born in Ayodhya and returned home after defeating a demon.
Travelers from all over the world are welcome to participate in the Diwali celebrations and have fun taking part in the rituals and festivities.
When is Diwali or the festival of lights celebrated in 2022?
The national holiday follows the lunar calendar, so the dates for celebrating Diwali vary each year. Hindus celebrate Diwali for almost the entire week, with the celebrations lasting for five days and the remaining two days for after-effects. This year, the Diwali celebrations kick off on October 23 and end on October 27, 2022.
How to celebrate Diwali
Diwali is celebrated quite differently across India, demonstrating unity in diversity. One thing that is similar all over the country are the thousands of lights that are decorating homes, villages, towns and cities, symbolizing the victory of light over darkness.
The beauty of this five-day festival is the unity of five different ideas, as each day has its own religious and historical significance.
Day 1 - Dhanteras: The first day of Diwali is known as 'Dhanteras', or the worship of wealth. A custom of purchasing something precious is observed on this day in honor of Hindu Goddess Lakshmi. Homes are cleaned and decorated.

Day 2 - Naraka Chaturdashi or Choti Diwali: In the morning of the second day, people wake up early and apply aromatic oils before taking a bath. There is a belief that this removes all sins and impurities. New clothes are worn, Puja is offered, and firecrackers, sparklers, and diyas (oil lamps) are lit.

Day 3 - Lakshmi Puja: Diwali's main festival takes place on the third day. On this day, it is believed that the Goddess Lakshmi enters homes and blesses people with good fortune. Candles, oil diyas, and electric lights are placed around the house and gifts are exchanged.

Day 4 - Govardhan Puja or Padva: The fourth day of Diwali marks the defeat of Indra by Lord Krishna by lifting the huge Govardhan Mountain. Govardhan is worshipped by making a small hillock out of cow dung, symbolizing this landmark.

Day 5 - Bhai Dooj: On the fifth and final day sisters prepare a lavish meal for their brothers and perform a tilak ceremony for them. In exchange for gifts, sisters pray for the long and happy life of their brothers.
Other Diwali celebrations to look out for
The festival of Diwali is a time to feast with family and enjoy as many sweet treats as you can eat. Without dessert, Diwali festivities wouldn't be the same!
Among the most popular is kaju katli, a cashew fudge-like sweet made with sugar and ground cashews. In northern India, besan burfi is another type of fudge-like treat that is made from flour, sugar, cardamom, and pistachios or almonds.
Traveling to India to celebrate Diwali
It is likely that transport and popular tourist sites will be more crowded than usual during Diwali as most Indians get a week-long holiday. Due to this, we recommend visiting India for at least seven to ten days during Diwali. You'll get to experience the holiday and explore other parts of India at the same time.
Most of the rituals, markets, and holiday lights are at their best during the first three days of Diwali. Diwali is best experienced with a local guide or staying with an Indian family.
India welcomes travelers from all over the world to celebrate this Hindu tradition. But before you go, it's important to prepare your trip by getting the right vaccinations, apply for an Indian visa, and check the COVID-19 requirements.
Where to celebrate Diwali
Every Hindu community in India celebrates Diwali, so you will be able to experience the beautiful celebrations and rituals no matter where you go. Some cities go above and beyond in their celebrations though, including Jaipur, Varanasi, Delhi, and Kolkata.
In Varanasi, there is a nightly cremation and prayer ceremony, followed by fireworks over the Ganges river. Additionally, Jaipur is famous for celebrating Diwali in a spectacular way as the entire market is illuminated.
Apply for the India e-visa
If you're not sure if you need a visa for India, check our handy visa checker tool for more information or read more on our India visa application page.
International tourists can enter the country for tourism purposes with the Indian eVisa, for which you can apply online through iVisa. Simply provide the following information and documents:
Applicant photo - A recent photo of yourself, taken against a white background.

Passport personal details scan or travel document showing your photograph and passport details.

Copy of the last page of your passport (if applicable).

Valid email address - So we can communicate with you.

Credit or debit card to pay the fees.
Once approved, your visa is electronically linked to your passport.
Costs and processing times of the India e-Visa
iVisa offers three different pricing and processing options depending on how urgently you need your e-Visa for India (valid for 30 days after arrival):
Standard Processing: 5 days - USD $89.49.

Rush Processing: 3 days - USD $141.49.

Super Rush Processing: 36 hours - USD $204.49.
The application process consists of three steps. First, you fill out the online application form and choose your preferred processing time. Then, pay the visa fees and upload all documents. We will send the confirmation of your approved visa by email.
More information about traveling to India
Happy Diwali! If you have any questions about traveling to India, COVID-19 restrictions in the country, or applying for an Indian Visa, contact our expert customer service team via online chat or email at [email protected]. They are available 24/7 to assist.