One of the great dreams of Americans is to explore the country of India due to the culture, gastronomy, beliefs, and traditions. However, sometimes those kinds of culture shocks could affect us in some way if we don't have prior information. That is why before traveling, it is recommended to read and look for a lot of information about this nation and especially the cities that you are going to visit. However, despite the fact that India is a country that offers so many tourist places to visit, there is fear regarding security and this is because in most countries we generally feel insecure on the streets.
We live with insecurity day by day and this cannot be an obstacle to travel to any country including India. This is why we decided to create this article to show you the most important aspects you should take into consideration before entering this country and we will tell you the best alternative to staying alert and informed in real-time during your whole trip. Continue reading to learn more.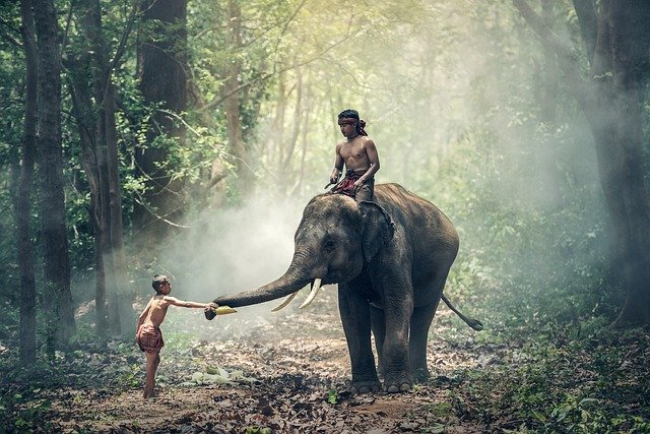 So is India safe for Americans?
It is very normal to ask yourself that question because each person always seeks to ensure their safety so that they can have an excellent vacation or suddenly travel for work. India can be a safe country as long as all precautions are taken to avoid any inconvenience. Nevertheless, we must be honest and tell you that although India has many attractive places to discover, the security of the city is not 100% safe. In fact, during the last years, criminality against tourists has increased. Luckily, there are safe zones and you can always be in touch with your Embassy and count with its advisor subscription. We know that this process might be uncomfortable and stressful, but with the iVisa.com Embassy Registration service, you can be subscribed in only 5 minutes! Just worry about your itinerary, iVisa.com will take care of this process.
Nevertheless, what is an Embassy Registration for Americans?
This registration serves you in case you have an emergency and you need to get certain information. Also, this will really help you to be 100% informed of all the events that occur in India. If you are one of the people who does not like to be looking for information, then this service will really be very useful for you because the information will come directly to you via message.
If you have this Embassy Registration, the consulate or embassy that is located in India can better assist you in case you have an incident. So, we recommend that you get this registration and subscribe to receive notifications with travel advisories of India.
Indian Security advises for the Americans:
Now, we will explain to you some important points that you have to bear in mind:
1. Why is it important to know what means of transport to take in India?
When you are in the country of India, you will see that the schedules of the buses are not exact, since this can vary in a few minutes or in hours, approximately. On the contrary, if you are American, you know that the buses or trains in the place you live are very punctual. For that reason, we ask that you be very patient. Not only that but if you take public transportation you have to be very careful because it is not 100% safe. It means that if you are not alert at all times, a pickpocket could steal your belongings, including your travel documents. So can you imagine that?
2. Why is it essential to consider health safety in the Indian territory?
Health is very important and that is why we must mention that when you are in India, there are some common local health issues as in many other countries like the Zika virus, dengue, diphtheria, malaria, Chikungunya fever and so on.
Due to Covid-19, the Indian government had implemented many restrictions and regulations including the Indian Self Declaration Form. However, now that the pandemic has eased, India has ended all COVID-19 protocols. Thus as of November 22, 2022, travelers will no longer need an India Self Declaration Form.
Furthermore, you must know that in India you will see various types of typical dishes that contain hot or spices that perhaps you as an American are not used to eating; likewise, it is vital to let you know that you will see this type of food on the streets in India and it will be your decision whether or not you want to eat in those places.
Remember that if you have a delicate stomach, we suggest that you don't eat these foods because it can give you a stomach infection or other diseases and that will make you lose a few days of your journey. On the other hand, if you are a person who likes to experiment and try every typical food that exists in India, you can do it without any problem.
3. Is there any harassment of women?
As part of the culture, they have in India is not to dress extravagantly. However, if you are a girl who wants to avoid looks and misunderstandings then we recommend that you dress appropriately this means not showing your shoulders, knees, legs, and head. If you want, you can buy a Sari or a Kurta to feel more integrated into this culture. Remember that this is not compulsory. The idea is that you feel comfortable with what you wear but respecting each parameter that we mentioned above. In addition, you should know that clothing in India is closely linked to cultural and social factors. Unfortunately in India, there are still very chauvinists people and that is why any woman who wants to travel there takes some precautions to avoid uncomfortable situations.
4. It is common that there are many thieves on the streets of India?
Thefts are very common in the territory of India and mainly for foreigners. However, as everywhere, you must take preventive measures. If you intend to carry a lot of money (cash) with you while walking the streets, do not do it, since not all the streets are very safe and that way you can avoid a robbery and you will also avoid having uncomfortable moments during your stay in India.
Additionally, when you want to go buy something you should be careful with your personal things, try to make sure they are very safe because the common thing is that when you want to buy something, the sellers will tell you a high price simply because you are American, so that's when You are going to negotiate with the seller about the price and in the meantime, other people may take advantage of that moment and want to steal some of your belongings. For this reason, many times we are not free of anything, anything can happen, so that's why I recommend that you acquire this Embassy Registration in order that you can have direct communication with the Embassy.
Have you realized how important it is to obtain an Embassy Registration due to any incident that may occur? Think about it.
Regarding the safety of our service, don't be afraid of your information, it won't be leaked. Let me tell you that this will not happen because iVisa.com has a system that protects all the data information of our clients to prevent any incident. We have always been characterized by the good service we provide. Trust us and you will not regret it. If you want to request this service with iVisa.com, make sure you have a valid email address.
To sump up, India is a very country that has different tourist attractions that attract the attention of American citizens. And above all, because it's a country where they have a very different culture from the United States, that is why many Americans plan to visit this amazing nation in order to explore and discover new experiences there. However, some places in India are not very safe, so always stay alert with your belongings. In addition, it must be taken into account that the Indians have certain customs, traditions, and beliefs, so each of them must be respected.
Finally, take into consideration everything that we mentioned above, and of course don't forget to request an Embassy Registration with iVisa.com, since we will help you with that process. Remind that prevention is better than regret.
5. In case I have doubts about this topic, where can I obtain more info?
If you prefer to read more info about this, you can visit our website www.ivisa.com. As a second option, you can contact our operators, they will be happy to assist you at any time.
Don't wait any longer and request this service with iVisa.com