The most popular ports of entry for international tourists traveling to India are New Delhi, Mumbai, Chennai or Kolkata (formerly called Calcutta). The New Delhi airport is called the Indira Gandhi International Airport and is India's busiest airport in terms of passenger traffic.
It's named after Indira Gandhi, a former Prime Minister of India, and is located in Palam, just 16 km from New Delhi city center. Passenger can reach the airport by taxi, bus, or metro. If you happen to have a long layover, you can easily spend a day exploring the city with FreeTour.com.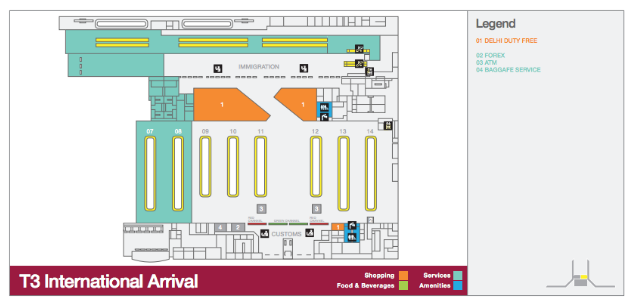 The airport consist of 3 different units:
Terminal 1D, Domestic departures with check-in counters, security checkpoints, shops, etc. (Serving airlines IndiGo, SpiceJet and GoAir) Interactive map.

Terminal 1C, Domestic arrivals with baggage reclaim, taxi desks, shops, etc. (Serving airlines IndiGo, SpiceJet and GoAir).

Terminal 3, International/Domestic departures and arrivals. This is where you will land when arriving in India on an international flight. (Serving airlines Air India, Alliance Air, Jet Airways, Vistara, Air Asia and all other International airlines).
What is iVisa?
iVisa is a multinational corporation that provides simple online solutions to process your travel visas. We enable travelers to process visas from a computer, smartphone or tablet with speed and simplicity, security, the minimum chance of rejection and an awesome customer support team at your reach 24x7.
Why choosing us?
Sometimes we simply can't afford to waste time. By choosing iVisa, you are choosing to leave the frustrating visa process behind you and engaging in a new, commute-free, paperless, experience. No more frustrating Government forms, endless trips to the embassies or ugly surprises. Let our visa specialists handle your visa so you can focus on planning your trip.
What is an India Tourist eVisa?
It is an official document that allows the entrance into and across the Indian territory and is electronically linked to your passport.
How long is the India Tourist e-Visa valid for?
This specific type of eVisa is valid for 1 year after issued. This means you must enter India within a period no longer than 1 year after issued.
What do I need to apply for an India Tourist eVisa?
In order to submit your application, we require the following documents:
A digital copy of the bio page of your passport in PDF format.

A digital passport photo in JPEG format.

A credit/debit card or PayPal account for the payment.
How long does it take to process an India Tourist eVisa and what is its cost?
It depends on the processing time you choose. There are three options:
Standard Processing: It is processed in 5 days for the price of USD $104.99 (service fees included).

Rush Processing: Visa processed in 3 days for the price of USD $155.99 (service fees included).

Super Rush Processing: It is processed in 30 hours for the price of USD $217.99 (service fees included).
Is the tourist India eVisa for a single entry or multiple entries?
The Indian eVisa allows for Multiple Entry, with a maximum stay of 180 days Per Entry*.
When should I apply for an Indian Tourist eVisa?
India requires that you apply within 120 days of your intended arrival date. However, you can apply with iVisa at any time, as we will automatically queue your order until it's the right time to process your application.
It is also advised that you apply NO LATER than 4 days in advance of your arrival in case of any unexpected delays.
I have more unresolved questions, where can I find more info?
For a faster resolution click here and start chatting with one of our customer service representatives. Alternatively, you can find more info and FAQs here.