According to the latest updates on traveling into and through Indonesia, there will be no automatic visa extensions for foreigners by now. The Government of Indonesia made it clear that there will be no visa extensions whatsoever, automatic or otherwise. This is to make sure that foreigners will be able to update their qualifications to stay within the country despite any emergency that arises in the country, whether due to natural events or even temporary closings of borders.
To simplify this measure, it means that until the Indonesian government changes its policy on entry and immigration, all foreigners will need to apply for a new visa when their current one is about to expire. The only foreign travelers that can enter Indonesia at the moment are those with qualified visas unless the entrant is from a visa-exempt.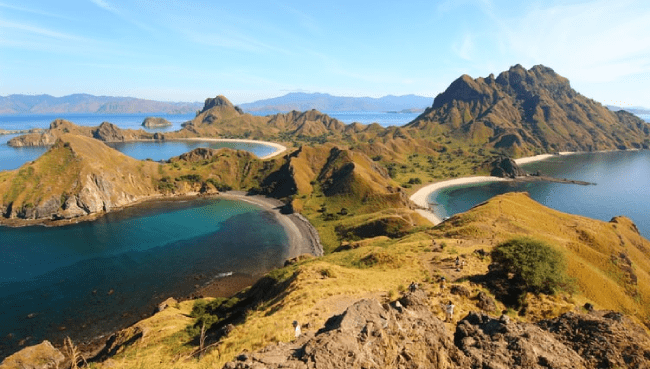 Processing a visa before entering the country can help the traveler facilitate his entry into its borders, and entering Indonesia is no different. Obtaining a visa pre-arrival is one of the best ways to make sure that one will be able to enter the country.
An Indonesia Health Alert Card might also be required when entering the country. This is a document that informs about the holder's current medical and health conditions, as well as the locations where the holder has previously been. For travelers who don't want to waste their time and money obtaining incorrect travel documentation, iVisa.com will process the paperwork for you so you can focus on the details of your trip without giving a thought about your application for a visa.
Continue reading to get all the pertinent information on how you can request the necessary documents and obtain the correct ones.
Frequently Asked Questions
Why do I need a visa to enter Indonesia?
Unless your country of origin is visa-exempt, you must apply for a visa or special document to enter Indonesia.
The most commonly requested document is the Health Alert Card and the Embassy Pre-Registration. We remind you that with iVisa.com you can easily process these documents.
Can I process both documents at the same time?
iVisa.com can help you with both documents, but the process might differ a little depending on the current conditions of the country. The good thing is that you don't need to take a trip to the embassy to get both.
You can start your online applications for your Health Alert Card or your Pre-registration by clicking this link.
What documents are required?
Before applying online for your documents, you need to upload these requirements:
Passport Scan: your passport must not' be expired.
Return Flight Ticket: this is not mandatory, but it's recommended to have it on hand when traveling.
Valid Email Address: to receive your documents.
Payment alternatives: so you can pay for iVisa.com's service with no problem. It can be with a credit or debit card, or even a Paypal profile.
What are the processing times and prices for the Indonesian Health Alert Card?
The price for the Indonesian Pre-registration document will depend on your nationality, so it's not the same price always. On the other hand, these are the average prices for the Health Alert Card according to the procedure time you choose:
Standard Procedure Time: You'll wait

24 hours

by paying

USD $26.99

(fees included).
Rush Procedure Time: You'll receive your Health Alert Card in

4 hours

, and the price is

USD $48.99

(all fees included).
Super Rush Procedure Time: You'll receive the documents in

30 minutes

if you pay

USD $81.99

.
Apply for your documents here.
How can I apply?
With iVisa.com, you only have to follow these easy steps to receive your documents as soon as possible:
First, go to this link and complete the online form with your basic information. The next thing to do is to select the procedure time.

Second, verify the details of your information and continue with the payment.

Third, upload the requirements asked to apply and click on the "submit" button.
After that, all you'll need to do is to wait for your document. You'll receive it via email, so be careful with your email address, it must be valid.
Why does Indonesia require travelers to provide health alert cards?
The Indonesian government changed its entry policies for all incoming foreign travelers to protect citizens against any danger that arises as a national emergency. The health declaration form is a document stating the current health status of the holder, including his temperature and other overt measurements. Please, remember that this is important not only to protect other citizens but yourself as well.
Is it better to obtain travel documentation online?
Aside from paperwork that requires official Indonesian offices to process, it is infinitely better to get one's travel papers over the internet. There are good reasons for doing so. Let us look at them:
1.It is easier for travelers to get their documents online. Think about it. There are no lines and queues that you have to tolerate or wait in order for you to process the paperwork. All a traveler has to do is to go to a travel website like iVisa.com, browse for the document that they want, and order that document. After a processing period, the visa or health declaration will be available and sent through email. Easy as pie.
2.It is far more convenient to get one online. Travelers will not have to waste their valuable time stuck in a queue. They will not feel pressured or cranky while waiting for the clerk to process their documents. They can use the time for more useful and profitable pursuits. Plus, they are sure to get the correct document when applying with iVisa.com'. All in all, a better prospect than processing the paperwork personally.
3.Travelers feel more comfortable when they request the documents in their own homes. This way, the travelers won't be exposed to traffic or other similar issues when going to embassies.
How safe is iVisa.com?
iVisa.com's software is totally safe! We are a skilled travel company with an excellent review team that will process your application form easily. If you're unsure about our service, you can read our reviews on this link.
Where can I find more information?
For more information regarding travel and requirements, please visit ivisa.com. Also, don't hesitate to reach out to our competent representatives by popping an email to [email protected]