Home
>
Iran Travel Guide: Requirements and tips for visiting Iran in 2023
Iran Travel Guide: Requirements and tips for visiting Iran in 2023
Welcome to Iran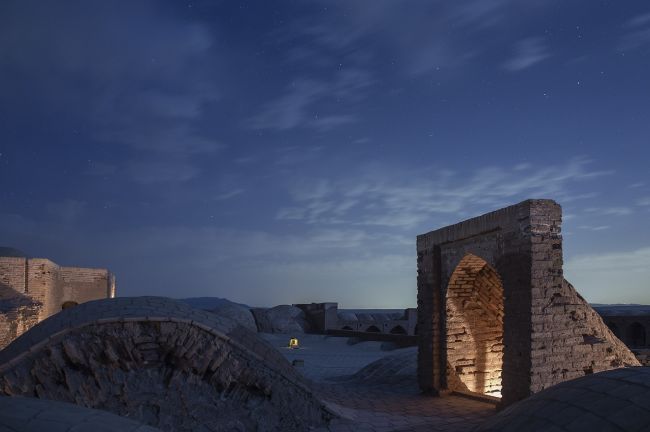 Iran is a special and ancient nation in Western Asia. "God worships a guest," says a Persian proverb - a true belief that permeates Iranian culture. As a tourist, you'll notice the warmth the Iranian citizens feel for foreign nationals. Despite this, many governments advise against Iran due to the current civil unrest.
If you do have to travel to Iran, read our ultimate Iran travel guide to help you plan your trip.
Document checklist for Iran
Visa

Valid passport (for 3 months beyond the length of stay)

Sufficient funds

Return airline ticket
Essential Iran travel information
Currency - The rial (IRR) is the official currency of Iran. $1 is equivalent to approx. IRR 42,300.

Daily budget for 1 person - Allow a daily budget of about IRR 1,956,608, which is about $46.

Languages - The top three languages spoken in Iran are Persian, Kurdish, and Azeri.

Number of travelers per year - In 2022, Iran had approximately 2.9 million foreign visitors.

Socket type - Type C and F, 220 V, and the frequency is 50 Hz.

Time zone - Iran Standard Time (GMT+3:30).

Top 3 major cities to visit - Tehran, Shiraz, and Isfahan.

Top 3 landmarks/monuments - Persepolis, Nasir al-Mulk Mosque, and Naqsh-e Jahan Square.
Visa information for Iran
Nearly everyone requires a visa to enter Iran, but some can obtain one upon arrival at an approved airport. To find out about the necessary visas for your nationality, utilize our Visa Checker Tool.
The Iran Tourist Visa explained
For temporary travel to the Islamic Republic of Iran, you can apply for an Iran eVisa online via iVisa.
When you apply with iVisa, we carefully review and submit your information to consular officials in Iran to process your Iran Tourist Visa. You won't have to leave the comfort of your home. All you need to do is provide a copy of your passport, a photograph, your CV, and your travel itinerary.
However, If necessary, the Iranian authorities can call you in for an in-person interview. For any other visas, contact your nearest Iranian embassy.
Click here to apply for the Iran Visa
Visa difficulty index for Iran
Accessibility: 4/5 You get the Iran Tourist eVisa quickly and easily by completing the application process online on iVisa. Your visa will arrive in your email inbox once it is processed. However, sometimes an interview is necessary.
Time to get your visa: 3/5 It takes between 10 and 15 business days to get the visa, relatively long compared to many other countries. With iVisa you can choose the processing time according to your budget and needs.
Costs: 4/5 The government fee for a single entry visa is $89, excluding the iVisa processing fees.
Typical costs and budget for Iran
A guide to what you'll spend on a daily basis traveling through Iran on a mid-range budget.
Daily spending per person - You should plan to spend around IRR 1,956,608, which is about $46 per day on your vacation in Iran.
Meals - Allow IRR 274,883 ($6.50) for meals for one day.

Transport - You will spend approx. IRR 64,642 ($1.53) on local transportation per day.

Hotel - The price from a hotel in Iran is about IRR 1,482,250 ($35). A one-week trip to Iran for two people costs an average of IRR 27,392,519 ($648).
Transport and ways to travel around Iran
There are many ways to get to and around Iran. Here are some tips for navigating the country safely.
Flying to Iran
You'll probably fly to Tehran Imam Khomeini International Airport, which is located in the capital city of Tehran.
Major airlines with flights to Iran are:
Qatar Airways

Emirates

Lufthansa

Turkish Airlines

Pegasus Airlines

Aeroflot

China Southern Airlines

United Airlines
Arrival and immigration tips for Iran
Here are some travel tips for a smooth arrival in this beautiful country:
Apply in advance for the Iranian Visa and carry a printed copy with you.

Iranian authorities will deny you entry if your passport contains Israeli stamps or visas.

When you arrive in Iran, declare all foreign currency you hold or the Iranian authorities may confiscate it. Major currencies can be exchanged in all large cities. International credit or debit cards aren't accepted. Take enough cash with you to finance your stay.

When you travel to Iran as a woman, the most important thing to remember is always to bring a headscarf. You must wear it the instant you get off the plane.
Travel around Iran by train
Trains are a time-consuming but affordable means of transportation across the country. Since the construction of the first railroad in the 1930s, Iran has been steadily expanding its railroad infrastructure.
It's also a wonderful opportunity to admire Iran's natural beauty. Longer trains offer overnight seating, and food and beverage carts pass by regularly. On longer trains, your ticket even includes a snack box.
Take a minibus to explore Iran
Mini buses are widely used to connect urban areas with surrounding villages. They can cost more than a regular bus, but a minibus is easier and faster because there are fewer people on board and fewer stops.
Get around Iran by taxi
In Iran, taking a taxi is a common and affordable form of transportation, especially in smaller cities. Traffic in Tehran can be a hassle, so you should choose another mode of transportation if possible.
Cab fares can vary in Iran. Unfortunately, as a visitor, you run the risk of paying too much without realizing it. English is a common language among cab drivers, however, if you know a little Persian, negotiating fare beforehand will be easier.
Car rental in Iran
Renting a car can be difficult, as foreign credit cards do not work in Iran. An international driving permit is always necessary.
Safety in Iran
Travel to Iran should be avoided at his point in time due to the unstable security situation, the threat of terrorism in the region, and the risk of arbitrary arrests. However, if the situation improves and the opportunity to travel arises, this is how you can remain safe:
Do not intentionally participate in any civic protest or demonstration.

Avoid large crowds, mainly if political unrest appears to be brewing, to avoid arbitrary arrest by local authorities.

Avoid discussing politics, especially if you're not of Iranian nationality or religion to avoid offending local sensitivities.

If you remain close to more tourist-friendly spots, you are far less likely to run into protests, but if you venture off the beaten path in Tehran, you might. Avoid Enghelab Plaza, one of the most popular gathering spots for demonstrators.

Avoid attempting to use PayPal or your bank account in Iran because these services are restricted and doing so could cause your bank to become suspicious.

Respect all local laws and don't take illegal drugs.

Monitor local media to stay up to date on safety updates.

You should be careful when taking pictures. It's against Iranian law to photograph military or government facilities, important civilian infrastructure, or public protests.

Iran doesn't recognize dual nationality. If you have dual nationality or are a foreigner, it might be difficult to receive consular assistance should you get in trouble.
Weather in Iran
The ideal months to visit Iran are March through May and September through October. This shields you from the oppressive summer heat and the bitterly cold winter snow. During the peak season, especially in April, prices can increase. June and October provide slightly better offers for those who are prepared for the hot weather. With a dry heat index of about 30°C, July and August are the two warmest months in Iran.
There are several holidays in Iran that may make travel difficult. Nowruz, which begins on March 21 and lasts over two weeks, is associated with price spikes and packed hotels. The holy month of Ramadan (precise dates vary) is marked by strict observance of religious prohibitions and a ban on eating and drinking in public throughout the day.
Must do and see in Iran
While it's currently not advised to travel to Iran, here are some of the most famous sights of Iran:
There is nothing quite like the Shushtar Historical Hydraulic System, a prehistoric irrigation system that dates back to the 5th century BCE. Before exploring the mechanics of the system and the numerous bird species that call this place home, climb the hill behind it to take in the view from above.

The historical residences in Kasha are one of the most spectacular medieval homes in this desert city. They have exquisite ceilings, magnificent frescoes, and large courtyards full of pomegranate trees. The best time to visit this city is in the spring before it becomes too hot, and while the rosewater festival is on.

Visit a traditional bazaar during your trip, a terrific way to get a sense of the local culture. Some larger cities include souvenir vendors, but most are local stalls offering everything from garments to spices. If you're searching for a place to get lost, the Tabriz bazaar is the world's largest indoor market.

Visit Kharanaq to see the traditional mud buildings. Many houses in some parts of Iran are still built with natural mud cement, dome-shaped roofs, and wind towers. Find a rooftop and take in the vistas that will make you feel like you're in a Star Wars movie.

Hormuz Island is a stunning island made entirely of salt. Hormuz Island has an entirely different vibe than the rest of Iran. Life is leisurely and relaxing; most tourists come to camp and party. All of Iran's harsh rules on the gorgeous island seem far away.
Typical Iranian food to try
Don't miss these typical and delicious dishes on a trip to Iran.
Khoresht-e fesenjan- This famous stew is popular throughout Iran. Khoresht-e fesenjan is traditionally cooked with duck but can also be prepared with chicken, lamb, or fish. The preparation of khoresht is simple, but it must be cooked gently to allow the flavors in the sauce to develop.
Ghermeh- A delicious Persian stew made with large pieces of lamb or beef. The act of cutting the meat into tiny pieces is known as "gheimeh".
Bademjan- Often called Khoresh Bademjan, is an eggplant and tomato stew with lamb or beef and delicious tomatoes flavored with turmeric.
Chelo kebab A kebab served with grilled tomatoes and boiled rice. This Persian empire dish is often served with koobedeh, a dish made of ground beef, chopped onions, and salt and pepper.
Vaccine information for Iran
It's important to know what routine vaccines and COVID-19 measures are required to enter Iran before booking your trip. We advise you to check the CDC website for more info about all vaccine requirements and any recommended guidance or medicine lists.
How to tour Iran's Persepolis
The most famous tourist attraction in Iran is Persepolis, also known as Takht-e Jamshid, a UNESCO World Heritage Site. A trip to Iran would not be complete without visiting. The first Persian Empire, considered the largest empire in history, had Persepolis as its capital. Persian civilization, which had an influence on several nations and empires, was born here.
LetsvisitPersia, the official Iranian tourist agency, offers a private tour called the Persepolis Tour every day, where you can visit the attraction under the guidance of a knowledgeable guide. We guarantee that at the end of your tour, all your questions will be answered correctly and you will learn about the history of this historical monument that goes back more than a thousand years.
Transportation from Shiraz is usually included in the tour price. The excursions are inexpensive, but if you can get a group of four people together, booking your own cab is far cheaper and gives you more freedom.
Trustpilot recommended. We lead the industry in innovation and reputation
Our Customers Have Great Stories About Us