All foreigners who want to travel to Israel must fill out an Inbound Passenger Statement, and an entry clearance certified by an Israeli consulate or by the Population and Immigration Authority. Both documents must be shown during Israel's border control along with a negative PCR (covid) test result. The Inbound Passenger Statement application form can be completed totally online on iVisa.com.
For more information about the Inbound Passenger Statement please scroll down to the Frequently Asked Questions segment.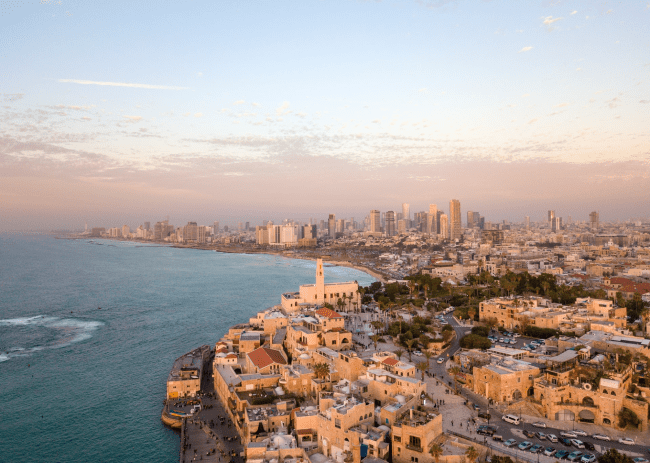 Can I Travel to Israel Covid?
All foreigners must fill an Inbound Passenger Statement in addition to an entry clearance to present at border control in Israel.
The entry clearance should be certified by an Israeli consulate or by the Population and Immigration Authority.
A negative PCR (covid) test result is also required for entry into Israel's territory.
The Inbound Passenger Statement application form may be completed on iVisa.com.
To learn how to fill in the questionnaire, please go down to the Frequently Asked Questions.
Frequently Asked Questions
Can I travel to Israel Covid: What is an Inbound Passenger Statement?
It's a required document that each person must submit no more than 24 hours before the trip to Israel. It has two sections: personal information and health declaration.
Who are the authorized visitors?
The following visitors are permitted to enter Israel:
Fully vaccinated travelers
Israeli citizens.
Permanent residents in Israel.
Foreign nationals. International visitors will also have to present health insurance that covers issues related to COVID-19 for their stay in Israel.
Do I need a COVID vaccine or vaccination certificate to enter Israel?
Travelers do not have to be fully vaccinated to enter Israel, however, it is highly suggested.
Recognized vaccines include Pfizer, Moderna, Johnson and Johnson, AstraZeneca, Sinovac, Sinopharm and the Serum Institute of India. Israel will also accept the Sputnik-V or Sputnik-Light vaccines, however, travelers who have received these vaccines will be required to take get a positive result in a serologic test as well.
Travelers are considered vaccinated if all doses of a vaccine against SARS-Cov-2 have been administered for at least two weeks before traveling.
Travelers must have received their final/booster vaccine dose within 180 days of the final day of their visit to Israel.
Since information may change quickly, we advise you to follow up on the latest Israel travel updates and/or contact your local embassy.
Can I travel to Israel Covid: Do passengers have to show proof of negative PCR (covid19) test results at the airport in Israel?
COVID test requirements: There are no testing requirements.
Can I Travel to Israel Covid: What if the traveler has recovered or got vaccinated abroad?
Does he/she need to provide proof of negative covid test results? Passengers who recovered or were vaccinated abroad do not need a covid test.
Can I Travel to Israel Covid: Is quarantine mandatory upon arrival?
Quarantine requirements: There are no quarantine requirements.
What documents need to be attached to my application?
Valid Passport: this must be valid for a minimum of six months.
Valid Email Address: where the electronic visa will be sent to.
Paying Method: a Paypal account, credit, or debit cards.
What are iVisa.com's processing times and fees?
Standard Processing Time: usual time to process the application at an affordable price.

USD $26.99

-

24 hours

.
Rush Processing Time: to get faster processing, the cost will rise.

USD $49.49

-

8 hours

.
Super Rush Processing Time: for those in a hurry, the most expensive.

USD $83.99

-

4 hours

.
How do I get an Inbound Passenger Statement on iVisa.com's website?
First: Start by filling in the Inbound Passenger Statement online application form with your personal and travel info. Please indicate the places the traveler has been in the past 2 weeks.
Second: Payment. There are three (3) processing times to choose from. Paying methods: credit/debit card or a PayPal account.
Third: Upload documents. Like your valid passport and picture.
Fourth: Our specialized team will send your Inbound Passenger Statement to your email inbox.
Fifth Print it or show a digital copy to health screeners at the airport in Israel.
How reliable is iVisa.com to process my application?
iVisa.com's aim is to deliver a fast and highly secure service online. You can read our comments section to confirm you came to the right place.
Who do I contact in case I have additional questions?
Simply contact our support team. They are available for you 24 hours a day, 7 days a week for any questions or doubts you may have.
iVisa.com Recommends
JERUSALEM'S OLD CITY
To get to know Jerusalem, the first thing to do is start by visiting the Old City made up of 4 neighborhoods or divisions: Muslim, Christian, Jewish, and Armenian. It is recommended to visit the religious sites by wearing appropriate clothing that covers shoulders, knees, and even the head just to show respect to their faith and cultural traditions. In a way, it is even interesting to dress like them and a great way of surprising your family and friends on Instagram.
The walled Old City is accessible through the Jaffa Gate. Once inside, the best way of exploring it is to wander its narrow streets by following the signs on the walls. Another option is to download the free "Audio Tours of Jerusalem" app on your mobile phone which offers many walking routes and GPS maps. There are also official tours that visit the Old City's main spots. Or perhaps the best way of experiencing this site is simply to get lost in it.
Main attractions
Tower of David Museum
The Shuk in the Muslim Quarter
Church of the Holy Sepulcher
Western Wall
Western Wall Tunnels
Temple Mount
Jerusalem Archeological Park
Rampart's Walk