Positioned as one of the all-time top ten places to visit, Italy receives over 60 million foreign visitors each year. This means the country duplicates its natural population thanks to the tourism industry.
This statistic certainly looks amazing, but shouldn't be surprising. Italy has everything a traveler could consider to choose a destination: Rich, ancient, and vast culture - cradle of the Roman empire. Breathtaking scenarios - from the beautiful costs of Cerdeña, going through unbelievable villas in the region of La Toscana, and finishing in the Italian Alps. Italy is the home of some of the world's most important modern culture events: like the Venice Film Festival and Milan Fashion Week. Incredibly well preserved archeological sites, world prized architectural jewels, and more make this place impossible not to include in your next travel plans.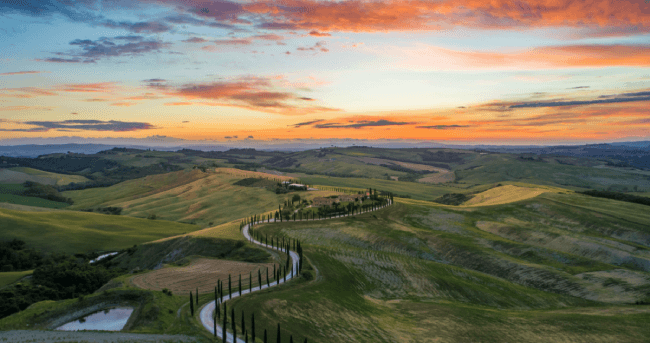 Now, if you are a citizen of the Isle of Mauritius, and have decided Italy is your destination, you need to know that from late 2022 the new ETIAS will be included as a requirement to enter the Italian borders. This is an additional migration control established by the members of the Schengen zone in the search for improving security in the European Union.
The ETIAS will be a digital document that screens travelers' information prior to their trip and will give the authorities additional tools to detect potential threats to the region.
Application for the ETIAS will be exclusively online and is expected to be a traditional process under the regulations of the Schengen Area European Commission. However, you can also choose to apply by using the services of iVisa.com. The application form developed by iVisa.com will guide you through simple steps that will take no more than 20 minutes to complete.
We're sure it will be useful for you to fully read this article to find the answers to the most common questions about Italy ETIAS for Citizens of Mauritius.
Frequently Asked Questions
How do I confirm if I'm eligible for the ETIAS?
The first thing you should know is that if you're a citizen of the Isle of Mauritius and your passport status is Valid, you fulfill the basic requirement to apply for an ETIAS. There are secondary aspects to be considered, and that's why for your convenience, iVisa.com offers its visa checker tool, through which you will be able to confirm in a matter of minutes if your profile is eligible for the new ETIAS.
Will the ETIAS be introduced as the replacement of a Visa?
According to declarations made by Jean Claude Junckers, president of the European Commission, the new ETIAS will operate as a background system containing updated information of each individual from outside the Schengen borders and previous to every trip. If you're from a country that requires you to apply for a visa, don't worry- your visa is still valid and that process shows no signs of being eliminated or discarded as a mandatory document for eligible candidates. The Italy ETIAS for citizens of Mauritius is a new document for visitors who don't require a visa.
Will the process for the ETIAS be the same as applying for a Visa?
One of the main purposes of the ETIAS after its deployment is to establish a light process as equal for travelers and government representatives. This is the reason why it was conceived as an entirely digital process hoping to trace a new path for the management of this type of sensible data in the near future.
Under this premise iVisa.com has generated an application form that will help users to apply for this document inside an easy to read environment in a period of 20 minutes max. The Italy ETIAS for citizens of Mauritius is an easier process in comparison to the paperwork required for a visa.
What's the validity t of the ETIAS?
As a benefit for the travelers, the new ETIAS will be valid for 3 years from the approval date and will allow stays of 90 days per entrance within a 180 day period.
This is an important improvement if we compare it with similar kinds of authorization as the US's ESTA which is limited to 2 years.
To take full advantage of this feature, it is important to verify the expiration date of the passport used during the ETIAS application process, because both are electronically linked, and once the passport expires the Italy ETIAS for citizens of Mauritius is canceled too.
For additional information contact iVisa.com's customer service.
What documents must I prepare to apply for the ETIAS?
A valid passport is the only document you will need to start applying. However, it's a good idea to have a recent digital photo handy too.
Be sure to generate a high-resolution digital scan of the passport you wish to use.
Also, validate an email address that will work as the channel to receive confirmation and to check your status as a candidate for the ETIAS.
Last but not least, choose a payment method: debit/credit card, Paypal
Remember that iVisa.com has prepared an online application form that simplifies the process and reduces time when applying for the Italy ETIAS for citizens of Mauritius.
What are the fees for the ETIAS?
In preparation for the new ETIAS to be launched in late 2022, iVisa.com has created different solutions to meet every traveler's needs
Standard option - the lowest price for those who can afford a longer waiting period.
Rush option - a faster response for a higher fee
Super Rush choice - the superior choice in terms of speed and price.
Need additional information? please feel free to contact our customer service at any time for solutions to all your queries regarding the Italy ETIAS for citizens of Mauritius.
Is the application process with iVisa.com reliable?
iVisa.com is constantly evolving in the search for better and stronger security measures. The guarantee of a safe process has allowed iVisa.com to be recognized as a great partner by the most demanding customers.
Just a quick browse to our customer reviews section is all you need to verify what real users think about the services provided by iVisa.com
Can I find additional information about Italy ETIAS for citizens of Mauritius with iVisa.com?
If you're interested in knowing more about what this new law implies, here at iVisa.com's blog will find all the info you may need.
For any additional questions please visit the contact us section or hit the live chat Icon on the lower right corner of ivisa.com's website. Our customer service team will always be glad to assist you.