A trip to Italy is not complete without tasting the fantastic Italian cuisine. Venice is by far one of the most popular gastronomic destinations in the country. It additionally offers classic Venetian dishes to try, such as Baccala' Mantecato, Lasagnette Al Nero Di Seppia, and Fritto Misto.
To get the most authentic experience, check out the best restaurants in Venice listed in our Venetian restaurant guide compiled by our travel experts.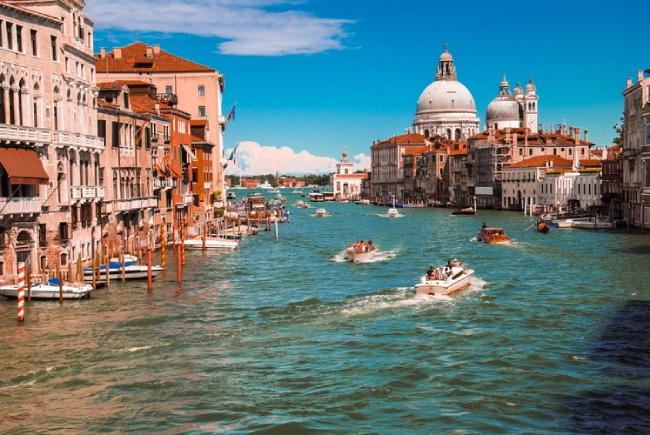 The best restaurants in Venice
Wine bar, Michelin stars, or simply a family-run restaurant? The streets of Venice are full of options for you to choose from. You'll save time, however, if you know which restaurants offer the best-tasting Italian food in advance.
iVisa created a Venice food tour to help you in this mission and avoid tourist traps! You can reach most of them on foot from Piazza San Marco or San Polo, near the Rialto Bridge.
The best Venetian restaurants with outdoor seating
Restaurants with outdoor seating offer typical Venetian dishes and stunning views! This is a great way to experience the Italian lifestyle in addition to food.
Ristorante La Piazza Ristorante La Piazza's menu includes vegetarian food, gluten-free options, and classic dishes. Besides the excellent menu and long list of delicious wines, it has a pleasant atmosphere and friendly staff. It's a great option for those who love seafood and fish dishes.
Address: Sestiere San Marco 615
Al Vecio Calice This small restaurant offers an authentic Venice experience as it is a favorite among locals. It's located near St. Mark's square, perfect for a quick bite or a glass of local wine. Don't miss out on Cicchetti, the restaurant's specialty!
Address: Castello 1664
Bacaro Quebrado This restaurant has a great location, making it a great spot for when you're exploring tourist attractions. The place is cozy and offers excellent service and friendly staff, in addition to great food and affordable prices.
Address: 1107a Calle Larga dei Bari
The best fine dining restaurants in Venice
Another great way to try Venetian authentic food is by visiting one of the city's 39 Michelin-star restaurants. Here are some of our favorites.
Ristorante Alle Corone This Michelin-starred restaurant is also listed in Tripadvisor's Travellers' Choice Best of the Best 2022. Located near St. Mark's Square, you can try some of the finest seasonal food in Venice, perfect for a romantic dinner after a gondola ride in the Grand Canal.
Address: Campo della Fava 5527
La Caravella This is one of the best restaurants in Venice to include in your food tour of the city. Choose from an outdoor or inside table to enjoy the relaxed atmosphere, and taste the delicious tasting menu, with beautifully presented dishes and a good list of wines.
Address: Via XXII Marzo 2399
Osteria Oliva Nera This fantastic restaurant offers vegetarian, vegan, and gluten-free dishes among the Venetian dishes. Exceptional food and friendly service are hallmarks of this family-owned business. Wine lovers should try the Oliva Nera house red wine.
Address: Castello 3417/3447 Angolo Salizada Dei Greci
The best affordable Venice restaurants
Here are some options to try fresh fish, Cicchetti, carpaccio, and other Venetian specialties at an affordable price.
Osteria Al Squero This charming restaurant has a great atmosphere, and you will be delighted by the delicious Venetian Cichettis. You may have to wait a little for a table, but the great food and fair prices are worth it.
Address: 943/944 Dorsoduro
El Refolo This little bar has a huge reputation and is located on Castello's beautiful, wide Via Giuseppe Garibaldi. This is a perfect spot to enjoy Venetian food platters, street food, and wine with friends, both during the day or at night.
Address: Via Garibaldi Castello 1580 Sestiere Castello
La Bottiglia La Bottiglia is a hidden gem and the best restaurant in San Polo, with reasonable prices. It offers delicious street food made with fresh and high-quality ingredients.
Address: 2537 Campo San Stin
The best coffee spots in Venice
Are you just looking for a place to get an Italian coffee and quick bite to eat while you're sightseeing? In Italy, even a quick stop can taste delicious. Here are some of the best places in Venice to enjoy breakfast, lunch, a snack, and of course, coffee!
Torrefazione Cannaregio This café is always busy, and for good reasons. It offers the best Italian coffee, delicious food, and friendly staff. It's a great option for breakfast right next to a local canal.
Address: 2804 Fondamenta Dei Ormesini Cannaregio
Caffe Del Doge Caffe Del Doge is a good spot to escape from the tourist crowds and have an authentic Venice experience. Breakfast here is a favorite of many locals.
Address: 609 Calle dei Cinque
Pasticceria Dal Mas Get your dose of sugar and coffee at this great little spot close to the train station and the Grand Canal. They have a delicious pâtisserie, which some of the best cannolis and tiramisu in Italy.
149/150/A Rio Tera Lista di Spagna Cannaregio
Do I need a visa to travel to Italy?
Can't wait to try all the food on a trip to Venice? Make sure you have the right travel documents before going on your foodie vacation.
Most non-European visitors will need an Italy Schengen Visa, and visa-exempt nationals must apply for the ETIAS Visa Waiver from the end of 2023. Use our handy iVisa Checker Tool to find out which document(s) you need, and apply directly!
About the Italy Schengen Visa
A Schengen Visa allows you to travel freely between the 27 member states, including Italy.
The Italy Schengen Visa offers travelers entry to the country and the Schengen area for tourism, business, or family visits. It is possible to stay up to 90 days in the Schengen area, within a 180-day period.
About the ETIAS Visa Waiver
The ETIAS Visa Waiver will be required for those whose nationalities are visa-exempt to travel to the European Union from the end of 2023. The application process is simple and can be completed online. To provide more security to visitors and citizens, ETIAS pre-checks traveler details before they enter the Schengen zone.
Questions about traveling to Italy?
For questions regarding the Italy Schengen Visa, ETIAS, or other travel documents for Italy, contact our expert customer service team via online chat or email at [email protected].
Additionally, read our ultimate Italy travel guide for more practical information about visiting the country.