As a citizen of China, you must carry a Japan e-Visa to enter the country and travel around. If you don't have one, iVisa.com can help you with that and other travel documents you might need. Interested? Learn more about the Japan e-Visa for the citizens of China, and more in our FAQs below.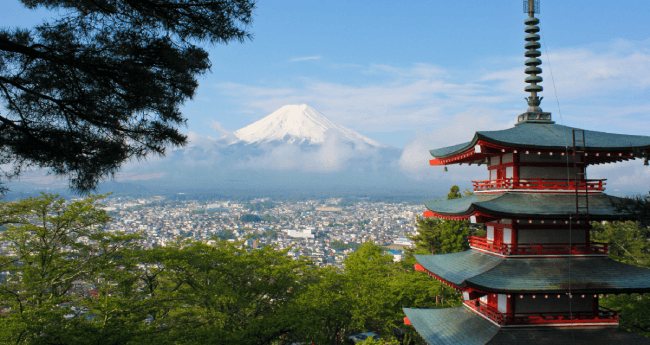 Frequently Asked Questions
Do I need a vaccine to travel to Japan as a citizen of China?
It is highly suggested that all citizens of China traveling to Japan get vaccinated against Hepatitis A, Hepatitis B, Japanese Encephalitis, and Rabies before entering the country.
COVID vaccination passports or certificates are not mandatory to enter Japan. Since information may change quickly, we advise you to follow up on the latest Japan travel updates and/or contact your local embassy.
Also, the government recommends getting vaccinated before traveling to the country to ensure the safety of travelers and Japanese citizens.
Do I need a PCR Test to travel to Japan as a citizen of China?
COVID test prior to arrival: PCR within 72 hours.

COVID test after arrival: All travelers will be tested on arrival.
COVID test exemptions: Children under 6.
Do I have to quarantine upon arrival in Japan as a citizen of China?
Quarantine requirements: 14 days. See below for exceptions.

Quarantine testing: Day 10 PCR or antigen for fully vaccinated travelers to end quarantine early

Quarantine requirements- arrivals from Venezuela, Italy, the UK, Netherlands, Korea, Sweden, Germany, Portugal, Denmark, Norway, France, Kenya, Tanzania, Nigeria: 6 days in designated facility. PCR on days 3 and 6.

Quarantine requirements- arrivals from Eswatini, Zimbabwe, Namibia, Botswana, South Africa, Lesotho, Zambia, Malawi, Mozambique, Angola, Democratic Republic of the Congo: 10 days in designated facility. PCR on days 3, 6 and 10.

Quarantine requirements- arrivals from Ecuador, Colombia, the Dominican Republic, Haiti, Austria, Czech, Belgium, Spain, Switzerland, Reunion, Ireland, Ghana, Greece, Croatia, Iceland, Chile, Cyprus, Pakistan, Finland, Estonia, Slovenia, Lebanon, Argentine, Peru, Israel, Egypt, Hungary, Slovakia, United States of America, Lithuania, Russia, Georgia, Trinidad and Tobago, Poland, Liechtenstein, Luxembourg, Canada, Malta, United Arab Emirates, Sierra Leone, Philippines, Qatar, Turkey, Thailand, Nepal, Mexico, Maldives, Australia, Tunisia, Fiji and India: 3 days in designated facility. PCR on day 3.
What is the Japan e-Visa for the citizens of China and how can I apply for it?
The Japan e-Visa is an electronic travel document that allows citizens of some countries to enter Japan without any problem. This is a single-entry visa that allows you to travel for up to 30 days. You will also need a Health Declaration to enter the country.
If you want to apply for the Japan e-Visa for citizens of China, you only need to follow these three easy steps:
Step 1: Complete our electronic forms with your personal information, then choose the processing time.
Step 2: Check that all information entered is valid before choosing your payment method.
Step 3: Finally, scan and submit all the required documents.
What is the best processing option to apply for the Japan e-Visa for the citizens of China?
iVisa.com works with 3 alternatives for you to choose from, depending on your needs you can choose which is better for you.
Standard Processing: This is a slow process, perfect for travelers that are not in a hurry.
Rush Processing: This is faster than the Standard option, this option depends on how many days you can wait for your travel documents.
Super Rush Processing: If you are in a hurry and are traveling soon, this is the best option for you.
What do I need to upload for the Japan e-Visa for the citizens of China?
You need to scan and upload the following documents:
Passport with at least 6 months validation
Two-color passport photographs.
Financial proof.
Hotel or accommodation information.
Your email, so you can receive your electronic visa.
The payment method, we accept debit or credit cards.
Can iVisa.com be trusted?
Yes! We have years of experience offering the service of processing travel documents to hundreds of clients, and all of them have been able to travel thanks to them. To confirm just check our customer reviews.
I have a question about the Japan e-Visa for the citizens of China?
If something isn't clear about the electronic visa, you can always contact our customer service experts they will be available 24/7.
iVisa.com Recommends
The Tōshō-gū in Nikkō is one of the most powerful shrines of Tokugawa Leyasu shogun. This structure was completed in 1617, however, Leyasu's grandson completely renovated it two decades later. According to the history books it took approximately 15,000 people to complete the project, and the approximate cost was 100 million dollars. Once you start the tour you will walk along a path lined with cedar trees, passing through several gates each one more elaborate than the other, decorated with mythical creatures such as phoenixes, dragons, and Baku. In 2019 it was restored to make it fully accessible to tourists. A curious fact you may discover on the tour is that the first gate is the Ishi-torii gate, built-in stone, and part of the original construction of Tōshō-gū in 1619. To the left of the 34-meter high gate called Gōjūnotō, a reconstruction of the five-story pagoda built in the 17th century. If you want to know more about Tōshō-gū, we recommend you hire a tour guide who can explain the meaning of all the constructions of the place and also why this restructuring was carried out by the grandson of Leyasu.