Japan is an enigmatic oriental jewel, one of the countries in East Asia you should not miss! Its cities with ultramodern skyscrapers, villages with bamboo forests that transport you back thousands of years , its people are very friendly, and it has one of the most efficient public transportation systems in the world. Not forgetting its world famous and delicious gastronomy.
Among the cities, you should visit is Tokyo, named the City of Water, a modern city with beautiful bridges and lights. Kyoto is the opposite, a beautiful town with traditional houses and forests that inspire you with their stunning nature.
Our iVisa team has prepared a complete summary of why you should visit Japan, with valuable tips. If you need a visa for your trip, you are in the right place because we offer all the facilities to easily obtain your Japan Tourist Visa.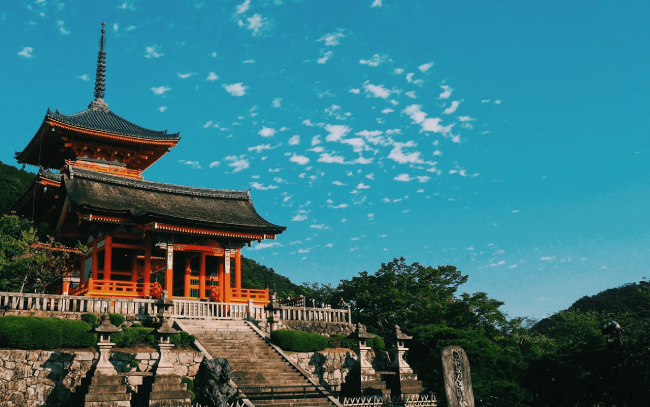 Apply for your Japan Tourist Visa Online!
Many nationalities require a Japanese Tourist Visa to enter the country. However, the Japanese government excludes some countries from requiring a visa to visit Japan.
The Japan Tourist Visa is a short-stay visa for travelers who wish to visit the country for tourism, to visit friends or relatives, or to attend conferences or congresses. The visa is valid for a stay in the country for up to 30 days Per Entry.
You can apply for your visa online; in some cases, you may need an interview at the Embassy or Consulate of Japan. Our service provides professional assistance with highly trained experts who will help you throughout the process; we assign you an iVisa Expert, who will guide you through all the steps you must follow to obtain your visa and enjoy your trip!
What should I do on my first trip to Japan?
There are many things to consider when traveling to a country for the first time, especially when traveling to a geographically diverse and culturally complex country like Japan.
The first thing is to verify if you need a visa to travel to Japan, you can do this using our visa checker tool ; if you do not need it, you must take your passport, valid for at least six months after you leave the country.
Things to know about Japan
Here are some Japan travel tips that might come in handy before your trip:
In Japan, tea is more than a drink; it is tradition and history, which you can appreciate by participating in a Japanese Tea Ceremony. If you want an authentic experience, visit Kyoto, the home of tea ceremony.

In Japan, English is taught in schools, but some people in small towns find it difficult to express themselves in English. Try to learn some basic Japanese words and polite greetings. It will help you a lot to interact with people.

There are various types of accommodation in Japan. If you are looking for something exclusive, try a capsule hotel, or if you are looking for a traditional Japanese hotel experience, stay in a ryokan inn. You will feel like you are in a 17th-century Japanese cabin. You can choose between cheap and luxury hotels. We recommend reservations in advance to guarantee availability and getting better prices.

Review the options of a trip to Japan or places you want to visit and make a detailed list of where they are and how to get there, so you get to visit everything, Japan is a big country! We also recommend finding the best typical restaurants to enjoy the different flavors of Japanese food.
Is Japan a friendly country for tourists?
People in Japan are famous for being incredibly polite, friendly, and welcoming; if you ask for directions despite the language barrier, they will always help you and tell you what you need; everyone is very respectful and extremely helpful.
What are the don'ts of a tourist in Japan?
It's difficult to remember and comply with all of the social norms in Japanese culture. Therefore, here are some of the do's and don'ts when visiting Japan:
At the restaurant: when you enter a restaurant, always observe the people because Japanese eating manners can seem confusing. There are two basic phrases Japanese people say at the table*itadakimasu: before eating, which means I am glad to receive the food, and gochisosama desu**: after finishing the meal which means thank you for the food.
You can eat Sushi with chopsticks or by hand. But if you want to try to eat with chopsticks, there are several things you should not do; chopsticks have a strong meaning in Asia; for example, do not place the chopsticks in the rice bowl. Please don't poke the food with one chopstick; you should pick it up with both. If you find it too difficult, ask the person serving you if they can pass you a fork. The important thing is to be respectful of their customs.
Japanese people usually slurp the noodles from the broth, it is an accepted practice, but you should not feel obliged to do it. Leaving food on your plate is frowned upon.
Daily interactions: Japanese are generally unaccustomed to physical contact. It is important to observe local people; most of the time, a polite bow is enough to greet them.

Take off your shoes: In Japanese tradition wearing shoes inside the house is considered unclean; that is why they ask you to take them off when entering temples, homes, and some restaurants; there is a place where you can leave your shoes. Also, when you go to the restroom, you will find toiletry slippers; you must take off your shoes, put them on, and leave them outside when you leave the toilet.

Public transportation: When riding public transport, it is frowned upon to talk on your cell phone; it is best to put it on silent and turn it on when you get off. It is respectful of others to wait in line on one side of the train so the passengers can get off before you get on, and always leave the preferential seats free for the elderly, pregnant, or disabled.

Don't blow your nose in public: Before Covid, you always saw Japanese people coming to your country wearing masks; they wear masks in public for two reasons; to not infect others and to avoid contagion. That's why blowing your nose in public shows a lack of respect for other people.

Don't walk in the wrong direction: Japan is a country where order prevails and has very congested cities; that's why it has rules for walking so as not to create disorder; it's the same in escalators and moving walkways. The problem is that depending on the place, it can be from left to right or right to left; the best way to avoid getting confused is to look at the locals first and follow what they do. In the case of escalators, you should stand on the left side if you are not moving forward and on the right side to move forward.

Do not walk while eating: It is impolite to eat while walking; if you order something from a vending machine or a grocery store, you eat it immediately on the spot. Eating while walking shows a lack of respect for the food and the work it costs to make it; for them, food should be savored, and enjoy every bite you eat.

Don't Tip: Japanese people highly value hard work and dignity, so tipping is like an insult; it is like belittling their work.
There is only one exception to tipping; if you have a Nakai-san (private concierge) during your stay at a ryokan (traditional Japanese inn). In this case, you should leave a tip in a sealed envelope when checking into the inn; 1,000 yen per person is recommended.
Don't count your change: In Japan, receiving money in your hand is not customary. When you buy something, they give you a little tray to put the money and the change in the same tray. Never count the change in front of them because they think you don't trust their honesty.

Tattoos are still a taboo: More and more people worldwide have tattoos, and it is common to see them, but there are still places that consider them a social stigma. If you plan to visit hot springs, most facilities will not allow you to enter if you have a tattoo.
Is Japan a safe country?
Japan, being a nation of peace-loving, safe and secure people, is considered one of the top 10 safest countries in the world and one of the top tourist destinations.
Solo travelers who like to travel the world alone can visit Japan with complete peace of mind; the people are respectful and friendly.
Despite being a massive city with more than 38 million inhabitants, Tokyo ranks fifth in the world in the Safe Cities 2021 index of The Economist, which evaluates infrastructure and personal, digital, and environmental safety.
The cities have many CCTV cameras, and the residents monitor and report suspicious activities.
How is the weather in Japan?
Japan's climate is divided into four seasons, each offering attractions. But the best time to visit Japan is spring, from March to May, when it is the famous cherry blossom season; in the heart of Tokyo, you can appreciate the cherry blossoms at Hirosaki Castle Park and Shinjuku Gyoen. And autumn, from September to November, the landscape is covered with the colors of falling autumn leaves.
Spring and autumn are high-season periods with higher prices due to the excellent weather. Also, remember that if you visit Japan in autumn, you should check the weather before your trip because it is typhoon season.
If you like the beach and tanning under the sun, you will enjoy the summer, which runs from June to August, where you can also see fantastic shows and fireworks festivals.
Winter is a time full of magic; from December to February, when the streets are covered in white snow, you can go to the mountains to ski and relax in the hot springs. We recommend wearing thick jackets because there are areas with a lot of wind chill.
What are the monetary rules in Japan?
Cash is the preferred option for the Japanese, but many places still accept credit cards; here you can see the easiest way to make payments:
Cash: Although Japan is a highly developed nation with a sophisticated industry, cash payment is safer, and more convenience stores and restaurants prefer cash. Credit cards are not accepted in small towns far from the city, so it is advisable to always carry cash in your wallet. If you are short of money, 7-Eleven has ATMs open 24 hours a day.

Credit cards: Payment by credit card is rare in Japan, but lately, more places accept this type of payment. In the city's most luxurious areas and larger establishments, such as hotels, luxury stores, restaurants, and train stations, they are very likely to accept credit cards. The most commonly accepted cards are Visa, Master Card, and Discovery.
An overview of Public Transportation in Japan
The public transportation system in Japan is vital. Public buses are basic in rural and urban areas. Bus lines complement the rail network. Bus stops are common.
Tokyo is a city surrounded by water; there is a lot of public maritime transport. And ferries connect the four main islands and link the smaller islands to the country's main ports.
Tokyo has two subway companies; Tokyo Metro and Toei Subway. Some signs indicate the station number and subway lines that pass through it. The blue signs direct you to train lines, and the yellow ones to exit. The signs are written in Japanese and English. The metro doesn't run 24 hours a day so you should check for the first and last trains.
Cabs are easy to find, and it is safe to take street cabs, as they are usually outside train stations. Uber is not as common in Japan.
How to get around Japan?
Japan offers you different means of transportation to move around the country:
By train: The best and most popular means of transportation to travel comfortably throughout the country is undoubtedly the train. They are fast, efficient, and highly reliable. They are not the cheapest means of transportation, but they take you to any part of the country where you can relax from your seat and appreciate the extraordinary landscapes that this beautiful country offers you.
The leading operator is Japan Railways(JR), which operates several different rail systems that provide interlocking services throughout the country. JR has famous bullet train routes that reach a speed of up to 320 km/h. There is also a vast network of private trains, and every big city has at least one private network line. It is very easy to take the trains because the main stations are signposted in English, and they announce the stops in English along the route. It is recommended to go on time because the train stations are massive and with multiple routes. Train tickets can be purchased at vending machines. For bullet trains and express trains, you have to reserve a seat in advance; you can do this through the website.
Many visitors traveling across the country prefer to buy a JR pass because it is cheaper. The Japan Rail Pass is an excellent option, as it offers you all the services for 7, 14, or 21 days.
By bus: Traveling by bus is very cheap, and Japan has a comprehensive long-distance bus network connecting the islands of Honshu, Shikoku, and Kyushu.

Japan Railways (JR) operates the most extensive bus network; they are reliable and reach places where trains cannot go; many are found at train stations for connections. Most of the long-distance routes give the option of taking a night bus, they are very comfortable, and the seats are quite spacious

By car: Renting a car gives you more flexibility because you can stop whenever you want. The cars have a navigation system that makes it easy to drive on the highway. Be careful if you plan to travel in winter because of the snow; the roads are slippery. The roads in Japan are in excellent condition but keep in mind that the roads through the mountains are narrower.

By plane: Flying is fast and cheap, and most cities have domestic airports; the airlines are reliable and safe.
Drinking rules
When traveling to other countries, it is always interesting to try alcoholic beverages and the different cocktails typical of the place. Even moreso, if you go out in a group to have fun in a bar. Beginning with the most important thing, the legal age to consume alcohol is 20 years old; always carry your ID card or passport. Alcohol consumption is legal everywhere.
What is severely punishable is driving under the influence of alcohol; the BAC is 0.03 for driving under the influence of alcohol (DUI); you can immediately be taken away from your driver's license and pay a fine.
In Japan, it is impolite to serve yourself a drink; it should always be done by the person next to you. You should never drink alone; at any social gathering, restaurant or bar, everyone picks up the glass and shouts a collective kanapi meaning "cheers." The first kanapi of the night is the most important.
Where can I contact you?
Our expert executives from the customer service team will be happy to answer any questions or doubts. You can also write to [email protected], and you will receive the answer as soon as possible.