The government of the country of Jordan published a recent update on travel regulations. There were changes made on the procedure for Jordan visa extension. Under the new updates, Jordan will have a program to automatically extend the duration of valid Jordan visas. It will be easier for foreigners to stay within the country since they will not need to go to government offices and request an extension on their visas. This reduces the number of applicants and curbs the spread of viral diseases within the country.
The latest information states that the program is tentatively set to be terminated on July 30, 2020. Foreigners who have a valid visa can still take advantage of the program and its benefits, including exemptions from having to pay fees or submitting additional paperwork to extend the duration of their visas. They can remain inside Jordan's borders by virtue of the program.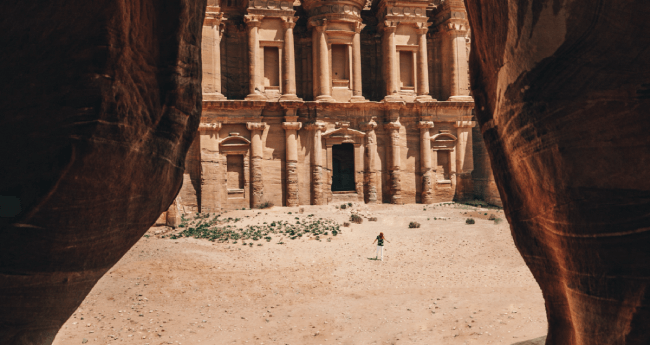 Most foreigners will be required to present a visa if they want to get into Jordan. There are only 12 countries that have visa-exempt arrangements with the government of Jordan and that means that their citizens will be able to enter the country without the benefit of a visa. However, all foreigners (even those from visa-exempt countries) need to present a Jordan Health Declaration Form for them to gain entry.
It is much more convenient for travelers to request for documents online. If you are from a country that is eligible for an evisa, then by all means you should get an evisa. One reason is that you don't need to drive to a government office and stand in line for hours to process the paperwork. You can process the pre-registration online and once you get to Jordan, the evisa will be replaced with a visa on arrival so you can go into the country.
An additional benefit that one can get from online applications is that they will save time by not having to drive. They can use this time to tackle more productive activities. They also don't have to expose themselves to unnecessary risks since they will just be staying at home.
The other necessary documentation that you will need to go into Jordan is a Jordan Health Declaration Form. It is essentially the current health condition of the traveler. It attests to the presence or absence of symptoms related to viral diseases. It also contains information about the traveler's recent travel history, specifically in the 14 days before his trip to Jordan. Get your Jordan Health Declaration Form now through iVisa.com.
It is for these types of situations that iVisa.com exists. The company is all about making applications for travel documents stress-free and convenient for the applicant. It is the most trusted platform and it gets travel documents to its customers without them having to lift a finger.
Frequently Asked Questions
Do incoming foreign travelers to Jordan need a visa and a Health Declaration?
Aside from citizens of the 12 countries that are exempted from a visa, all other foreigners are required to present a visa upon landing in a Jordan airport. There are currently no updates if the 12 visa-exempt countries will welcome a new member.
The document that is indispensable for all incoming travelers to Jordan is the Health Declaration Form. It is stated earlier in this article that the form has information about the current medical condition of the person it is referring to. That helps ascertain if the holder has minimal risk of infecting Jordan's citizens with viral respiratory diseases, and therefore makes it easier for them to enter the country. This further allows the government to redirect resources to more challenging cases. Apply for a Jordan Health Declaration Form now and get into the country as soon as possible.
Which countries are exempt from visa requirements?
There are 12 countries whose citizens don't have to present a visa if they want to enter Jordan. They are as follows: Bahrain, Egypt, Israel, Kuwait, Lebanon, Oman, Palestinian Authority, Qatar, Saudi Arabia, Turkey, Tunisia, and United Arab Emirates. Lebanese citizens also do not have to provide a passport if they have another valid identity document.
Why is it important to apply for an eVisa?
If you are a citizen of a country that is eligible for a Jordan eVisa, you should apply for one if you intend to go to Jordan. One main reason is that applying for an eVisa is infinitely easier than requesting a visa through government offices. You don't have to go to the offices and wait in line for hours just for the chance to speak with someone who can help with the application. It's stress-free, convenient, and safe because you don't expose yourself to diseases that might not allow you to enter the host country.
What do you need to start your application?
For those who are eligible, the application for a Jordan eVisa needs:
Proof that you have a credit/debit card.
You need to prove that you have a PayPal account.
You also need to have a passport that has six months or more remaining validity.
Do you really need to apply for a visa and a health declaration?
Unless you are a citizen of the aforementioned 12 visa-exempt countries, you will need to apply for a Jordan eVisa and a Health Declaration Form at the same time. Jordan will need you to present both at the airport inspection. If you have both documents on hand, you will be spared the stress of applying for one or the other or both at the airport. Start your application for a Jordan eVisa and a Jordan Health Declaration Form with iVisa.com!
Is it safe to use the iVisa.com platform?
iVisa.com is a trusted website because it is protected by the top-of-the-line security software, giving customers the assurance of a safe and secure platform. All customer information will not be accessible to anybody except authorized personnel only.
What if I need more information?
Look no further than the iVisa.com website. It contains all the information you'll need to start your application for the required travel documents. For other questions or concerns, pop us an email at [email protected].