Visa Policy for Jordan
Jordan visa policy specifies which countries are not required to obtain a visa to travel to the Hashemite Kingdom of Jordan and who may enter the country without a visa. Regardless of whether they require a visa for Jordan or not, foreign citizens are required to present a passport valid for at least 6 months beyond the intended stay, with at least 2 blank pages, in order to enter the Kingdom. At the present time, there is no ban on Jordan visas for citizens of other countries.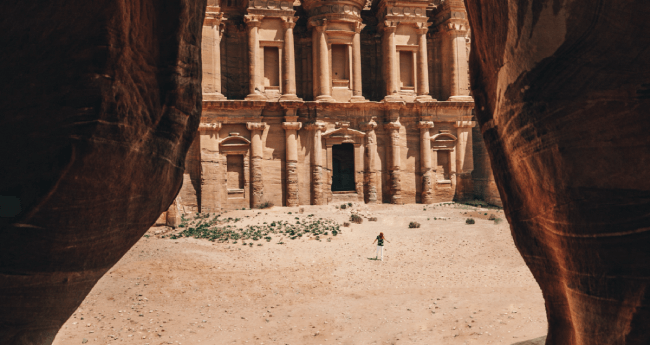 Lebanon residents and citizens from the European Union (except Croatia) who arrive at the Aqaba Airport via a direct flight may present their national identification cards. The only exception is for foreigners transiting from Jordan to Iraq who need to hold a non-refundable round-trip ticket.
Currently, nationals of up to ten countries can enter Jordan without a visa for stays ranging from one month up to three months, depending on their nationality, including citizens of all members of the Gulf Cooperation Council (GCC).
In addition to an eVisa, all other foreign citizens must obtain a visa prior to arriving in Jordan, whether it is a visa on arrival at an immigration booth at the border or an embassy visa from a Jordanian diplomatic office.
The Jordan Pass is a simplified online tourist package that offers the Jordan electronic visa, eliminating long lines at Jordanian border posts to apply for a visa on arrival. It is also designed to allow expedited entry to Jordan at Jordanian immigration control points.
In order to travel to Jordan for purposes other than tourism, one must apply for a visa at the nearest Jordanian embassy or consulate. Also, foreign nationals who are not eligible for visas for Jordan online, up to about 80 nationalities, have to apply for Jordan visas at Jordan's embassy, regardless of their purpose of travel or the expected duration of stay. Keep on reading for further details about the Jordan visa policy.
Tourist Visa Policy for Jordan
More than 230 nationalities, including those who travel to the Kingdom via electronic visas, visas on arrival, or embassy visas, require an approved tourist visa to travel to the Kingdom. An expedited electronic application for Jordan Pass, which allows 140 nationalities to obtain an electronic visa, is available for those looking to visit Jordan for tourism. The Pass is a tour package that waives visa fees for Jordan for visitors staying at least 3 nights in the country. It also includes free entry into more than 40 of Jordan's top tourist attractions.
A Jordanian tourist visa can be obtained via the electronic system in just a few minutes, and the application process is quick and easy. Upon completing the application, the applicant receives his Jordan Pass via email, both as a PDF and as a QR code, which he can use at immigration checkpoints to gain entry.
Around 80 nationalities are not eligible to apply for Jordanian tourist eVisas, and must obtain embassy visas for tourism in advance from their nearest Jordanian diplomatic mission. Follow Jordan visa policy for more updates.
Jordan EVISA
Jordan visa policy requirements state that up to 140 nationalities are eligible for Jordan eVisas through an electronic tourist package named Jordan Pass, which eliminates the need for applicants to wait in long lines for a visa on arrival or visiting to visit an embassy. Travelers from these nationalities are eligible to apply for the Jordan Pass online visa and have their visa fees waived if they intend to stay for a minimum of 3 nights and 4 days. Jordan passes also cover the costs of visiting over 40 attractions, museums, and castles within the country.
After being approved, an eVisa for Jordan will be valid for 1 year from the date of issue and will allow a stay in the country of one month via a single entry. Additionally, any police station in Jordan can extend the duration of the permitted stay by charging an additional fee. Jordan Pass application forms can be completed in minutes, and you must fill them out to apply for an electronic visa. In both PDF and QR format, the applicant receives an approved Jordan eVisa once the mandatory fee has been paid. The traveler is advised to print a copy of the Jordan Pass in case the QR code is not able to be scanned by immigration authorities or tourist sites.
Discover a comprehensive list of nationalities eligible to apply for the online visa for Jordan below.
American Samoa
Andorra
Anguilla
Antarctica
Antigua and Barbuda
Argentina
Armenia
Aruba
Australia
Austria
Azerbaijan
Bahamas
Barbados
Belarus
Belgium
Bermuda
Bhutan
Bolivia
Bosnia and Herzegovina
Brazil
British Virgin Islands
Brunei Darussalam
Bulgaria
Canada
Chile
China
Cook Islands
Costa Rica
Croatia
Czech Republic
Denmark
Dominica
Dominican Republic
Ecuador
El Salvador
Estonia
Faroe Islands
Fiji
Finland
France
French Guiana
French Polynesia
Georgia
Germany
Gibraltar
Greece
Greenland
Grenada
Guadeloupe
Guatemala
Haiti
Honduras
Hong Kong
Hungary
Iceland
India
Indonesia
Ireland
Israel
Italy
Jamaica
Japan
Kazakhstan
Kenya
Kiribati
Kyrgyzstan
Latvia
Lesotho
Liechtenstein
Lithuania
Luxembourg
Macau
Macedonia
Malawi
Malaysia
Maldives
Malta
Marshall Islands
Martinique
Mauritius
Mexico
Monaco
Montenegro
Montserrat
Netherlands
New Caledonia
New Zealand
Nicaragua
Niue
North Korea
Northern Mariana Islands
Norway
Palau
Panama
Paraguay
Peru
Poland
Portugal
Puerto Rico
Republic of Cyprus
Reunion
Romania
Russian Federation
Rwanda
Saint Kitts and Nevis
Saint Lucia
Saint Vincent and the Grenadines
San Marino
Sao Tome and Principe
Serbia
Seychelles
Singapore
Slovakia
Slovenia
Solomon Islands
South Africa
South Korea
Spain
Suriname
Sweden
Switzerland
Taiwan
Tajikistan
Thailand
Tonga
Trinidad and Tobago
Turkey
Turkmenistan
Tuvalu
Ukraine
United Kingdom
United States
United States Virgin Islands
Uruguay
Uzbekistan
Vanuatu
Vatican City
Wallis and Futuna
Zimbabwe
Get more info about the Jordan electronic visa
Jordan Visa on Arrival
Jordan visa policy identifies around ten countries whose citizens can apply for and receive a visa on arrival, an official travel document easily obtainable at border crossings. Most eligible citizens are granted Jordan visas on arrival for stays up to two months, although Algerians, Hong Kong citizens, Japanese, Indians, Moroccans, South Africans, and Korean citizens may only stay 30 days. In addition to the visa on arrival, Joran allows one entry per person.
It is necessary for travelers to arrive at Queen Alia Airport or at the Sheikh Hussein Bridge border checkpoint to receive a visa on arrival for Jordan.
The individual may be given a visa on arrival by border authorities after arriving at designated entry points by waiting in a queue. In the following pages, you will need to fill out personal information, passport details, and travel information.
A variety of supporting documents must also be provided to immigration officials and an arrival visa fee must be paid before the application can be approved. Go through the Jordan visa policy for more details about Jordan travel and tourism.
Passport holders who are also eligible to apply online for a visa for Jordan, as this program allows you to expedite the entry process into the country, are advised to use this application program, as obtaining a visa on arrival often involves long queues at the border.
Find below a complete list of visa on arrival eligible countries for Jordan.
Algeria
Cape Verde
Ghana
Guyana
Morocco
Myanmar
Nauru
Samoa
Swaziland
Timor-Leste
Tunisia
Venezuela
Jordan Tourist Visa
According to Jordan's visa regulations at present, citizens of over 80 countries are required to have an approved consular or embassy visa to travel to the Kingdom, regardless of the purpose or length of stay.
An embassy visa for Jordan requires that the applicant schedule an appointment with the Jordanian diplomatic government office well in advance of their travel dates, as it may take several weeks for the request to be processed and approved.
Afterward, a Jordan embassy visa application must be completed with personal, passport, and travel details, along with a range of supporting documents, to be submitted to the consular appointment.
A variety of supporting documentation will be required depending on whether the applicant requires a visitor visa, student visa, business visa, worker visa, resident visa, or any other visa type. A Jordanian embassy visa also differs in validity and duration depending on the purpose of travel and nationality of the applicant.
It is also necessary to pay an embassy visa fee to consular officials before the application can be processed. View the complete list of countries that require a visa for Jordan.
Afghanistan
Aland Islands
Albania
Angola
Bangladesh
Belize
Benin
Bonaire
Botswana
British Indian Ocean Territory
Burkina Faso
Burundi
Cambodia
Cameroon
Cayman Islands
Central African Republic
Chad
Christmas Island
Cocos Islands
Colombia
Comoros
Congo
Cuba
Curacao
Democratic Republic of the Congo
Djibouti
Equatorial Guinea
Eritrea
Ethiopia
Falkland Islands
Federated States of Micronesia
Gabon
Gambia
Guam
Guernsey
Guinea
Guinea-Bissau
Iran
Iraq
Isle of Man
Ivory Coast
Jersey
Laos
Liberia
Libya
Madagascar
Mali
Mauritania
Mayotte
Moldova
Mongolia
Mozambique
Namibia
Nepal
Niger
Nigeria
Norfolk Island
Pakistan
Papua New Guinea
Philippines
Pitcairn Islands
Saint Barthelemy
Saint Helena
Saint Martin
Saint Pierre and Miquelon
Senegal
Sierra Leone
Sint Maarten
Somalia
South Georgia and the South Sandwich Islands
South Sudan
Sri Lanka
Sudan
Svalbard and Jan Mayen
Syrian Arab Republic
Tanzania
Togo
Tokelau
Turks and Caicos Islands
Uganda
Vietnam
Yemen
Zambia
Learn more about the Jordan tourist visa
Other Visa Information for Jordan
The Jordanian business visa is given to foreigners who wish to attend business meetings in the country or invest in the country. For the purpose of demonstrating the purpose of your visit, an official business cover letter may be provided by the host organization.