Home
>
Kazakhstan Travel Guide: All you need to know to visit Kazakhstan in 2023
Kazakhstan Travel Guide: All you need to know to visit Kazakhstan in 2023
Welcome to Kazakhstan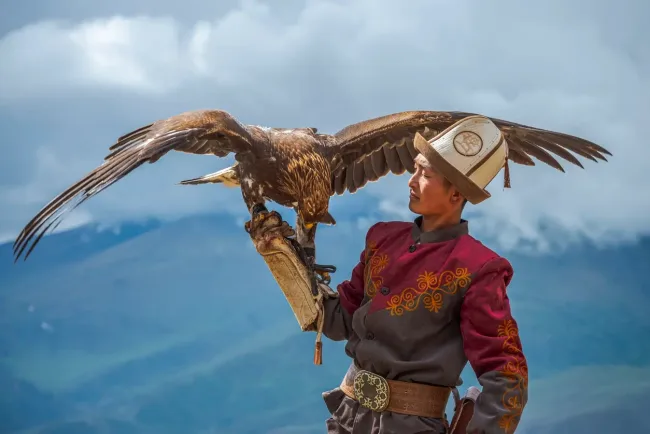 Kazakhstan is an unusual but worth-visiting destination in Central Asia. The word Kazakhstan translates to "the Land of the Wanderers", so you can imagine how much there is to explore. Desert villages, snow-capped mountains, and modern cities: you have all that in a single country.
This ultimate Kazakhstan travel guide will help you make the most of your Kazakhstan travel trips with practical and inspiring tips.
Document checklist for Kazakhstan
Valid passport (must be valid for at least six months from the date of entry and have two blank pages)

Sufficient funds to cover your trip

Return or onward ticket
Essential Kazakhstan travel information
Currency - The official currency is the Kazakh Tenge (₸). $1 is equivalent to approx. ₸ 458,47.

Daily budget for 1 person - Allow a daily budget of ₸7,986($17).

Languages - The official languages of Kazakhstan are Kazakh and Russian. In the big cities, you can find people who speak basic words in English, but it is rare in the countryside.

Number of travelers per year - In 2019, 8.52 million travelers visited Kazakhstan, according to World Data. This number dropped to 2.04 million during the pandemic in 2020.

Socket type - Types C and F, 230V supply voltage and 50Hz.

Time zone - It's a huge country, so it has two time zones: East Kazakhstan Time (GMT+6) and West Kazakhstan Time (GMT+5).

Top 3 cities to visit - Nur-Sultan, Almaty, and Aktau.

Top 3 landmarks/monuments - Big Almaty Lake, Altyn Emel National Park, and Charyn Canyon.
Visa information for Kazakhstan
Many travelers have a visa-free entry in the country, with a 90-day stay. Russia, Georgia, Ukraine, and Albania are some of the free-visa countries. You can use the iVisa Checker Tool to see if a visa is required for you.
Those needing a visa can visit an embassy or consulate nearby to apply for a paper visa. However, many nationals can skip the bureaucratic step and get a Kazakhstan Visa online in just a few clicks.
The electronic Kazakhstan Tourist Visa explained
The easiest way to get a visa for your next vacation in this Central Asia country is to apply for the Kazakhstan Visa online. The electronic visa is available for many nationalities, allowing travelers to apply from the comfort of their homes without an appointment at the embassy.
Applying with iVisa, all you have to do is to fill out the visa application form and upload the documents. We will review your application and process your travel document. You will receive the visa in your email; then, you will be ready to enter the Kazakh territory for tourism or business purposes!
The Kazakhstan Visa is a Single Entry document, valid for a maximum stay of 30 days Per Entry in the country. Apply with iVisa and let our visa experts do the hard work, so you can travel hassle-free.
Visa difficulty index for Kazakhstan
Accessibility: 5/5 The Kazakhstan Visa is an official electronic document. You will complete the form and submit all information in just a few clicks. Your visa will arrive in your email inbox once it is processed. Easy and quick!
Time to get your visa: 3/5 It takes between 5 and 7 business days to get the visa, according to the processing time you choose during the application process. Once Kazakh authorities approve your visa, we will send it to you by email.
Costs: 3/5 The government fee costs USD 60.00. iVisa adds the processing fees to this value, which depends on your nationality and how fast you want to receive your visa.
Typical costs and budget for Kazakhstan
Here is a guide to what you'll spend on a daily basis traveling through Kazakhstan on a mid-range budget.
Daily spending - Around ₸7,986 ($17) per person per day. This includes:

Meals - Expect to spend about ₸2,315 ($5.03) in total for three meals per day.

Transport - Depending on your travel plans and standard of travel, local transportation may cost up to ₸276 ($0.60) per day.

Hotel - The average hotel price in Kazakhstan for a couple is ₸5,686 ($12). On average, a trip to Kazakhstan for two people for one week will cost ₸111,806 ($243).
Traveling in Kazakhstan: Transport and best ways to travel around
There are many ways to get to and around Kazakhstan, and you can choose which one suits you better, whether by air or land. Here are some tips for travel safety in the country.
Flying to Kazakhstan
The country's main international airports are the Nursultan Nazarbayev International Airport in the capital and the Almaty International Airport. Many countries have direct flights to Kazakhstan, such as Turkey, Germany, Russia, Netherlands, UAE, India, and Egypt.
Several airlines offer flights to this destination:
Turkish Airlines

Qatar Airways

Emirates Airlines

Lufthansa

Uzbekistan Airways

Egyptair

China Southern Airlines

Pegasus Airlines
It's an extensive territory, so you should consider domestic flights if you want to save time going from one city to another.
Arrival and immigration tips for Kazakhstan
Here are some travel tips for a smooth arrival in this beautiful country:
Apply in advance for the Kazakhstan Visa and carry it printed with you.

Be aware that the country has currency import and export regulations. It is allowed to enter the country with a maximum amount in cash of 10,000 US dollars. The same value is valid to leave the country.

Cats, dogs, and birds must be accompanied by a veterinarian health certificate with the seal of the local Board of Health and not be issued over ten days before arrival. The only exception is pigeons, which aren't allowed to enter the country.

We advise you to pre-book an airport transfer with your accommodation or through a reputable company. It would be easier and more practical, especially if you don't speak Kazakh or Russian.

When departing, arrive at least 4 hours before your boarding to avoid missing your flight due to traffic jams or airport queues. For the waiting time, have some food and entertainment, such as a book.
Trains in Kazakhstan
The train is the best option to explore a country as extensive as Kazakhstan. There is a good railway system, and you find train tickets at affordable prices. It's recommended to buy the ticket in advance since they can sell out in the high season.
Car rental in Kazakhstan
Renting a car is an option if you have an international driving license and Kazakhstan travel insurance. It gives you the autonomy to explore the country at your own pace. Also, you can visit remote places that would be hard to reach with public transport. The main highways are in good condition. Otherwise, stay alert on the secondary roads, which may have dusty tracks and dangerous potholes.
Boat travel in Kazakhstan
There are a few options for boat travel. However, one of the ways to enter the county is by taking a ship from Baku (Azerbaijan) to Aktau (a port in West Kazakhstan) across the Caspian Sea.
Buses in Kazakhstan
Bus and train stations connect the major cities in the country. So, a bus trip is another affordable way to travel between cities, especially for short journeys. You can visit nearby places such as Almaty, Shymkent, and Nur Sultan comfortably and cheaply.
Safety in Kazakhstan
"Is Kazakhstan safe?" Many tourists ask that before considering visiting this unique country. The Kazakh people are very welcoming; however, travelers must exercise a high degree of caution. Check out some pieces of advice:
Be cautious on the streets and crowded places. The country has high rates of crimes such as theft, pickpocketing, bag snatching, and assaults.

The risk of crime increases at night, so avoid walking on the streets after sunset, especially solo female travelers.

There is a risk of food and drink spiking. So, never leave your drinks or food unattended, especially in bars and nightclubs.

There have been tensions on the land border with the Kyrgyz Republic. Avoid travel near the area.

Monitor the media to stay up-to-date on new security or safety risks.

Purchase travel insurance. It's an essential measure to access medical facilities in an emergency.
Weather in Kazakhstan
The country has a continental climate, offering cold winters (averages temperatures around -10°C/14°F) and hot summers (averages around 40°C/104°F). The best time to visit Kazakhstan is between spring and summer (March to September), the perfect weather for outdoor activities such as hiking, trekking the steppe, and camping. Meanwhile, you should visit from November to February if you are a winter sports fan. You can enjoy snowboarding and ice skating in areas surrounding mountains.
Best Kazakhstan Travel Tips: Must do and see
The country has stunning landscapes and many natural resources. You will fall in love with the friendly locals and the historical sites. Make sure you don't miss these fantastic sights on your holiday to Kazakhstan:
Visit the Nur-Sultan, the capital city known before 2019 as Astana. You will observe Soviet, Kazakh, and Western influences in the streets, which mix historical sites and futurist architecture. The Khan Shatyr is a must-see.

Explore the Almaty region. There are many cities worth visiting, but Almaty is one of the main cities, the country's cultural and commercial heart. Enjoy great museums, historic buildings, and trendy restaurants.

Enjoy a boat trip on Kolsai Lake. Forest-coated Tian Shan Mountains surround the paradisiac lake.

Visit the Karkaraly National Park. The vast park holds a diversity of flora and fauna, such as foxes, deer, and wolves.

Relax at Aktau Beach. The spot is a destination for more and more tourists each year, offering breathtaking views of the Caspian coast.
Typical Kazakh food to try
Zhaya - This national dish is a traditional appetizer with horse meat. The animal's hip and hind legs are salted, dried, and smoked. Then, it is boiled for about two hours before serving.

Kurt - These are fermented balls of cheese. It consists of soured camel milk strained into soft curds and then shaped into small balls or disks before being left to harden in the sun.

Shelpek - This flatbread is made with a dough consisting of flour, milk, sour cream, butter, baking soda, sugar, and salt. The dough is formed into balls and rolled out into discs before being fried.

Baursak - These Kazakh donuts are made with flour, yeast, eggs, margarine, milk, water, sugar, salt, and vegetable oil. They are shaped into triangles or spheres before being fried.
Visiting Kazakhstan: Vaccine information
If it is your first trip to the country, you should check what routine vaccines and COVID-19 measures are requested to enter Kazakhstan. We advise you to see the CDC website information about all vaccine requirements and medical guidance for this destination.
Eagle Hunting in Kazakhstan
The Kazakh eagle hunters of Western Mongolia are a traditional community. For centuries, they have used golden eagles for hunting prey during the winter. It is a beautiful example of a relationship between humans and semi-wild animals.
Tourists can join tours to see the hunting expeditions into the mountains. Also, many Kazakh families open their homes to welcome day visitors. It's an incredible experience to observe the teamwork, especially the Siberian golden eagle's abilities.
Hunting is a source of fur, so the main prey species are red and Corsac foxes, hares, wild cats, and occasionally wolves. Only around 240 Kazakhs actually practice eagle hunting today. It is a tradition passed down through generations of semi-nomadic herder families.
Trustpilot recommended. We lead the industry in innovation and reputation
Our Customers Have Great Stories About Us